Entries tagged with: Aziz Ansari
Patton Oswalt is coming to NYC. Aziz Ansari will join him for a $6.00 show at Mo Pitkins on Monday. Who will join Aziz later that night @ UCB? (actually it's no mystery)

David Cross and Demetri Martin were the special guests last night at Aziz Ansari's weekly (when he's in town) Monday night "Crash Test" show at the UCB Theatre (April, 3, 2006). The following set of pictures closely documents the transition from David Cross' stand-up set back to host Aziz Ansari. Then came the part where Aziz did some more comedy before introducing Demetri Martin to the stage.
Aziz said he's pretty sure next week should also have another very special guest.
Previously
SXSW funny
Comedians of Comedy's Patton Oswalt @ Emo's (SXSW) | pics
Aziz Ansari @ Emo's, Austin, TX (SXSW) | pic
David Cross & Lesbians | Strokes video & mp3
Comedy DJ David Cross MP3 Interview & New Pornographers
DJ David Cross | @ Scenic
I'm pretty sure there were more people at Emo's Tuesday night (March 14, 2006) to see Aziz and the rest of the Comedians of Comedy than there were to see My Chemical Romance a few days later. Austin loved him. He went on to host the Stereogum party on Thursday, co-host the Pitchfork party on Friday, and perform a guest set with Patton Oswalt at a comedy club Friday night.
In Austin I learned that Aziz is now most famous for the Other Music video and that he'll be making his big screen debut soon. Billy Bob Thornton, David Cross and Sarah Silverman will be his co-stars.
Previously
The Dresden Dolls played SXSW, like comedy, touring
Common & Sonic Youth (& Aziz) playing Bonnaroo too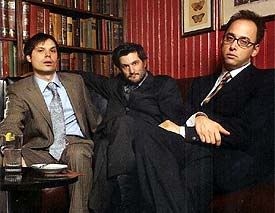 David Cross & Michael Showalter are performing in Hot Tub's one year anniversary show at the Pit on Friday. "This show is SOLD OUT, but there may be limited availability tickets at the door."
Michael Showalter, Eugene Mirman & Leo Allen are doing a show at Warsaw in Brooklyn on March 31st. Tickets on sale.
Add Michael Ian Black to the list of celebrity Stella judges at Bowery Ballroom on March 13th. Tickets still on sale. Showalter's site also says "w/special guest DJ from Clap Your Hands Say Yeah!". (tix)
Aziz Ansari, Todd Barry & Nick Kroll are at Pianos on February 28.
Previously
Comedy @ UCB | "We Used to Go Out"
NOT Stella @ Bowery Ballroom | Tix on Sale
NY Times does Arctic Monkeys, Apiary & Aziz
Sunday's NY Times featured an article on NYC's alt-comedy scene. Aziz Ansari, The Apiary, Nick Kroll, Rififi, Invite Them Up, Demetri Martin and others were given shout-outs.
Nearly every newspaper on Earth has an article on Arctic Monkeys right now. That's because "their first album, 'Whatever People Say I Am, That's What I'm Not,' has become the fastest-selling debut in British chart history, with sales of more than 360,000 copies during its first week on the charts." That includes the NY Times who says "Hype isn't really the right word to describe the Arctic Monkeys phenomenon".
Previously
Aziz hosting, Celebration playing & Plug Award Presenters
Arctic Monkeys snub Bowie @ Bowery Ballroom?
Eugene Mirman's Brother, Yo La Tengo do Invite Them Up
CELEBRATION

Comedian Aziz Ansari will be hosting the Plug Awards @ Webster Hall on February 2nd. 4AD's Celebration will be performing along with previously announced artists The National, Cage, Beans and Holy F**k, and Chad Vangaalen. Don't expect long sets because two more performers have yet to be announced, and that will make a total of eight performers (counting Aziz).
Some of the presenters have also been announced: Matisyahu, members of TV On The Radio, Langhorne Slim, Gang Gang Dance, Rob Crowe (Pinback & Goblin Cock), and Emiliana Torrini.
VOTING ends January 20th. Tickets still on sale.
RELATED
* Chad Vangaalen is playing Mercury Lounge the next day
* Pitchfork reviewed Holy F*ck's album today
* The teaser for Aziz's next film
* The National playing Bruce Springsteen Saturday
* Independent Award Shows: Totally Pointless?
* New Pantheon Award Finalists Revealed
(A FLYER FOR A PAST EVENT)

You know what albums Pitchfork thought were the best this year. Now find out which albums Aziz liked the best.
BONUS: Aziz posted MP3s
...and if you missed it, College Humor has the video of Aziz carrying around a boombox playing the world's shittiest mixtape.
Previously
Aziz Ansari sees M.I.A. | M.I.A. doesn't see Aziz
Aziz Ansari likes NIN
A letter from Aziz to Scarlett, as seen on the Apiary and Gawker...
---
"Hi,
Thought you were really cute. You should come by my comedy show tonight! It just got named Rolling Stones "Hot Comedy Show" for 2005. (Legit!) The show is tonight at 11 pm at the UCB Theatre (26th btw 8th and 9th Avenue). Hope you can make it.
- Aziz
[insert my cell number]
P.S. 10 cent wings is a pretty good deal huh?"
---
"I just dropped the napkin and flyers in front of SJ and said "Hey you guys should come to this show later if you aren't doing anything" - to which Scarlett's buddy Josh Hartnett responded - "Thanks man" in a deep 'hey I was in f'n Sin City' voice. I then booked it out of there very quickly, but not before I caught a glance of Scarlett reading my hearfelt napkin/love letter. It was awesome..." [Aziz Ansari]
---
See two sets by comedian Aziz Ansari on Tuesday Sept 13, 2005 at the Brooklynvegan pre-CMJ (BMJ) show at Tonic in NYC. Cloud Cult, Doveman, and Dave Deporis also on the bill. TICKETS (or buy them at the door).
Previously
BMJ Show - Now For Charity
CMJ-eve is just like CMJ
Dave Deporis Added to BMJ
Aziz Ansari added to BMJ @ Tonic | Tickets on sale
Aziz Ansari wins Best Male Comic @ the ECNY Awards
BV fave & winner of the ECNY best male comic award, comedian Aziz Ansari added to the already incredible pre-CMJ lineup of Doveman & Cloud Cult at Tonic in NYC on Tuesday Sept. 13th, 2005. :-)
One more musical act to be announced. Get your $8.00 tickets at Ticketweb now.
Recent Buzz...
Aziz Ansari @ Stereogum
Aziz Ansari is a F'in badass
Aziz Ansari embraces VH1
Aziz Ansari movies @ College Humor
Catbirdseat likes Doveman
Music for Robots likes Doveman
Previously
BMJ: pre-CMJ Show w/ Doveman & Cloud Cult @ Tonic
Aziz Ansari sees M.I.A. | M.I.A. doesn't see Aziz
The M.I.A. show was apparently packed with celebrities last night. In addition to David Byrne (who was deciding if M.I.A. should perform or not), NYC comedian Aziz Ansari was also in the house.
He writes...
"At one point in the show, I go to use the bathroom. During this part of the show, M.I.A. tells her DJ to stop the current track mid-song. Bewildered, the DJ does. M.I.A. takes the mic and says, "Is comedian Aziz Ansari here tonight?" Someone in the crowd yells, "Who is that?" M.I.A. responds, "I'm talking about Aziz Ansari, the guy that hosts Crash Test, the new weekly standup show at the Upright Citizens Brigade Theatre, Mondays at 11.""
Read the rest of his review at his site.
Aziz also likes Nine Inch Nails and Beck.
---