Entries tagged with: California
photos by Chris Tuite
The psychedelic Tame Impala / Flaming Lips tour, which we also caught in NYC, got even wilder last night in San Francisco as the show at Bill Graham Civic Auditorium coincided with everyone's favorite day to play dress up.
Similarly, the co-headliners, with Austin's White Denim in town, played the two nights prior in LA, both equally interesting:
I really do love Halloween," said a blood-soaked Wayne Coyne from his space agey podium. It was a special show called the Halloween Blood Bath at The Greek Theatre featuring co-headliners the Flaming Lips and Tame Impala with the fine men of White Denim as openers. The audience was a mix of some heavily costumed groups and some who were just there for the music. Nevertheless, it was a celebration and it immediately felt like it from the start. Coyne took the stage wearing a tiny white dress holding a white plastic cloak over his head that almost made him look like a fetus that was about to burst. The rest of the band emerged donning creepy Michael Myers masks, then fake Miley Cyrus carried by a giant bear came out with a bucket of blood (real pig's blood was what they initially told us) and poured it all over him as thousands of confetti flew into the air, making a magnificently theatrical intro that was accompanied by some dark instrumental music. It was a spectacle and nothing less than what I expected from Flaming Lips who's always been famous for their extravagant live performances. Impressively, he did not leave the stage to change at all and performed throughout the night doused in fake blood. [Restless Cities]
We've got pictures from the Halloween show, where like
Arcade Fire did on the same night in LA
, the Lips covered Devo. Full setlist and more pictures below...
Continue reading "Flaming Lips, Tame Impala & White Denim got dressed up for Halloween (pics, setlist)"
Bjork is bringing her Biophilia live show back to North America this year for previously discussed appearances at Bonnaroo and Pitchfork Festival, and she's just announced that while here she'll also do some California shows in May and June and two Canada shows (including Ottawa Bluesfest) in July. Bjork's also bringing her Biophilia education series (which she's previously brought to New York and other cities) to California during her time there.
No East Coast dates have been announced but fingers crossed that she'll announce more shows! All dates are listed below...

Continue reading "Bjork playing California and Canada shows before Bonnaroo and Pitchfork"
"The guy behind us decided it was a good idea, after security made his friend leave, to mace the girls behind him. At a Fiona Apple concert." - Garrett Greer
"Drunken beat down,pepper spray,cops&paramedics. Who knew Fiona Apple brought that crowd? Ive seen Metal shows with less action#OnlyInOakland" - KQN
A bit of excitement at a Fiona Apple concert in Oakland over the weekend. One reader writes in:
i attended Fiona Apple at the Fox hours ago.
halfway through fionas set, we hear fans fighting in the balcony.
we see people running and hear people screaming and people running out to balcony smoking patio.
People start coughing and eventually it lingers to our area. we found out that
a fan got upset because people were being loud and talking during her
set. someone punches the guy and another person then starts pepper
spraying the person. well its in a tiny theather, in about 2 minutes
the whole left mezzanine area cleared out.
kinda crazy, the show didnt even stop.
Fiona played the Fox Theater in Oakland, California on Saturday night, and ended that leg of her tour one night later, last night, 7/29, at the Hollywood Palladium. She
hits the road again in September
.
The setlists from the Oakland and LA shows (same setlist both nights), and a video from the Oakland show (no pepper spray in it though), below...
Continue reading "a guy used pepper spray at Fiona Apple concert in Oakland"
Mazzy Star/Hope Sandoval @ Coachella Week 2 (more by David Andrako)

One of my all time most anticipated reunions happened earlier this month when Mazzy Star (a band, not a person) once again took the stage six times across California (two of those times were Coachella). The touring continues this summer with a few select shows and festivals in Europe - Oya, Primavera Sound, Field Day, Optimus Alive, and Way Out West included. All dates are listed below. While we patiently await for more North American dates to be announced, let's recap what the reunion has looked (and sounded) like so far.
To quote Wikipedia, "On October 12, 2011, [it was] confirmed the duo would release their first new material in fifteen years later that same month. The double a-sided single 'Common Burn/'Lay Myself Down' was released digitally on October 31, 2011. A limited edition blue-coloured 7" vinyl was also announced for release on November 8, though a manufacturing delay resulted in its release being pushed back to January 24, 2012. Their fourth studio album is expected to be released in the latter half of 2012, following completion of a tour earlier in the year."
The first live show was April 6th in Petaluma, CA, and the live lineup for all six shows has been primary Mazzy Star writer, producer and band member David Roback along with vocalist Hope Sandoval, original keyboardist Suki Ewers, original drummer Keith Mitchell, and two more touring musicians playing bass and guitar: Paul McQuillan and Colm Ó Cíosóig. You also know Colm as the drummer of My Bloody Valentine and 1/2 of Hope Sandoval & the Warm Inventions (who were active again in 2009 and 2010).
The setlists were very similar at all the shows and ranged between 9 songs (Coachella week one) to 12 songs (Sacramento and Santa Cruz). The setlists included new/unreleased songs "Spoon" and "Flyin' Low", and every show got hit song "Fade Into You". Check out the exact setlists below.
Audio, video and pictures of the shows have been popping up, and I compiled a lot of it in this post too. Previously posted week 2 Coachella pics are HERE and week 1 Coachella pics are HERE. The rest, including bootleg links, full videos, the setlists and tour dates, below...
Continue reading "Mazzy Star reunion megapost - they played 6 shows in California (videos, bootlegs, setlists, pics, dates & more)"
Refused @ Coachella 2012 (more by Dana (distortion) Yavin)

One day before Coachella on Friday, the reunited Refused played a warm up show at the Glass House in Pomona, CA. At that more-intimate show, their first US show in fourteen years (but not their first reunion show), they played fourteen songs which is only one more than they played the next night to a giant crowd at the desert festival. OC Weekly was at the smaller gig:
"Introduced by foreboding background music that sent anticipation skyrocketing and lights perfectly set for an intimate rock 'n' roll show, Refused hit the stage to anxious claps and a powerfully active crowd. Beginning with "The Shape of Punk to Come" and the drum beat backed proclamation "Hey baby you never felt this good," the long awaited veterans set their sights and sharpened teeth on Pomona. Following this was another one of the band's beloved favorites, "The Refused Party Program," which transitioned itself perfectly to a twenty twelve live setting. In those first initial torrents of songs being performed, Lyxzen's energy expenditures were left without a penny unspent and the band's vise-tightened stranglehold on the fans and speakers was indestructible. "
Refused
will now hang out in California and play San Francisco and then Coachella again next weekend before heading to NYC for
two sold out shows at Terminal 5
. They then return to North America for
more touring over the summer
with
Off!
.
Tickets
for the Brooklyn show at Williamsburg Park are still on sale.
You saw pictures from Coachella. Check out some live videos along with the setlists from both California shows so far, below...
Continue reading "Refused played the Glass House & Coachella (setlists/videos)"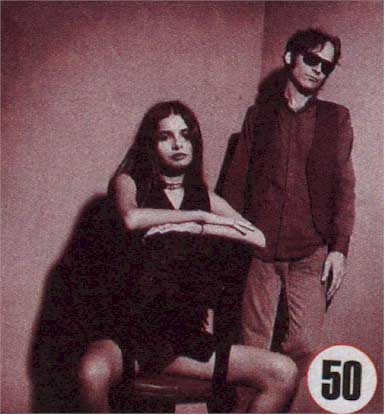 Four more Mazzy Star California shows, all before Coachella (still none in NY). All on sale today/Friday (2/3), and listed with ticket links below...
Continue reading "Mazzy Star schedules 4 more CA shows (on sale today)"
Radiohead @ Roseland Ballroom in 2011 (more by Bao Nguyen)

Coachella which is taking place over the course of two weekends this year (April 13-15 and 20-22) revealed their 2012 lineup. Last week, Azealia Banks was the first artist confirmed, and earlier today they confirmed The Weeknd (maybe he found a band?), and before that, Jimmy Cliff, Breakbot, and Housse De Racket. The reunited Pulp then announced itself. The full lineup also includes headliners The Black Keys, Radiohead, Dr. Dre and Snoop Dogg, not to mention, as predicted, the reunited At the Drive In and the reunited Mazzy Star (!), and Madness and Refused (!) and Jeff Mangum and many, many more that you can see below...
Continue reading "Coachella 2012 lineup announced (two weekends worth)"
"Inglewood police dispatched a riot unit, and by 1:25 a.m. Sunday, more than 17,000 attendees had been sent home." -LA Times
Balcony climbin' @ Hard Summer '09 in L.A. Saturday night (downtownlobby)

A back door of the VIP section, where tickets began at $125, flew open and fans ran in from the parking lot in what [concert-goer Will] Fan described as a "stampede."

"We saw about 200 kids run right through the bar area," said the 35-year-old Sherman Oaks resident. "It was a little scary. I saw the bartender push one kid down, but everyone else just ran around him. Eventually, security was able to stop more people from coming in. But the kids ran out of the bar...and basically hopped over the balcony and onto the floor. Then the music stopped."

The sold-out all-night Hard Summer concert, which featured a lineup that included U.K. dance duo Underworld and Canadian electronic rockers Crystal Castles, was halted at about 10:50 p.m., according to the Los Angeles County Fire Department, which cited "hazardous life-safety things taking place inside the event."
[L.A. Times]
Hard Summer '09 @ L.A. Forum (
beltran
)
"We were required to shut down Hard Summer at The Forum Saturday [August 8th] night by the Los Angeles County Fire Department. They declared the event a "hazard" after seeing concert-goers jumping from the balcony to the floor. The Inglewood Police Department backed the decision of the Fire Department and assisted in clearing the venue.

While we, the promoters, worked with the authorities to consider other options to continue the concert, ultimately they made the decision to end it. We are happy to report that there were no major injuries.

We are offering refunds to all concert-goers and are deeply disappointed that the fans were not able to see this incredible show come to fruition." [official statement]
Underworld
and
Chromeo
were among those who were supposed to play.
Hard Fest NYC is set to take place October 10th at Terminal 5 where we doubt any problems like that will happen. Crookers and Major Lazer (Soundsystem) headline, and tickets are still on sale.
LA refund info and the continued Hard Summer story with videos (showing people climbing, falling & jumping over railings and ledges), below...
Continue reading "chaos at HARD Fest LA causes shut down - people broke in, climbed over balconies, etc (VIDEOS) --- refunds available"
---