Entries tagged with: Grand Central
by Fred Pessaro // BBG
A giant marble room is a bit of an odd space for a band with amplifiers, but last night (4/8) that was the setting for an Okkervil River show at Grand Central Terminal (yes, the train depot). The Austin-based band played to the historic room for a show sponsored by Jack Daniels as part of the #JackLIVE series, a set of free shows across the country open to the public and featuring free booze and, at least in tonight's case, pizza. Yum.
But back to the show, Will Sheff acknowledged the echo-i-ness of a room of that make, and as such played "quiet" songs for a good portion of the set (quipping, "though I guess quiet is all relative"). Yet despite a predominantly gentle show, Sheff belted out vocals as he does best, as hard as he can.... as bulging neck veins and spittle caught in the stage lighting can attest.
More pictures and setlist from last night are below.
Continue reading "Okkervil River played Grand Central Terminal (pics, setlist) "
DOWNLOAD: Lovestreams - "Shock Corridor" (MP3)
Will Sheff at SXSW 2012 (more by Tim Griffin)

Jack Daniel's is "serving up great whiskey and great live music at legendary American Landmarks" with their new concert series. You can click that link to find the closest one to you (it happens in NYC, San Diego, San Antonio, and LA) and for those in NYC, you'll get yours on April 8 at Grand Central Terminal with Okkervil River. It opens at 6:30 and you'll have to enter Jack Daniel's contest to get in.
Okkervil River don't have any other shows announced at the moment. Meanwhile, listen to the track "Shock Corridor" from frontman Will Sheff's new solo project, Lovestreams, below, or download it above.

Continue reading "Okkervil River playing Grand Central Terminal; Will Sheff is now Lovestreams (download a track)"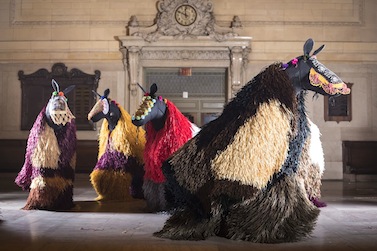 Nick Cave & the Bad Seeds returned this year with a great new album, Push the Sky Away, and are touring in support of it. Much of that tour is with Sharon Van Etten and it hits NYC on March 28, 29, and 30 at Beacon Theatre (sold out). The tour also goes through Austin for a show with Yeah Yeah Yeahs during SXSW.
Around that time, Nick Cave (update: THE OTHER NICK CAVE) is doing an art installation in NYC at Grand Central Terminal from March 25-31.The description reads:
In a groundbreaking installation and performance piece by internationally acclaimed artist Nick Cave, thirty colorful "horses" will periodically break into movement. Choreographed uniquely for Grand Central Terminal, this is Cave's first public project in New York City. Co-presented by MTA Arts for Transit and Creative Time.
Head to Hyperallergic
for more about this project
.
If you haven't seen it, the band's Gaspar Noe-directed video for "We No Who U R" is below...
Continue reading "Nick Cave (not that Nick Cave) doing an art installation at Grand Central Terminal"
Earth Day is being celebrated today. In NYC that means official festivities at Grand Central today (4/20) and tomorrow, and today in Times Square.
You can also stay green at the green festival at the Javits Center this weekend.
photos by Andrew St. Clair
"Friday I worked until 6 and after went to Grand Central Station to try to catch a free Band of Horses concert, but of course by the time I got there it was full, so I hung around outside for a while trying to listen, but I couldn't hear too well so I left. Huge bummer, I would have loved to see them. Then I met up with my friend and we walked around the East Village, hung out on the roof of her apartment, and went and got Peruvian food- it was verrrrry yummy." [Forever Young]
As I type this,
Band of Horses
have already finished playing their Sunday night headlining set at Williamsburg Waterfront in Brooklyn (and their Saturday night set in Toronto), but this post is about their
Friday evening AOL pop-up show at Grand Central
. Some more pictures, officially & unofficially shot video (including an interview) & the setlist from that one, below...
Continue reading "Band of Horses @ Grand Central - pics, AOL video & setlist"
Band of Horses @ Sasquatch 2006 (more by Jerry Yeti)

Band of Horses have tweeted (and as people figured out yesterday), "FREE Show Friday 6/18 at 6:30 PM in Grand Central Terminal NYC.The line starts at the 42nd St Entrance. First come, first served."
Stella Connelly

"Little 7 yr. old Stella Connelly with the help of songwriter performer "Hoop the Last Folk Singer" is sending an important message to everyone this Earth Day 2010. Earth day is every day! The message is passed along through the new song "Earth Day Everyday". The song was recorded by Stella Connelly and reggae recording artist Carlos Jones and First Light."
I don't fully know what that means, but it's the bio that goes along with
Stella Connelly
who, along with
Grace Potter & the Nocturnals
,
The London Souls
, and many more, are performing as part of the Eary Day celebration at Grand Central in NYC on Friday and Saturday. The full schedule and more details below...
Continue reading "Earth Day EarthFair at Grand Central Friday & Saturday - free music, exhibits, art & more (full schedule) "
"The pivotal scene in Dumbo (1941), for instance, is the transformation of consciousness and augmentation of capacity -- in this case, the big-eared elephant's motor skills -- via a hallucinatory delirium brought on when the dejected pachyderm drinks a barrel full of water into which, unbeknownst to him, a bottle of spirits had been accidentally spilled. To the foreboding lyrics and serpentine melody of "Pink Elephants on Parade," Dumbo begins seeing things "you know that ain't" (a succession of fractals and geometrical patterns, forms morphing into new ones, and scenes of Oriental mystery and erotica), then passes into oblivion, from which he wakes up in the highest branches of a tree. Thus Dumbo earns his wings not through an act of obeisance to the Ten Commandments but in the throes of a psychotropic-induced visionary state." [psychadelicAdventures.com]
Grand Central Station
in NYC is celebrating Earth Day
today (4/24) and Saturday. There's food, face painting, yoga, recycling, live music and much more.
Dar Williams
will be there today at 5:45. Full schedule below.
Strangely, today's Grand Central schedule also includes a "BREAK" due to "Noise Ordinance" today from 2-5pm. This is fueling rumors that The Dead, who are in town (again) to play Nassau Coliseum tonight (4/24) and MSG tomorrow (4/25) will show up for a secret show (again). It's probably not true, but if you have nothing better to do and want to head over there based on that, at least there are plenty of other eco-friendly diversions to keep you busy.
The Dead played Letterman last night. Video of that, and full Grand Central music schedule below...
Continue reading "It's Earth Day @ Grand Central - live music included + the Dead played Letterman - Nassau tonight, MSG Saturday"
---