Entries tagged with: Infected Mushroom
...according to the Baltimore Sun:
It has officially become news when there are no overdoses at your EDM festival. Let's hope Electric Zoo can get a story like that, though we're not sure it will be because of their public service announcement.
Upstate, NY has a new music festival debuting this year, the inaugural Hudson Project which goes down from July 11-13 at Winston Farm in Saugerties, NY with four stages set against the Catskill Mountains. The initial lineup includes Kendrick Lamar, Modest Mouse, The Flaming Lips, Moby (DJ), Atmosphere, Flying Lotus, Bonobo (live), Holy Ghost, Twin Shadow, Cults, AraabMuzik, Gold Panda, Flatbush Zombies, !!!, Isaiah Rashad, Yacht, Jon Hopkins, Kelela, Majical Cloudz, SZA, The Range and more. Tickets go on sale Friday (4/4) at 11 AM.
In addition to the music, there will be "an art village showcasing interactive art exhibitions, regional arts and crafts and a selection of Hudson Valley-area gourmet food, wine, craft beer and specialty cocktail options will also offer local selections."
Full initial lineup below...
Continue reading "The Hudson Project music festival coming to the Catskills (lineup includes Kendrick Lamar, Modest Mouse, Flaming Lips & more)"
Femi Kuti in Austin in 2011 (more by Tim Griffin)

New Year's Eve is just around the corner. We've already mentioned a few options of ways to celebrate in NYC, and here's a few more. Fela Kuti will be celebrated at Knitting Factory (12/31) with The Fela! Band and Rich Medina. Tickets for that show are on sale now.
A similar celebration goes down at SOB's, where Fela-inspired afrobeat band Antibalas will be ringing in the new year. They're doing one show on 12/30 and then THREE shows on New Year's Eve (8 PM, 10 PM, 12:30 AM). Tickets for all four are on sale now.
Shabazz Palaces will celebrate NYE at the new Rough Trade NYC (tickets).
UPDATE: Shabazz Palaces is cancelled.
As usual, you've got jam/electronic options like Phish at MSG (tix), Infected Mushroom at Best Buy Theater (tix), Big Gigantic at Roseland (tix), Disco Biscuits at the Theater at MSG (tix), Deadmau5 at Nassau Coliseum (tix), and Gov't Mule at Beacon Theatre (tix).
For punk, you can catch Murphy's Law at Trash Bar with Urban Waste, Dead Serious and Zombie Fight or No Statik at Acheron with Nomad, La Misma, and Grudges.
For a DIY New Year's Eve, head to David Blaine's The Steakhouse (1131 Myrtle Ave, Apt. 303) for Elvis Depressedly, Spook Houses, Crying, Morrison Brook, and Alex G.
Other previously announced options include Gogol Bordello (which Man Man was added to), Andrew WK, Thurston Moore, Moon Boots, Mykki Blanco, Jill Scott and more.
If you're not in NYC, catch Screaming Females and Swearin' in Philly, Baauer in Philly, Danny Brown and Flatbush Zombies in San Francisco, Melvins and Mudhoney in San Francisco, The Breeders in Austin, Death in Chicago, Washed Out in Atlanta, or Run the Jewels in Raleigh.
Gogol Bordello - Dec 2009 (more by Paul Birman)

Once again, we're approaching the new year, and as always, there are tons of ways to celebrate in NYC with a number of different New Year's Eve shows.
Gogol Bordello are returning to NYC to play Terminal 5 on December 30 and 31. Tickets for both shows are still on sale and we're also giving away a pair. Details on how to win are below.
Deer Tick will play Brooklyn Bowl on New Year's Eve. Tickets are still available and also available is a combo package that allows you entry to see the Deer Tick show and the Lucero show which happens at the same venue one night earlier (12/30).
Los Lobos, who, along with Deer Tick, have members in the new supergroup Diamond Rugs, also play NYE in NYC at City Winery. They're playing two shows at the venue and tickets for the early show and the late show are still available.
Ted Leo and the Pharmacists will be in the NYC-area for NYE to play The Bell House on 12/30 (tickets) with Obits and Maxwell's on 12/31 (tickets). Comedian Kurt Braunohler opens both shows.
O'Death plays Spike Hill on New Year's Eve with The Woes. Tickets are still on sale.
A few similar electronic shows will happen on NYE, including AraabMuzik, Balam Acab, Light Asylum, Laurel Halo, and Run DMT at 285 Kent, a Laurel Halo DJ set at Zebulon and Nosaj Thing, El Topo (aka Nicolas Jaar associate Dave Harrington), and others at Glasslands. Tickets for the 285 Kent show and the Glasslands show are still on sale.
Another similar option would be the Cheryl dance party at Public Assembly (12/31) with a live set by Midnight Magic. Tickets are on sale now. The Underground Rebel Bingo Club is also throwing a sold out party in Public Assembly's back room.
There will also be DJ parties at Cameo Gallery (tickets) and Santos Party House (tickets).
Mister Saturday Night hosts a party at House of Yes.
Laidback Luke, who will set sail on the Holy Ship! cruise in the beginning of 2012, will be throwing a party at Pacha in Manhattan (warning: avoid at all costs). Another HARD-approved artist, Nero, will be at Webster Hall for an after-hours party, starting at 3:30 AM. Tickets for the party are on sale now (and is also probably somewhere you don't want to be).
Two Daptone Records affiliates will be in NYC on NYE. Charlies Bradley and The Budos Band play Music Hall of Williamsburg and Lee Fields & the Expressions with Sugar Pie Desanto will play The Bell House. Tickets for the Charles Bradley show and the Lee Fields show are still available.
For a different type of soul show, Fitz & the Tantrums are playing Gramercy Theater on NYE, but that show is now sold out.
The Stone is throwing their annual end of the year improv party with John Zorn, Thurston Moore, and others.
The Damnwells play two shows at Rockwood Music Hall.
Sandra Bernhard finishes a run of shows at Joe's Pub on New Year's Eve.
Barbes hosts Spanglish Fly.
Like he's done in the past, Chuck Berry will be playing two shows at BB King's on New Year's Eve. Tickets for the early show and the late show are on sale now.
For two shows that you definitely won't find BBG at, Phish play four MSG shows (12/28-12/31) and Matt & Kim play Hammerstein Ballroom on New Year's Eve with Super Mash Brothers and Body Language. Tickets for the Phish shows and the Matt & Kim show are still available.
In addition to Phish, another jam band option is Gov't Mule's two night run at Beacon Theater from December 30-31. Tickets for both shows are on sale now. Infected Mushroom is at Best Buy Theater.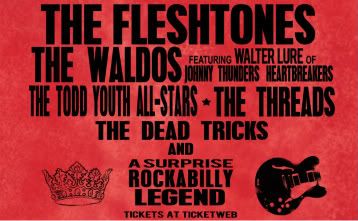 The Fleshtones, Todd Youth All-Stars, The Waldos (featuring Walter Lure of Johnny Thunders' band), The Threads, Richard Bacchus & The Luckiest Girls, and The Dead Tricks will play Bowery Electric on 12/31 with a "surprise rockabilly legend." Tickets are on sale now. The flier for this show is above.
Patti Smith will do her usual run at Bowery Ballroom (12/29-31) but all three shows are now sold out.
In other NYC proto-punk news, New York Dolls will NOT be playing Irving Plaza on 12/30, the show has since been cancelled.
What else?
Details on how to win Gogol Bordello tickets below...
Continue reading "New Year's Eve concerts & parties in NYC --- Gogol Bordello (win tix!), AraabMuzik, Phish, Chuck Berry, Patti Smith, more"
photos by Rachel Carr, words by Daiana Feuer
Gorillaz Clash

The third and final round of the Coachella Music & Arts Festival was funky, and not just because the port-a-potties reeked. Keeping a loose theme every day (see Friday & Saturday), Sunday focused on relentless rhythm and groovy basslines. The absolute golden moment belonged to Yo La Tengo's blistering final song. Rhythm that revels in repetition + guitar that tries to destroy itself = wee mind blown. Sometimes the moodiest things are the most uplifting.
Thom Yorke brought his dancing shoes, his favorite Flea, and Nigel Godrich. His band Atoms For Peace played almost every song off The Eraser, many of which featured strong world rhythm sections. When Yorke didn't have a guitar in hand, he danced, whirled, and punched the air like he was rehearsing a scene from Fame. We wanted a high kick, but it didn't arrive. King Khan & The Shrines, on the other hand, featured legs flying all over the place, DJ Lance Rock and Yo Gabba Gabba characters, burning money, as well as a visit from the police-who crept on stage to snap pictures. Probably the first time Khan runs into cops and doesn't leave wearing cuffs. Sunny Day Real Estate had the audience offering bids to buy property, and Phoenix had people choking on dinner as they tried to dance and eat at the same time.
King Khan Gabba Gabba

Not every Julian Casablancas song captivated, but his band delightfully binged on rhythms. Each musician had a personal backbeat player supporting each fill. The drummer plus his sidekick especially sounded great. Matt & Kim's ebullient smiles inspired chaos in the audience, as usual. Mayer Hawthorne and the County revived Motown soulful brassiness and covered Biz Markie's "Just a Friend." The Big Pink played some new songs from next year's album, reaching out for Depeche Mode with a drummer in a pink bathing suit. Electro sweet popper Little Boots forgot her pants as well, wearing a sparkly shirt and knickers, and played with the lasers on stage. Charlotte Gainsbourg inaugurated her "first tour, first everything" with a feminine "Candy-O" sensibility, sometimes in French. Florence & the Machine rounds out the great lady performances of the day, and brought on Nathan Willett of Cold War Kids.
All clad in white, France's DJ ego-powers Club 75 demonstrated the ability to cooperate together with just a few elbows thrown. Cassius, Justice, Busy P, and DJ Mehdi still use CD's (so old school), and took turns passing on the headphones between them and finishing each other's remix sentences, trading places at each station. Backstage security bobbed along while staying tough. When it was their turn, Rusko turned the Sahara tent into a mechazoid robot battle and Orbital live-produced virtual reality anthems for Satan wearing Matrix miner lights around their heads. Infected Mushroom instructed on the benefits of "Becoming Insane" flanked by two mushrooms with red eyes.
The Middle East should not be confused with The Soft Pack, formerly The Muslims. The former may be from Australia but it sounds like a back porch band from Woodstock, and the latter offers a "Parasite" infestation that's as pure as sunshine and a neat drum set up that packs a giant tom punch. What appears as regular rock on headphones reveals its brilliance when experienced live. One of the strangest live moments of the festival belongs to Sly Stone, who played four hours late and on the wrong stage. He bitched, he slurred, he cursed, lay down, walked off, stopped songs and good grief, made a total mess of himself. But that's rock and roll.
Sly Stone made history look unable to get past its youthful drug phase, but Jonsi, Pavement, and Spoon come from a music scene that did a little bit less cocaine. Jonsi repped the awesomeness of Sigur Rós and great hats. Steve Patterson of White Rabbits joined Britt Daniels and the rest of Spoon to add percussion on "I Turn My Camera On". Spoon's tour-mate Bradford Cox (who played earlier in the day in Deerhunter) also joined Spoon on stage, like he did on their recent Kimmel appearance. Pavement ran through the hits during one of their first U.S. shows since reuniting. "That's the 90's in a nutshell," said Stephen Malkmus after the angsty "Unfair"...
"...Pavement, the iconic slacker band of the '90s, who took the main stage against what turned out to be one of the fest's chief attractions, the finally wildly popular French dance-rock band Phoenix, who wowed possibly the biggest crowd of the entire fest ... while Pavement played to a field half-full of true believers rather than the massive throngs many expected, and thought the band deserved.

No matter, though. Pavement still delivered a set that vindicated the group of prior crimes -- namely a Coachella performance near the end of their career so notoriously bad, many in attendance point to it as the moment the band decided to break up.

This night, however, they were tight, they were loud, and they sounded large on that vast field -- an odd statement, given the fact that in their heyday they were far more known for being introspectively small rather than arena-ready..." [The OC Register]
Virtual
Snoop Dogg
introduced the
Gorillaz
set, but Blur's Damon Albarn appeared in the flesh, with a few special guests including Paul Simonon, Mick Jones, De La Soul-who kicked their own old school jams earlier in the day-and Little Dragon's Yukimi. One unique rhythm transcended the next, showing the mutability of hip hop and dance music. And then that was it, suddenly. The festival ended and tens of thousands of people started wondering where they left their car keys...
Radiohead Peppers For Peace

Daiana's Weekend Top 10:
1. Yo La Tengo's last song
2. Little Dragon's Yukimi
3. Gossip leading a revolution
4. Thom Yorke dancing to African rhythms
5. PiL giving a history lesson
6. Sly Stone wigging out
7. Bouncing penises + fat people in undies (Die Antwoord + Major Lazer)
8. Devo putting on the hats that ushered in modern pop culture for "Whip It"
9. John Waters corrupting many young minds
10. The Gorrilaz lyric: "Super fast jellyfish going super fast. You can't even see him but you wanna eat him."
--
Owen Pallett, Local Natives, Miike Snow, and Yann Tiersen also played the fest Sunday. Gary Numan was among those who couldn't. Reviews & pictures from Day One, HERE and Day Two, HERE. Setlists (Thom Yorke and Pavement), pictures, and videos from Day Three, below...
Continue reading "Coachella 2010 - Day Three in pics, video & review (the Thom Yorke & Pavement setlists included) "
Wow...Public Image Ltd, The Specials, Grizzly Bear, Passion Pit, Echo and the Bunnymen, Grace Jones, Fever Ray, Devo, Hot Chip, Phoenix, Orbital, Spoon, Sly and the Family Stone, Charlotte Gainsbourg, Sunny Day Real Estate, Yo La Tengo, Mew, Camera Obscura, Gil Scott-Heron, The xx, John Waters, Dillinger Escape Plan, Deer Tick, Gary Numan... Full Coachella 2010 lineup below....
Continue reading "2010 Coachella line up announced (Faith No More, Pavement, Muse, Gorillaz, Thom Yorke, Jay-Z, LCD Soundystem, ???)"
---