Entries tagged with: Sandra Bernhard
We've been posting a bunch of New Year's Eve shows happening in NYC throughout the past few months, but there's even more cool stuff we haven't gotten to yet. Here's a roundup of ways to musically ring in the new year:
If you want to dance on New Year's Eve, there's no lack of good places to go to do that. Egyptrixx, Physical Therapy, Michael Magnan, Morgan Louis and Nita Aviance are playing an unannounced Brooklyn location, and tickets for that are on sale now.
The Bunker is throwing a NYE party at Trans Pecos with Scotland's Prosumer headlining and Bunker regulars Mike Servito and Bryan Kasenic. Tickets are on sale.
Verboten hosts a show with Lee Burridge, Andhim, Matthew Dekay, Bedouin and Mike Khoury (tickets).
Aurora Halal hasn't done one of her Mutual Dreaming parties in eight months, but she'll change that on NYE at Palisades with Galcher Lustwork, Huerco S. and DJ Richard. Tickets are available.
Sleepy & Boo headline a party at Cielo with Eskuche & Nu Sky, Mikey G and Dan Fischer. Tickets are on sale.
There's a lot of cool stuff at Cameo with Morgan Geist of Metro Area, disco band Midnight Magic, LCD Soundsystem's Pat Mahoney, Juan Maclean associate Jee Day, former Darkside member Dave Harrington, Cameo regular Evan Michael, and GODMODE's Motion Studies. You can grab tickets.
NYC DJ team The Rub are doing their recurring NYE party at The Bell House. Tickets are on sale.
Other previously discussed dance options include Skrillex/Diplo/Rudimental/A$AP Ferg, Kiesza, Erasure, Disclosure, Holy Ghost!/Museum of Love, DJ Koze, Machinedrum, Duke Dumont, Washed Out, !!!/Prince Rama/Cakes Da Killa, Peaking Lights and the Ed Banger party.
Murphys Law play their annual NYE show at Trash Bar with No Redeeming Social Value, Close To The Edge, Wombat In Combat, Hopeless Otis and Red Lucy.
Another previously discussed classic punk option is catching The Dictators or one of Patti Smith's year end shows the two days before NYE.
Garage rock covers band Detroit Cobras play NYE in NJ at Asbury Lanes (tickets). As discussed, they have 2 NYC shows surrounding that.
If you didn't get tickets to The Hold Steady or Deer Tick shows, another sweaty bar rock option is Guns N Roses cover band Mr. Brownstone at Mercury Lounge (tickets).
Also in the punk/garage realm is the Kid Congo Powers show at Home Sweet Home.
Quicksand is sold out, but other '90s post-hardcore/emo options include Rainer Maria/Moss Icon (tix) and ex-Drive Like Jehu band Obits. (tix)
Phish aren't doing their NYE run at MSG this year (they're doing it in Miami), but if jam bands are your thing, you can catch The Disco Biscuits at their 3-night Best Buy Theater run happening Dec. 29, 30 & 31. Tickets for all three nights are available. There's also the Gov't Mule 2-night run at Beacon Theatre on Dec. 30 & 31 (tix).
Williamsburg venue Glasslands will have their last show ever on NYE with four "special, secret" guests who all have history with the venue. That's sold out.
Meanwhile newer Williamsburg venues Baby's All Right and Rough Trade have NYE shows too. The Baby's show features Mykki Blanco, Perfect Pussy, Mr. Twin Sister, Ricky Eat Acid, Porches. frontman Aaron Maine performing as Ronald Paris, Sunflower Bean, James K, Dubbel Dutch, Mr. UNO and a number of DJs (tix). Rough Trade's show has Spirit Family Reunion, Mail the Horse and Twain (tix).
For a night of mostly local indie rock, Gimme Tinnitus, Ipsum and Exploding In Sound are bringing a party to Aviv with The Gradients, Celestial Shore, Palberta, Baked, Multicult, Palehound, The Big Sleep, Vomitface and Parlor Walls.
Chiptune punks Crying are headlining a NYE party at Silent Barn with Downies, Unstoppable Death Machines, Sunshine Gun Club (mems DeathSet, Team Robespierre), Isn't Ours, Jono Mi Lo and more TBA. There will also be several DJs, including the Shea Stadium crew, Edan Wilber from the now-closed Death by Audio with a "remote beach set" and more. More info here.
Reverend Vince Anderson and the Love Choir throw their recurring party at Union Pool with help from DJ Bluntmaster, DJ Ryan Sawyer and "Tons of Special Guests." No advance tickets for that show.
Chris Keating of Yeasayer, Dee Dee of Dum Dum Girls and others are DJing a swanky party at the Tribeca Grand Hotel (tickets).
Party to the sounds of the Caribbean at SOB's with performances from Bossa Casanova, Mambo Kings Orchestra and DJ Kevin Crown. (tix)
Beatles tribute band The Fab Faux hit City Winery from 12/27 to 12/31. Everything but the early show on NYE is sold out, so get tickets to that show while you still can. They're performing favorites from The White Album at that one.
Sandra Bernhard is doing her show Sandra Bernhard is #blessed, which "spotlights her own unique, sharp blend of hysterical insight and outspoken views, with rock-n-roll, cabaret, stand-up and a little burlesque," at Joe's Pub from 12/26 to NYE with two shows each night. Tickets are on sale.
And while Times Square is probably the last place you want to be on New Year's Eve, perhaps you'd like to know this year's lineup for Dick Clark's New Year's Rockin Eve includes Taylor Swift, Iggy Azalea, Charli XCX, Bastille, Jason Derulo, One Direction, Nick Jonas, Florida Georgia Line, MAGIC!, Fergie, Meghan Trainor and more, if you're into that sort of thing.
And Dick Clark's New Year's Rockin Eve is teaming up with Barclays Center to broadcast their Elton John show.
You can browse our "New Year's Eve" Tag for even more. What else?
Rufus Wainwright at Clearwater Fest 2014 (more by Chris La Putt)

Singer/songwriter Rufus Wainwright is hitting the road for some North American dates this fall/winter for shows in Italy, Bay Shore, Austin, CT and more. Check out the full list below.
Before Christmas, Rufus and his sister Martha will revive the annual NYC Wainwright holiday shows, 'Noël Nights', at Town Hall on December 17 & 18. Guests will include Emmylou Harris, Cibo Matto, Lucy Wainwright Roche, Sloan Wainwright, Sandra Bernhard, Jenni Muldaur, Teddy Thompson and still more TBA. Tickets for those shows go on presale today (9/17) at noon (password: Mistle) and the general on-sale begins Friday (9/19) at noon.
All dates are listed below...
Continue reading "Rufus Wainwright touring, playing holiday shows in NYC with Martha Wainwright, Emmylou Harris, Cibo Matto, more"
by Fred Pessaro // BBG
D'Angelo / Elvis Costello + Princess / Chris Rock & more @ Carnegie Hall


Amidst a snowy midtown backdrop, Carnegie Hall generated a little heat when the Michael Dorf-produced Prince Tribute opened last night (3/7). Stacked with performers giving props to the man in purple and paisley, the lineup featured some of the same names from the previous evening's "rehearsal" at City Winery, as well as surprise appearances from names like Chris Rock and more. Backed by The Roots with guitarist Wendy Melvion (of Prince's backing band The Revolution), D'Angelo show-closing numbers "It's Gonna Be a Beautiful Night" / "1999" were the clear highlights of the evening, with performances from Bilal (doing "Sister" and channeling Keith Sweat circa 1990s), Bettye LaVette ("Kiss"), Sandra Bernhard ('Little Red Corvette") and Fdeluxe ("High Fashion/Mutiny") also causing impromptu aisle dances. Fun night, and it was great to see people up and out of their seats, wilding out in a buttoned-up place like Carnegie Hall.
More pics from last night including the setlist, The Waterboys, The Roots, Eric Leeds, Diane Birch, the Cardigans' Nina Perrson, DeVotchka, Bhi Bhiman, Kat Edmonson, Blind Boys of Alabama, Citizen Cope & Alice Smith, Talib Kweli, Princess (Gretchen Lieberum & Maya Rudolph) and all iterations there within, are below.
Continue reading "D'Angelo, The Roots, Elvis Costello, Bilal, Chris Rock, Bettye LaVette & more played the Prince tribute @ Carnegie Hall (pics) "
As mentioned, City Winery founder Michael Dorf is presenting a tribute to Prince at Carnegie Hall on March 7, his next in a long line of tribute shows he's done at the historic Manhattan venue. Since we last spoke, the lineup of great musicians that will be performing at the show has been expanded. It features Elvis Costello, The Waterboys, Talib Kweli, Booker T, DeVotchka, Bettye Lavette, Sandra Bernhard, Bilal, Blind Boys of Alabama, Bhi Bhiman, Amos Lee, Citizen Cope & Alice Smith, Maya Rudolph's Prince tribute group with Gretchen Lieberum, Princess, house band The Roots, and perhaps most excitingly, R&B singer D'Angelo (who we're still waiting on that new album from). Tickets are still available and proceeds will benefit underprivileged youth.
Meanwhile, Prince recently posted a lyric video for a new song, "Screwdriver," to his website and revealed another new track, "Chapter & Verse," which you can stream below. You can buy "Screwdriver" and a remix of that song, AND another new song that came out today called "Breakfast Can Wait" at a mysterious website called 3rd Eye Girl. According to Questlove, "#BreakfastCanWait is WOW." Check it out.
In other related news, Elvis Costello and The Roots, who are both on the lineup for the Prince tribute, are releasing a collaborative album this year according to an interview that Questlove did with Billboard. Questlove says of the album, "We had 13 or 14 songs, but then we said, 'Ooh! Wait a minute! Let's replace four of these songs with four better songs! And now we have the tightest 12-14 song collection out of about 20 songs that we made." No release date, title, or any other info has been revealed yet, but Questlove assures us, "I can just say that it is brilliant."
Elvis Costello also plays a cancer benefit with The Who at The Theatre at Madison Square Garden on February 28.
Stream the new Prince songs below...
Continue reading "Roots & Elvis Costello collaborating, added to Carnegie Hall Tribute to Prince (who released new songs)"
My Morning Jacket at Williamsburg Park in August (more by David Andrako)

today in NYC
* Mireya Ramos @ Barbes
* Trio Tritticali @ The Stone
* Steve Aoki, Nervo @ Pier 94
* Leah Paul Quintet @ Barbes
* Du Yun Quartet @ The Stone
* Alberta Cross @ Brooklyn Bowl
* Biz Markie (DJ set) @ Brooklyn Bowl
* Dar Williams, The Neilds @ The Bell House
* The White Panda, Cash Cash @ Webster Hall
* The Disco Biscuits, Ott @ Best Buy Theater
* The Machine performs Pink Floyd @ BB King's
* The Fab Faux (Beatles Tribute) @ City Winery
* Strawberry Fields (Beatles Tribute) @ BB King's
* My Morning Jacket, Deer Tick @ Capitol Theatre
* Porches, Bad Cello, The Rotaries @ Shea Stadium
* Sandra Bernhard @ Joe's Pub (early and late shows)
* Small Change (Tom Waits Tribute) @ Lucille's at BB King's
* Led Blimpie (Led Zeppelin Tribute) @ Lucille's at BB King's
* A$AP Twelvyy & friends, Chase N Cashe @ Highline Ballroom
* Nicos Gun, Reputante, Band Antenna, Shiksa @ Cameo Gallery
* The Infamous Stringdusters, Lake Street Dive @ Bowery Ballroom
* Allies For Everyone (DJ Set), Headband, Sean Glass, Alex English @ The DL
* Butter The Children, Advaeta, In Buenos Aires, The Hot Flood @ Glasslands
* Grapefruit, Birds In Weather, Walter Salas-Humara, Tom Freund @ Cake Shop
* The Bernie Worrell Orchestra, Felicia Collins, Janet LaBelle @ Mercury Lounge
* H20, Wisdom In Chains, Stigma, Well Excuse Me, Princess @ Music Hall of Williamsburg
* The Bouncing Souls, Man Overboard, Trapped Under Ice, Born Annoying @ The Stone Pony
* Outernational, Escarioka, Harasssarah, Blayer Pointdujour and the Rockers Galore, Chico Selekta vs Minimum Tek DJ Battle @ Bowery Electric
Sandra Bernhard begins a 5-night run at Joe's Pub tonight which includes an early and late show each night, and culminates on New Year's Eve.
Tonight's Bowl Train at Brooklyn Bowl, which Questlove usually DJs, is a special edition with Biz Markie DJing. You can catch Questlove at his holiday party at SOB's on New Year's Day and he'll resume DJing Bowl Train the following Thursday (1/3).
My Morning Jacket begin their three-night run at the Capitol Theater tonight. Check out what Tom told us were his favorite albums of the year.
Deer Tick, who just played three nights at Brooklyn Bowl, open the MMJ show tonight. Check out what Ian O'Neil told us his favorite albums of the year were.
Follow @BrooklynVegan on Twitter.
Follow @bvChicago for just Chicago stuff.
Also follow @bvAustin for just Austin stuff.
Be our friend on Facebook too, and BV Austin's friend on Facebook and BV Chicago's friend on Facebook.
Follow BrooklynVegan on instagram.
What else?
Craig Finn in Austin in April (more by Tim Griffin)

As mentioned, Doveman (aka Thomas Bartlett) is doing his final Burgundy Stains Session of 2012 at Le Poisson Rouge on December 13. Since we last spoke, the guests for the show have been revealed: Sandra Bernhard, Yellowbirds, Hannah Cohen, The Perennials, Craig Finn (of The Hold Steady), and Joey Arias. Tickets for that show are still available.
Craig Finn, who recently told us his favorite albums of 2012, is an especially interesting addition to the show, as most collaborators usually have a known connection to Thomas, but this is the first time The Hold Steady and Doveman getting together. As mentioned, you can also catch The Hold Steady playing Wellmont Theatre on New Year's Eve with Lucero and comedian Kurt Braunohler. Tickets for that show are still available.
Joey Arias and Doveman are also teaming up later this month for an End of the World show at Joe's Pub (12/21) with special guests Narcissister, Cornelius Loy (theramin), and the Pixie Harlots, but unfortunately that show is sold out.
Hannah Cohen, who will guest at the LPR show, released her most recent album, Child Bride, this past April via Bella Union. The album featured production by Doveman and some appearances from Sam Amidon and Rob Moose as well. The video for the title track is below. Hannah and Doveman have also already began work on her next record, and she'll be performing some new songs at the show.
That video and a list of all Doveman dates are below.
Continue reading "Craig Finn, Joey Arias, Hannah Cohen, Yellowbirds & more to appear at Doveman's upcoming LPR show"
photos by Erik Erikson
How Was Your Week? -- 2/2 @ the Bell House

Now 49 episodes in, each week Julie Klausner posts another free edition of her podcast "How Was Your Week?". Grab them all and subscribe at iTunes, and stay tuned for the edition that was taped at the Bell House back on 2/2 with Tom Scharpling, Sandra Bernhard, Ted Leo, Ira Glass, and Joe Mande. Meanwhile, check out Joe Mande every Thursday night at UCB East (including tonight), and check out more pictures from the 2/2 podcast event, below...
Continue reading "How Was Your Week? with Julie Klausner (podcast & live pics)"
Gogol Bordello - Dec 2009 (more by Paul Birman)

Once again, we're approaching the new year, and as always, there are tons of ways to celebrate in NYC with a number of different New Year's Eve shows.
Gogol Bordello are returning to NYC to play Terminal 5 on December 30 and 31. Tickets for both shows are still on sale and we're also giving away a pair. Details on how to win are below.
Deer Tick will play Brooklyn Bowl on New Year's Eve. Tickets are still available and also available is a combo package that allows you entry to see the Deer Tick show and the Lucero show which happens at the same venue one night earlier (12/30).
Los Lobos, who, along with Deer Tick, have members in the new supergroup Diamond Rugs, also play NYE in NYC at City Winery. They're playing two shows at the venue and tickets for the early show and the late show are still available.
Ted Leo and the Pharmacists will be in the NYC-area for NYE to play The Bell House on 12/30 (tickets) with Obits and Maxwell's on 12/31 (tickets). Comedian Kurt Braunohler opens both shows.
O'Death plays Spike Hill on New Year's Eve with The Woes. Tickets are still on sale.
A few similar electronic shows will happen on NYE, including AraabMuzik, Balam Acab, Light Asylum, Laurel Halo, and Run DMT at 285 Kent, a Laurel Halo DJ set at Zebulon and Nosaj Thing, El Topo (aka Nicolas Jaar associate Dave Harrington), and others at Glasslands. Tickets for the 285 Kent show and the Glasslands show are still on sale.
Another similar option would be the Cheryl dance party at Public Assembly (12/31) with a live set by Midnight Magic. Tickets are on sale now. The Underground Rebel Bingo Club is also throwing a sold out party in Public Assembly's back room.
There will also be DJ parties at Cameo Gallery (tickets) and Santos Party House (tickets).
Mister Saturday Night hosts a party at House of Yes.
Laidback Luke, who will set sail on the Holy Ship! cruise in the beginning of 2012, will be throwing a party at Pacha in Manhattan (warning: avoid at all costs). Another HARD-approved artist, Nero, will be at Webster Hall for an after-hours party, starting at 3:30 AM. Tickets for the party are on sale now (and is also probably somewhere you don't want to be).
Two Daptone Records affiliates will be in NYC on NYE. Charlies Bradley and The Budos Band play Music Hall of Williamsburg and Lee Fields & the Expressions with Sugar Pie Desanto will play The Bell House. Tickets for the Charles Bradley show and the Lee Fields show are still available.
For a different type of soul show, Fitz & the Tantrums are playing Gramercy Theater on NYE, but that show is now sold out.
The Stone is throwing their annual end of the year improv party with John Zorn, Thurston Moore, and others.
The Damnwells play two shows at Rockwood Music Hall.
Sandra Bernhard finishes a run of shows at Joe's Pub on New Year's Eve.
Barbes hosts Spanglish Fly.
Like he's done in the past, Chuck Berry will be playing two shows at BB King's on New Year's Eve. Tickets for the early show and the late show are on sale now.
For two shows that you definitely won't find BBG at, Phish play four MSG shows (12/28-12/31) and Matt & Kim play Hammerstein Ballroom on New Year's Eve with Super Mash Brothers and Body Language. Tickets for the Phish shows and the Matt & Kim show are still available.
In addition to Phish, another jam band option is Gov't Mule's two night run at Beacon Theater from December 30-31. Tickets for both shows are on sale now. Infected Mushroom is at Best Buy Theater.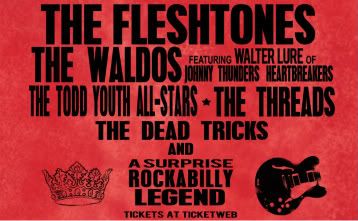 The Fleshtones, Todd Youth All-Stars, The Waldos (featuring Walter Lure of Johnny Thunders' band), The Threads, Richard Bacchus & The Luckiest Girls, and The Dead Tricks will play Bowery Electric on 12/31 with a "surprise rockabilly legend." Tickets are on sale now. The flier for this show is above.
Patti Smith will do her usual run at Bowery Ballroom (12/29-31) but all three shows are now sold out.
In other NYC proto-punk news, New York Dolls will NOT be playing Irving Plaza on 12/30, the show has since been cancelled.
What else?
Details on how to win Gogol Bordello tickets below...
Continue reading "New Year's Eve concerts & parties in NYC --- Gogol Bordello (win tix!), AraabMuzik, Phish, Chuck Berry, Patti Smith, more"
Rufus Wainwright @ Prospect Park (more by David Andrako)

Despite the addition of Rufus Wainwright to the bill, and stellar past shows, tickets are amazingly still on sale for Doveman's show at LPR tonight (5/26). The Goastt, aka Sean Lennon and Charlotte Kemp Muhl, were recently added to the show too. There's always surprise guests (like Justin Bond) and an all-star backing band too.
Rufus was also just added to another show too, one that also still has tickets on sale, and one that now boasts an extremely impressive lineup of gay icons. Rufus Wainwright, Justin Bond AND Liza Minelli (!) were all added as special guests to the Sandra Bernhard show happening June 8 at Town Hall. The date will be the world premiere of Sandra's new show "I LOVE BEING ME, DON'T YOU?" The poster confirming this info is below.
Speaking of Rufus (and Justin) at Town Hall, he and Martha just played the venue two nights in a row in honor of their mother with Justin Bond, Norah Jones, Antony Hegarty, Emmylou Harris, Teddy Thompson, Jimmy Fallon, and others. Rolling Stone was there the first night:
Although the three-hour concert was billed as "A Celebration of Kate McGarrigle," the prevailing mood was naturally somber. McGarrigle wrote and sang heartrendingly personal songs throughout most of her life; hearing them now that she's gone was emotional, to say the least. Performers and audience members alike could be seen tearing up during highlights like "I Eat Dinner (When The Hunger's Gone)" (a sweet duet between Harris and Thompson), "Go Leave" (a deeply felt rendition by Hegarty), "(Talk to Me Of) Mendocino" (sung by both Wainwright siblings with Jones), "Tell My Sister" (a wonderfully torchy performance by Martha Wainwright) and most of all "Proserpina" - the last song Kate McGarrigle wrote before her death, a sad, lovely, honest tune that brought nearly everyone back on stage to close the night's first set.
Rufus
has his own show coming up,
a free one where he'll be performing excerpts of his opera
, in NYC in June. All tour dates below...
Continue reading "Rufus Wainwright (and Liza Minelli!) will join Sandra Bernhard @ Town Hall (where he recently played 2 nights for Kate)"
photos by Dana (distortion) Yavin
"The downtown music scene will get an extra dose of glam this spring at a reading of a new musical written by the actress and comedian Sandra Bernhard, the downtown drag artist Justin Bond, and the Scissor Sisters lead singer Jake Shears.

The musical, called "Arts and Crafts," has a book by Ms. Bernhard and Mr. Bond, and music by Mr. Bond, Ms. Bernhard, Lance Horne and Mr. Shears, who is also one of the authors of the new musical adaptation of Armistead Maupin's "Tales of the City" books, which opens in San Francisco in May.

Gordon Greenberg will direct two performances of "Arts and Crafts" on March 7 at Joe's Pub." [NY Times]
Tickets are on sale
for the March 7th show - two of them actually (early and late).
Scissor Sisters, who are playing Bonnaroo (which went on sale today), and who recently DJ'd the Museum of Natural History, and who kick off a tour with Lady Gaga in Atlantic City tonight, played Wellmont Theater in Montclair, NJ last night (2/18). A set of pictures from that show continues below...
Continue reading "Scissor Sisters played Wellmont Theater (pics), Jake Shears working on musical w/ Bernhard & Bond (Joe's Pub on sale)"
Patti Smith @ the 2010 Tibet Benefit (more by Chris La Putt)

today in NYC
* Elderflower @ Barbes
* Mike Birbiglia @ Union Hall
* Sandra Bernhard @ Joe's Pub
* The Roots @ Starland Ballroom
* Patti Smith @ Bowery Ballroom
* Less Than Jake @ Brooklyn Bowl
* Mandingo Ambassadors @ Barbes
* Wu-Tang Clan @ Best Buy Theater
* Otis Heat, Translations, LUSHES @ Cake Shop
* The Disco Biscuits, The Crystal Method @ Terminal 5
* Rebirth Brass Band, Rubblebucket @ Le Poisson Rouge
* The Upright Citizens Brigade TourCo @ Highline Ballroom
* Prince, Mint Condition, Janelle Monae @ Madison Square Garden
* Workout, Jimmy Carroll, Fin Moore & SECRET GUEST @ Bruar Falls
* Borgore, J.Rabbit, Hellfire Machina, Trigon @ Music Hall of Williamsburg
* Loren Connors, Ancient Ocean, Daniel Carter, American Spinx, Tom Carter, Steve Gunn/John Truscinski Duo @ Zebulon
* Annual End Of Year Improv Benefit with many special guests w/ Raz Mesinai, Ikue Mori, Sylvie Courvoisier, Ned Rothenberg @ The Stone
The Bruar Falls show is especially interesting tonight. It's the "Workout & Friends Holiday Bash" and will feature a set by Jim Carroll of Hope Conspiracy and Acid Tiger, and there are rumored appearances by Joe McGinty, and Eleanor Friedberger of the Fiery Furnaces. FREE.
Sandra Bernhard plays her first two of eight New Years shows at Joe's Pub tonight.
Patti Smith kicks off her New Years run too.
There is no Bouncing Souls show tonight, but there will be one in February.
Mike Birbiglia plays a make-up show at Union Hall tonight.
What else?
photos by Kevin Tachman
Pop/rock band the SCISSOR SISTERS surprised fans in New York on Wednesday night (17Mar10) when they introduced comedian SANDRA BERNHARD to the stage for a special collaboration.

The I Don't Feel Like Dancin' hitmakers played their first show of the year at the city's Bowery Ballroom, with rocker Lou Reed and actor Alan Cumming among the fans in the packed audience, reports Spinner.com.

The quintet entertained the crowd with songs new and old and even performed a cover of Pink Floyd's Comfortably Numb.

But the highlight of the night came when frontman Jake Shears and singer Ana Matronic brought out Bernhard to share the vocals for their song T**s on the Radio from their self-titled debut album. [Daily Star]
The band played
two nights in a row at Bowery Ballroom
last week before heading to Texas for a SXSW show at Stubb's. More pictures and some video from the NYC shows and from Texas, below...
Continue reading "Scissor Sisters were joined by Sandra Bernhard @ Bowery Ballroom in NYC, then headed to SXSW - pics & video "
---