Entries tagged with: Simon O'Connor
photos by Greg Cristman, words by Bill Pearis
Lilys @ Baby's All Right 10/11/2015

Kurt Heasley brought his band Lilys back for shows over the weekend, including Philadelphia and two at Brooklyn's Baby's All Right. Pictures and a show report follow, but if you missed the Baby's shows -- or want to see them again -- this lineup of Lilys will play Baby's All Right on Saturday (10/17), a 10:30pm set that's part of an entire day of BrooklynVegan-presented free CMJ fun. It starts at noon and goes till midnight.
We'll announce the full Saturday lineup soon UPDATE: FULL LINEUP HERE., and it also includes daytime sets from Martin Courtney (1 PM), Stealing Sheep and lots more. Meanwhile, check out who we have at Baby's on Friday (and tonight/Wednesday)
As for this past weekend's shows: Don Devore, who spent time in the Lilys, The Icarus Line, and Ink & Dagger (and is now Sick Feeling), assembled a seven-piece Lilys that, counting Heasley, featured five guitarists, and included members of MGMT, Ducktails, Acrylics and more. The focus of these shows was on Lilys first five years when they made noisy dreampop on records like Eccsame the Photon Band and A Brief History of Amazing Letdowns. Not knowing what to expect when the band took the stage late Friday night/Saturday morning (1:15 AM-ish?), I'm happy to report Lilys were awesome.
With five guitarists (one being pedal steel), they were a wall of sound and heavy as hell at times. (I had just come from seeing A Place to Bury Strangers at Saint Vitus, so my ears took a beating Friday.) It was a hit-filled setlist, including "Ginger" (which was used in a Cadillac commerical almost 10 years ago), "The Hermit Crab" and a dozen or so others. I went to both shows, setlists were at least similar if not identical (in selection, maybe not order). Light Heat opened the shows and on Sunday, frontman Quentin Stoltzfus (who used to be in Mazarin) joined Lilys for a song. Pictures and setlist for Friday's Lilys show, and video of them playing "Ginger" on Sunday, is below.
Lighting came entirely from projections, which was the sort of vibe you want from a show like this (unless you're a photographer). They were selling the limited-edition splatter vinyl edition of Eccsame the Photon Band reissue on Friday, but it was sold-out by Sunday's show.
More pics and stuff below...
Continue reading "Lilys reunited for two shows at Baby's All Right, playing FREE BV CMJ party on Saturday night (pics / setlist / video)"
by Andrew Sacher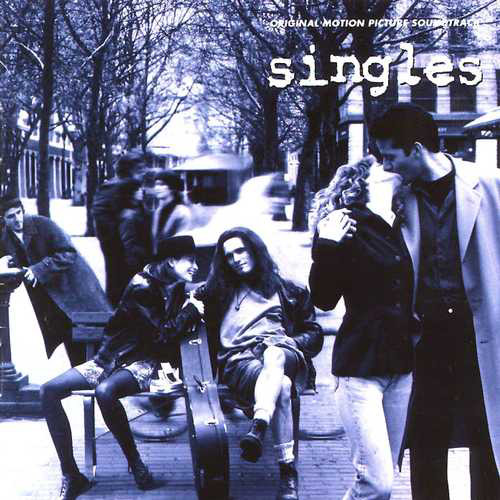 On October 30, Glasslands will play host to "The BuzzBin of History:, A Night with the World's Premier Alternative Rock Cover Band Kerosene Hat." The band's lineup is made up of a number of Brooklyn musicians: Miles Benjamin Anthony Robinson, Johnny Hunt (Amazing Baby), Simon O'Connor (Amazing Baby/Kuroma), Pan (Suckers), Will Berman (MGMT), and Heems DJ (Das Racist). Some of those members have also played together in Ill Fits and members of Suckers were also in 90s tribute band Citizen Dick, named after the band in Singles. Tickets for that Glasslands show are on sale now.
Speaking of Singles -- the 1992 film written, co-produced, and directed by Cameron Crowe, which depicted the ups and downs of the relationships (and lack thereof) of twentysomethings living in grunge-era Seattle -- both the film and its iconic soundtrack celebrate their 20th anniversary this year. The film was scored by The Replacements frontman Paul Westerberg, who also wrote two songs for the soundtracks, including the addictive theme song, "Waiting for Somebody." Other contributors to the soundtrack included Alice In Chains, The Smashing Pumpkins, The Screaming Trees, Mudhoney, Soundgarden, Mother Love Bone, Pearl Jam, in addition to a song by Jimi Hendrix and a Led Zeppelin cover by Heart side project The Lovemongers. (Crowe was married to Heart's Nancy Wilson at the time.) The movie and its soundtrack have both gone on to be remembered as a piece of the history from that famed Seattle scene.
In its 20th anniversary, Singles has been getting some tributes. Stereogum did one back in June around the anniversary of the actual soundtrack (which predated the film by about three months), where they reevaluated the album and its place in pop culture two decades later. This week, in celebration of the actual film's anniversary, SPIN did one where they took a stab at who might make the soundtrack if a similar film was made now.
Speaking of films and Paul Westerberg, The Replacements documentary, Color Me Obsessed, is getting a DVD release on November 20 via MVD Entertainment Group. You can pre-order the documentary HERE. The flier and trailer for the documentary are below, along with the video for Westerberg's "Dyslexic Heart" from the Singles soundtrack that features a mugging Jeremy Piven.
Continue reading "alternative rock cover show happening at Glasslands; 'Singles' turns 20; Replacements documentary getting DVD release"
---