Entries tagged with: Taking Back Sunday
by Andrew Sacher
Geoff Rickly w/ Thursday at The Chance in 2010 (more by Meghan McInnis)

The early '00s emo scene gets a lot of hate, a good deal of which is arguably deserved, but as with many hated music trends, there's a few gems that stick out and over ten years after their prime remain wildly influential. It's no secret that I'm a supporter of Thursday and their frontman Geoff Rickly's recent solo work. Plus, when Taking Back Sunday played Tell All Your Friends on tour last year, I wrote about the album's lasting impact for kids who were at impressionable stages of their life when they first heard it.
Those bands were both on Victory Records at the same time (and both expressed issues with the label), shared a producer, and have toured together before. So it might not be a surprising announcement, but it's a pretty welcome one that Geoff Rickly and John Nolan (who was a big reason Tell All Your Friends was so great, and left TBS after that record to front the relatively underrated Straylight Run) are going on a solo tour together this May. The tour kicks off in Brooklyn at the mostly-metal DIY venue Saint Vitus on May 10, and for two frontmen who both had solid runs in bands on MTV, that's a pretty cool place to see them. Tickets are not on sale yet for the Brooklyn show but you can check Ticketfly for updates.
All dates are listed, along with the tour flyer and song streams of Geoff and John's solo material, below...
Continue reading "Geoff Rickly and John Nolan touring together, playing St. Vitus"
photos by Devan Council, words by Andrew Sacher
Taking Back Sunday at Terminal 5 - 11/24/12

Taking Back Sunday have been celebrating the tenth anniversary of their debut album, Tell All Your Friends, with the lineup that recorded the album, on tour. After some rescheduling, they came to NYC, Long Island, and NJ for shows at Best Buy Theater (11/16), The Paramount (11/21), Terminal 5 (11/23-24), and Pine Belt Arena (11/25). We caught the 11/24 show at Terminal 5 and pictures from that show are in this post.
As I mentioned over the summer, Tell All Your Friends was a pivotal album for many teenagers at the time of its release and while a significant amount have grown up and began seeking other things in music, TAYF still holds a place in the hearts of many and that was abundantly clear at the Terminal 5 shows, where a song wasn't played without the crowd singing along word for word. And as Brittany Spanos for The Village Voice points out, those aged teenagers "were standing by the sides of a new set of kids with the same problems they had 10 years ago like a cyclical, ageless Breakfast Club of sorts."
Before playing Tell All Your Friends in its entirety, the band played a set of material that they recorded after the departure of John Nolan and Shaun Cooper, plus the two opening tracks on their self titled 2011 reunion album. During "Bike Scene," they brought out John's sister Michelle, who sang on the album recording of that track and was also a member of Straylight Run. After playing the album, they stuck around for two more songs, including TAYF-era b-side, "The Ballad of Sal Villanueva." More pics (including openers Gabriel the Marine and Bayside), the setlist, and some videos from the Terminal 5 show, below.
Continue reading "Taking Back Sunday played 'Tell All Your Friends' at Terminal 5 (pics, videos, setlist)"
Starland Ballroom (more by Tim Griffin)

Another victim of Sandy. The NJ music venue writes:
A MESSAGE FROM THE STARLAND BALLROOM:

The last two weeks in New Jersey have been a testament to our state's resilience. We've witnessed New Jersey's worst days, but also its greatest humanity. We've seen destruction, but we've also seen ho
pe, hard work and determination.

Our situation at Starland is a microcosm of these scenarios -- yet one we realize is significantly less important than one's home, family or livelihood. Hurricane Sandy devastated our electrical system and damaged our sound, lighting, heating / cooling and plumbing systems - all necessary ingredients in operating a public venue. Given the demand for these components in the regional housing and commercial sectors, we do not anticipate being able to open again until Spring 2013.

Speaking of 2013, it's the year in which we intend to celebrate Starland Ballroom's 10th anniversary. So we're dedicated to taking this time to rebuild the state's best concert venue, and make it even better. We'll take inspiration from all of our New Jersey neighbors who are working hard to get their lives back to normal. When it's all said and done, we'll be here for some of the best live concert celebrations available.

You can help in this effort: Send us an email to info@starlandballroom.com with your suggestions and ideas on how to make Starland even better. We'll read every last one of them.

Most of our shows will be canceled. A few will be moved to new locations. We'll have them listed here and at Starlandballroom.com ASAP.

Fans holding tickets to the canceled shows will receive a full refund, including fees. If you bought tickets online or via phone, you will receive an automatic refund within 7-10 business days. If you bought your tickets from a Ticketmaster retail outlet, you may return your tickets to that exact location for your refund. Tickets purchased here at Starland can be turned in for a full refund plus service fees during new hours of operation - Thursdays and Fridays from 3-6pm and Saturdays from 11am-2pm. The Box Office will not be open on Thanksgiving. Fans holding tickets to relocated shows, but unable to attend due to the new location, are also entitled to a refund. 2012 Starland SeasonPass holders will be permitted to use their passes for shows in 2013.

We regret that any of these shows are going away, but not as much as we regret the pain, suffering and destruction experienced by our customers throughout the Garden State. Much like the spirit of New Jersey, you can't stop rock n' roll. And we don't intend to.

Jersey proud, Starlanders. We'll see you soon.
Damn. See below for a list of shows affected:
Continue reading "Starland Ballroom closed till at least Spring 2013 "
As mentioned, Taking Back Sunday are taking their debut album, Tell All Your Friends, on tour this year for its 10th anniversary that kicked off in early October and it comes to NYC/NJ this month. The band posted an update to their website saying they'd like to help out with the areas most affected by Hurricane Sandy. So in addition to their two sold out Terminal 5 shows (11/23 and 11/24), TBS have added another NYC show happening on November 16 at Best Buy Theater with Bayside and The Menzingers, which will be a benefit show with 100% of proceeds going to relief efforts in and around Long Beach, NY where most of the band members are from. Tickets for that show go on sale today (11/12) at noon.
TBS have also "combined" their two sold out Starland Ballroom shows, which would have happened November 16 and 25 but had to be rescheduled due to the damage done to Starland Ballroom, into one larger show happening on November 25 at Pine Belt Arena on the campus of Toms River High School North in Toms River, NJ. This show, like the Best Buy Theater show, is also now a benefit for Hurricane Sandy Relief. Tickets to both shows will be honored and more tickets will be available starting Monday at noon. If you can't make it to the new date, refunds will be accepted until 10 PM on November 19.
The band also plays a Long Island show at The Paramount on November 21, which is sold out.
Updated dates are listed below.
Continue reading "Taking Back Sunday reschedule NJ shows and add Sandy benefit in NYC to 'Tell All Your Friends' tour (updated dates)"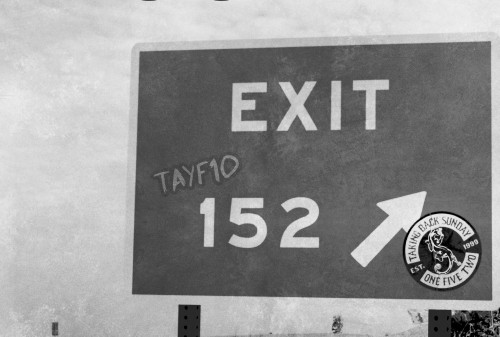 Tickets for Taking Back Sunday's Tell All Your Friends shows at Terminal 5 (11/23) and Starland Ballroom (11/16) went on sale today at noon. The Terminal 5 show sold out immediately and a second date was added which will happen at the NYC venue one day later (11/24). Tickets for that show are on sale now.
Updated dates are listed below...
Continue reading "Taking Back Sunday sold out Terminal 5, adds 2nd date"
by Andrew Sacher
Back in 2002, Taking Back Sunday released their debut album, Tell All Your Friends. After that album, the original lineup split up and TBS continued with new members, moving further and further away from their original sound until they basically became the epitome of MTV pop emo. The original lineup reunited for a self titled album in 2011, but saying that album didn't quite capture what was achieved on TAYF is an understatement -- that album was pretty downright bad.
So say what you will about the band now (or even then), but when Tell All Your Friends came out, it was up there with albums like Thursday's Full Collapse, Brand New's Your Favorite Weapon, and Thrice's The Illusion of Safety for one of the most impacting emo albums of the early 2000's for those teenagers (like myself) who were beginning to discover that you can pour your heart out in music and rock the fuck out while doing so. It did for my generation what Sunny Day Real Estate and Jawbreaker did a decade earlier, and what bands like Cloud Nothings and Touche Amore are doing for kids right now. I haven't really thrown on TAYF in recent years, but it was reissued in 2011 and I'm listening to that reissue on Spotify as we speak and remembering that I know every word to this album and it's got a huge load of nostalgic value for me and a countless amount of others.
I mention this because Taking Back Sunday have announced that they'll be taking Tell All Your Friends on a 10th anniversary tour this fall, performing the album in full at a number of venues across the US throughout October and November. The tour culminates with a NYC show on November 23 at Terminal 5, and it also hits Sayreville, NJ on November 16 at Starland Ballroom. Tickets for both NYC area shows go on sale Friday (8/10) at noon. Bayside supports on all dates.
A list of all dates, videos from the album, and a spotify stream are below.
Continue reading "Taking Back Sunday playing 'Tell All Your Friends' on 10th anniversary tour (dates)"
Watch out House of Vans, it looks like yeat another corporate-sponsored show-series is vying for contender of "best free shows" in NY this year. Taking place over fifteen days in Long Beach, NY (and finally explaining that mysterious Flaming Lips date), The Quiksilver Pro New York series ("the first-ever ASP World Championship Tour stop on the East Coast of the United States") will feature surfing, skating, and BMX demos from some of the biggest names out there (Kelly Slater, Tony Hawk, etc).... not to mention some major music acts like The Flaming Lips, Girl Talk, Interpol, Black Rebel Motorcycle Club, Q-Tip, Neon Indian, Wavves, Taking Back Sunday, Saves The Day, and many more. Best of all, admission to everything is FREE.
All dates with the full lineups are below, but the music portion kicks off on Saturday, 9/3 with Girl Talk, Saves The Day, "a special surprise performance" & more. Sunday has Interpol, Portugal. The Man, The Ettes (who play NYC tonight), and more. Monday (Labor Day) will see Black Rebel Motorcycle Club, Civil Twilight, and more. 9/9 is probably the most impressive show with The Flaming Lips, Q-Tip, Neon Indian, Wavves and Charlotte O'Connor. Saturday 9/10 will play host to a "Benefit Concert Hosted By Kelly Slater & Friends + The Max Weinberg Experience" with Taking Back Sunday, The Sounds and SLUNT. More details on the benefit show are TBA.
If you can't make it to Long Island, "The Quiksilver Pro New York will be broadcast from September 3-15 by MSG and Fuse, with programming that will feature some of the biggest artists, athletes and live performances from the event."
More details and lineups below...
Continue reading "Quiksilver hosting free shows in Long Island (Girl Talk, Flaming Lips, Interpol, Q-Tip, Neon Indian, Wavves, more)"
Lupe Fiasco is currently in Australia as part of the Big Day Out Festival, touring with names like Iggy Pop, Deftones, Grinderman, and countless others. After returning back to the states, he'll get ready to welcome his new LP Lasers into this world, due on March 8th. The Chicago MC will celebrate the release with a date at Webster Hall the night before it hits the streets and tickets go on sale at noon today (1/28). Lupe recently released the first single from the LP, the Modest Mouse-sampling "The Show Must Go On" via iTunes.
Tickets also go on sale at noon for Rick Ross at Best Buy Theater on March 4th, and fortunately if you can't make that show you can make it out to see him support Lil Wayne and Nicki Minaj at Nassau Coliseum on March 27th as part of the I Am Music II tour. Ticket info for that show hasn't been released yet. All dates below.
Those of you who want to see Lil Wayne but might prefer to see him in a much (much) different setting than the third of three hip hop acts (instead with Motley Crue, Waka Flocka Flame, Insane Clown Posse & Bruno Mars?) can catch the recently freed MC at Bamboozle 2011 in New Jersey. Tickets are still available for the festival in multi-day, and single day pass increments.
And lets say, for some godforsaken reason you felt like a double dose of Insane Clown Posse.... that can be arranged. Insane Clown Posse has taken time off of their busy wrestling schedule to shower New York City with Faygo on April 29th at Gramercy Theater. Tickets are still available all of you Juggalos and Juggalettes!
Full Bamboozle lineup and all Lil Wayne tour dates are below.
Continue reading "Lupe Fiasco adds record release show, Rick Ross playing NY before tour w/ Nicki Minaj & Lil Wayne (who plays Bamboozle w/ Insane Clown Posse) -- lineups & dates"
Irving Plaza - June 23, 2010 (EV Grieve)

Previously: Irving Plaza is getting its name back
Public Enemy @ Roots Picnic (more by Tim Griffin)

WARREN, NJ, June 24, 2009 Speculation and predictions that have filled blogs and discussion boards can be put to rest. The Virgin Mobile Festival is returning, but with a catch. It'll be free.

Virgin Mobile USA, creator of one of the largest and most critically acclaimed music festivals in the U.S., announced today that it would host the 2009 Virgin Mobile Festival on Sunday, August 30, at Merriweather Post Pavilion in Columbia, Md., free of charge. All tickets will be given away, and previous Virgin Mobile Festival ticket buyers and Virgin Mobile customers will have the first crack at securing the 35,000 tickets.

The move celebrates both a giveback to music fans in a bad economy as well as an effort to solicit donations to homeless youth agencies in need around the country via The RE*Generation, Virgin Mobiles charitable arm. Most sponsors, including premier sponsor Kyocera Communications, will be building awareness for the cause in their marketing efforts around the festival.

"Instead of focusing on layoffs or the state of the economy, we want to focus on concrete ways to provide assistance to those in need", said Dan Schulman, CEO, Virgin Mobile USA. "People need outlets to both lend a helping hand and to escape and relax, for free, even if just for one day. We want to throw some good news in the mix".

The 2009 Virgin Mobile FreeFest will be hosted on the beautiful, 40 wooded acres of Merriweather Post Pavilion. The grounds and facilities of Merriweather will be expanded to accommodate the multiple stage and dance tent set-up from prior Virgin Mobile Festivals. Those scheduled to appear at this years FreeFest include Weezer, Blink-182, Franz Ferdinand, and Public Enemy, Jet, The National, Girl Talk, The Bravery, The Hold Steady, St. Vincent, Wale, and Taking Back Sunday, as well as dance tent favorites that include HOLY F*CK, Pete Tong, Danny Howells and Lee Burridge.
Weird lineup.
Press release continued, with ticket info and more funny quotes, below....
Continue reading "MD Virgin Mobile Fest returns in 2009 as a free event (lineup)"
"Live Nation is planning to open the area's largest general admission venue this summer as part of its Nikon at Jones Beach Theater complex, with Long Island's own Taking Back Sunday set to christen the new stage.

The Bay Stage, named for its location on Zach's Bay in Wantagh, will have a capacity of 5,000 and focus on big-name acts that prefer playing general admission shows and developing acts and package tours that are too big for New York ballrooms but not big enough for arenas, said Live Nation's Christian McKnight, who is spearheading the stage's launch.

"It's the right place to play for certain bands - bands who have wanted to come, but haven't been able to play Long Island," said McKnight. "It will fill a void."

The new venue, which is located on the other side of the concession area from the amphitheater, will operate on the amphitheater's off days and feature lower ticket prices. Live Nation will start with six shows this season and, depending on the audience response, will expand further next year." [Newsday]
---