Entries tagged with: The Replacements
today in NYC
* ASSSSCAT 3000 @ UCB
* Mimi Jong @ The Stone
* Los Lobos @ City Winery
* Hutsuls Singers @ Barbes
* Wau Wau Sisters @ Joe's Pub
* Stephane Wrembel @ Barbes
* Le Zhang Quintet @ The Stone
* Vivian Green @ Highline Ballroom
* Hannibal Buress @ Knitting Factory
* Abby Rock, Turner Cody @ The Ace Hotel
* A Jewish Christmas Extravaganza @ BB King's
* Next Tribe, Rob Mastrianni @ Mercury Lounge
* Todd Barry, Mike Britt @ EastVille Comedy Club
* A Scream Along with Billy Christmas Special @ Joe's Pub
* Pine Grove, Franco Funicello, Outside Naked @ Cake Shop
* Winterbloom w/ Antje Duvekot, Natalia Zukerman, Meg Hutchinson, Anne Heaton @ Union Hall
* The Holiday Show Featuring Rock Groove w/ James Dalton & Friends, Woodfish, Wakan Chan, Doug Mikula, Keith Kenny @ The Saint (Asbury Park)
* Ryan Vosler, Clouds Make Sounds, Changing Modes, Don Gator & the Kings of Spyrock, Fly Baby with special guests ABC and Cosmonaut @ Santos Party House
Follow @BrooklynVegan on Twitter.
Follow @bvChicago for just Chicago stuff.
Also follow @bvAustin for just Austin stuff.
Be our friend on Facebook too, and BV Austin's friend on Facebook and BV Chicago's friend on Facebook.
Follow BrooklynVegan on instagram.
The Replacements documentary, Color Me Obsessed, has been made available to stream in full online. Check it out below.
What else?
The Replacements back in the day

The Replacements, who haven't recorded material since 2006, will be reuniting this year to record an EP of covers, Rolling Stone reports. ...Well sort of. The reunion includes two of the three surviving longtime members (guitarist Bob Stinson passed in 1995), frontman Paul Westerberg and bassist Tommy Stinson. According to Westerberg, drummer Chris Mars, "didn't want any part" of the reunion. "I was not surprised, but I was a little disappointed," he added.
The EP is being pressed as a limited 250 copies on 10-inch vinyl, and features covers of Dunlap's "Busted Up," "Everything's Coming Up Roses" from the Broadway musical Gypsy, Gordon Lightfoot's 1965 song "I'm Not Sayin'" and "Lost Highway" by Hank Williams. It's being auctioned online and the proceeds will benefit onetime Replacements guitarist Slim Dunlap, who suffered from a stroke earlier this year, and who also inspired the reunion. "You guys get together," Dunlap said to Westerberg, "Go play a song."
This news comes just after Paul Westerberg released his first new solo song in two years. If you haven't heard that yet, you can listen to it below.
The Replacements documentary, Color Me Obsessed, is also getting a DVD release this November.
And speaking of Replacements and covers, have you checked out Touche Amore's cover of "Unsatisfied"? If not, you can stream that below as well.
Continue reading "The Replacements (two of them) reunite for 4-song covers EP for a good cause"
by Andrew Sacher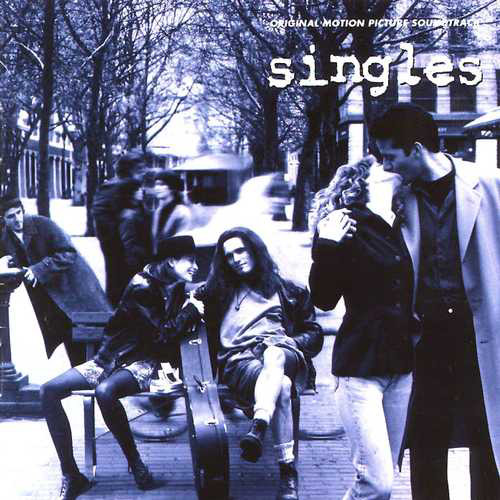 On October 30, Glasslands will play host to "The BuzzBin of History:, A Night with the World's Premier Alternative Rock Cover Band Kerosene Hat." The band's lineup is made up of a number of Brooklyn musicians: Miles Benjamin Anthony Robinson, Johnny Hunt (Amazing Baby), Simon O'Connor (Amazing Baby/Kuroma), Pan (Suckers), Will Berman (MGMT), and Heems DJ (Das Racist). Some of those members have also played together in Ill Fits and members of Suckers were also in 90s tribute band Citizen Dick, named after the band in Singles. Tickets for that Glasslands show are on sale now.
Speaking of Singles -- the 1992 film written, co-produced, and directed by Cameron Crowe, which depicted the ups and downs of the relationships (and lack thereof) of twentysomethings living in grunge-era Seattle -- both the film and its iconic soundtrack celebrate their 20th anniversary this year. The film was scored by The Replacements frontman Paul Westerberg, who also wrote two songs for the soundtracks, including the addictive theme song, "Waiting for Somebody." Other contributors to the soundtrack included Alice In Chains, The Smashing Pumpkins, The Screaming Trees, Mudhoney, Soundgarden, Mother Love Bone, Pearl Jam, in addition to a song by Jimi Hendrix and a Led Zeppelin cover by Heart side project The Lovemongers. (Crowe was married to Heart's Nancy Wilson at the time.) The movie and its soundtrack have both gone on to be remembered as a piece of the history from that famed Seattle scene.
In its 20th anniversary, Singles has been getting some tributes. Stereogum did one back in June around the anniversary of the actual soundtrack (which predated the film by about three months), where they reevaluated the album and its place in pop culture two decades later. This week, in celebration of the actual film's anniversary, SPIN did one where they took a stab at who might make the soundtrack if a similar film was made now.
Speaking of films and Paul Westerberg, The Replacements documentary, Color Me Obsessed, is getting a DVD release on November 20 via MVD Entertainment Group. You can pre-order the documentary HERE. The flier and trailer for the documentary are below, along with the video for Westerberg's "Dyslexic Heart" from the Singles soundtrack that features a mugging Jeremy Piven.
Continue reading "alternative rock cover show happening at Glasslands; 'Singles' turns 20; Replacements documentary getting DVD release"
"@tedleo and me were repping Jersey hard at 'Mats City. Guy from the Gaslight Anthem - apparently not all that concerned! #jerseystandup" - Titus Andronicus
"Phew!- Thanks!! I kind of butchered the 2nd verse of "Left of the Dial," so..." - Ted Leo
"Just kissed Ted Leo right on the mouth and he tasted like art" - Steven
"Umm John Wesley Harding, mike Scott, and Ted leo performed Blank Generation...I'm freaking out" - RoseAnn Fino
"So excellent. Ted Leo cribbing lyrics to Blank Generation off his phone. @ citywinery" - Martha Bayne
"Backstage; mike Scott just asking Ted Leo if he'd heard the Ram record" - Chris Funk
John Wesley Harding (more by Chris Graham)

Like Craig Finn the night before (and many others who were on the bill of one of the three Replacements tribute shows at Bowery Electric, Ted Leo took on the Replacements on Thursday night (11/17). Check out the videos below.
One night later, last night (11/18), Ted was one of many special guests at John Wesley Harding's Cabinet of Wonders at City Winery. If you missed it, as previously mentioned, John's tour continues in Brooklyn and NJ on Saturday and Sunday. They aren't Cabinet shows, but they are also pretty special. As his own site reads:
Critically acclaimed singer-songwriter John Wesley Harding is set to tour the U.S. this fall with the all-star King Charles Trio, whose lineup includes John Moen, Chris Funk, Jenny Conlee-Drizos and Nate Query, all members of The Decemberists, Peter Buck of R.E.M. and Scott McCaughey (Thee Minus Five, The Baseball Project). Thee Minus Five are tabbed to support.
Tickets will be available at the door for tonight's show at the Bell House.
Advanced tix
still on sale for Sunday's show at Maxwell's.
Ted Leo also has shows coming up at The Bell House and Maxwell's. Watch him cover the Replacements below...
Continue reading "Ted Leo covered the Replacements (video), played w/ John Wesley Harding (who plays again this weekend) "
Craig Finn, Tad Kubler & friends @ Bowery Electric last night

Though Brian Fallon cancelled, there was still plenty of talent to go around at last night's 1st-of-three BrooklynVegan-sponsored Replacements tribute shows at Bowery Electric. The Hold Steady's Craig Finn & Tad Kubler performed a cover of "Within Your Reach" which you can watch below (courtesy of jukeboxgraduate) along with a video of the encore performance of "Bastards of Young" that had Craig Finn, Titus Andronicus's Patrick Stickles, Jesse Malin, Tommy Ramone and others all on stage together.
If you missed the show, you have two more chances to experience it tonight (11/17). The early show is sold out though, but tickets are still available for the late one. Tonight's guests will not include Craig, but you will get:
Alex Levy
Anthony D'Amato
Danny Sage (D Generation)
Dave Hause (The Loved Ones)
Don DiLego & Bree Sharp (Beautiful Small Machines)
Jesse Malin
John Eddie
John Gallagher (American Idiot)
Matt Pinfield (MTV's 120 Minutes)
Matt Sweeney
Nicole Atkins
Paul Bearer (Sheer Terror)
Ted Leo
Tommy Ramone
Walter Lure (Johnny Thunders' Heartbreakers)
& MORE
--
Meanwhile Craig Finn has announced a solo tour in support of his upcoming album which he also posted a song from. No NYC dates for now, but you can see all the other dates, listen to his new song and watch the videos from the Replacements event, below...
Continue reading "Craig Finn covered the Replacements (video), posted a new song (stream), touring solo in February (dates)"
Mountain Goats @ Knitting Factory, Halloween 2005 (more)

As previously mentioned, John Wesley Harding is holding a "Cabinet of Wonders" variety show at NYC's City Winery on October 28th with Hamilton Leithauser (The Walkmen), Eugene Mirman, John Hodgman, Emma Straub, Paul Harding, and more TBA. Since our last mention, two very special guests have been added to the bill: Craig Finn (The Hold Steady) and John Darnielle (The Mountain Goats). Hopefully you didn't sleep on tickets because the show is now sold out.
Tickets are however on sale now for A Haunted Hot Tub Halloween at Littlefield, also a comedy and music variety show, happening one day later (10/29) with Kristen Schaal, Kurt Braunohler, Wyatt Cenac, Andres du Bouchet, and... John Darnielle, and more.
Tickets are also on sale for Hot Tub on 10/10 and 10/17.
Tickets are also still on sale for the 11/18 Cabinet of Wonders at City Winery with The Blue Fisherman (from Edinburgh, Scotland), Howe Gelb, Myla Goldberg, Ted Leo, Eugene Mirman, Audrey Niffenegger AND "Plus for this Cabinet of Wonders, and this Cabinet of Wonders only, the House Band will be THE KING CHARLES TRIO, comprising: Peter Buck (REM), Jenny Conlee-Drizos, Chris Funk, John Wesley Harding (Appearing as Himself), Scott McCaughey (The Minus Five), John Moen, and Nate Query." That's a lot of Decemberists. More upcoming JWH shows HERE
Speaking of Ted Leo and Craig Finn, both are scheduled to make appearances at the BrooklynVegan-presented Replacements tribute shows happening at Bowery Electric in November. The previously announced two shows (and movie screenings) are sold out, BUT a third tribute concert - a late one on 11/17, has been added. Tickets for the new show are on sale. More info HERE.
Mountain Goats dates and flyers below...
Continue reading "3rd Replacements tribute show added, John Darnielle schedules guest appearances, Craig Finn too"
Color Me Obsessed, a film about The Replacements, will be screening at a number of film festivals and other venues this year and next year. The film was produced by Gorman Bechard (of What We Were Thinking Films) and features interviews with Colin Meloy of The Decemberists, Craig Finn of The Hold Steady, Tommy Ramone, members of Husker Du, Robert Christgau, Jim Derogatis, Ira Robbins, Tom Arnold, and others. The film will premiere in NYC on November 16 and 17 at Bowery Electric.
We're excited to announce that, along with Bowery Electric, we're presenting MATS CITY, a Replacements tribute show that will take place at Bowery Electric after each screening. The show, which will be hosted by Matt Pinfield features a number of guests including Brian Fallon (Gaslight Anthem), Jesse Malin, Steve Wynn, Ted Leo, Chuck Ragan, Charlie Mars, Dave Hause (The Loved Ones), Matthew Ryan, Willie Nile, Tommy Ramone, Alejandro Escovedo, Dave Pulkingham, Walter Lure, Kevn Kinney, Don DiLego, Joe D'Urso, Danny Sage, and Nicole Atkins, and many more to be announced. Those singers will be backed by a band which includes Todd Youth, Matt Romano, and Johnny T. Tickets for the 11/16 and the 11/17 shows are on sale now (ticket options include movie only and show only, and both). A portion of the proceeds will go to Musicians On Call. Note that exact lineups for each date are TBA. Some performers may only be playing one day.
A list of cities the film will screen in and teaser video below...
Continue reading "new Replacements movie 'Color Me Obsessed' screening @ Bowery Electric before 2 special tribute concerts (on sale now)"
Nat Baldwin, David Longstreth and Brian McOmber play Black Flag
Delicate Steve plays the Minutemen
Ted Leo plays Minor Threat
Titus Andronicus plays the Replacements
Tune-Yards plays Sonic Youth
Dan Deacon plays the Butthole Surfers
St. Vincent plays Big Black
Wye Oak plays Dinosaur Jr
Buke & Gass plays Fugazi
No, that's not a list of what happened in a weird dream last night. That is the LINEUP of a NYC show at
Bowery Ballroom on May 22nd
in celebration of the tenth anniversary of
Michael Azerrad
's "classic history of the '80s indie underground",
Our Band Could Be Your Life
(a book everyone reading this site should probably own!)
To quote show co-presenter Tiger Mountain Presents, "some of the best bands in contemporary indie music will play songs by each of the 13 bands in the book."
"For years, all kinds of people -- musicians, people who run labels, concert promoters, journalists, whatever -- have told me that they've been very inspired by Our Band Could Be Your Life and the bands it profiles, which is incredibly gratifying and totally unexpected," says Azerrad. "The tenth anniversary of the book was a great occasion for the current generation of bands to celebrate these pioneers."
More bands & guest hosts TBA.
Tickets
are $25 & go on sale Friday, 3/11 at noon.
Meanwhile the book will also be the topic of a panel discussion at SXSW that Merrill Garbus aka tUnE-yArDs (who is also playing the festival) will speak on.
Ted Leo is headed to Austin too, an appearance at the BrooklynVegan official SXSW showcase included.
Delicate Steve and Wye Oak are going to SXSW too. Wye Oak can be found at the BV/KF/Partisan day party at Swan Dive on Friday, 3/18. Wye Oak will also play Bowery Ballroom as part of a tour in April.
St. Vincent plays Big Black. I just felt like saying it again!
Continue reading "'Our Band Could Be Your Life' 10th anniversary show lineup (Big Black, Black Flag & Fugazi songs will be played)"
by CD
Sad news - Steve Foley, who played drums with the Replacements and with Tommy Stinson's post-Replacements project Bash & Pop, has passed away at the age of 49. According to reports in the Star Tribune of Minneapolis-St. Paul, Foley died this past weekend in Minneapolis of an accidental overdose of prescription medication. By all reports, Foley was a gentle soul who looked back on his Replacements days with wonder and gratitude:
"Some days I walk down the street and go, 'God, I was in that [expletive] band?' Unbelievable. It is."
Steve Foley was a member of the Replacements for all of their
All Shook Down
touring, including, of course, their final show at Grant Park in Chicago on July 4, 1991.
Video for 'When It Began,' the All Shook Down clip that prominently features Foley, and a fascinating promotional documentary short on the making of the video, below...
Continue reading "Steve Foley, final drummer for the Replacements, dead at 49"
Record Store Day may have been last Saturday, but I am headed to my local indie shop tomorrow to pick up the four remastered Replacements albums, Hootenanny, Let It Be
Sorry Ma, Forgot to Take Out the Trash, Stink. Often rumored and much anticipated, the bonus material makes these discs a must-have for fans of the band.
The Replacements remastered editions are hardly the only new music worth checking out this week. Billy Bragg releases his latest album, Mr. Love & Justice in the US tomorrow, and talented Swedish singer-songwriter Anna Ternheim finally gets an album release in the states with Halfway to Fivepoints. Elvis Costello releases his latest album, Momofuku, as a vinyl and digital release. From what I have heard already, I can also strongly recommend Chris Mills' Living in the Aftermath (which pulls its music and lyrics from pop culture sources), El Perro del Mar's From The Valley To The Stars, The Jealous Girlfriends' self-titled debut, Shelley Short's Water for the Day, the Thalia Zedek Band's Liars and Prayers, and Tokyo Police Club's Elephant Shell.
Besides the Replacements discs, the other notable reissue this week is a remastered edition of Love's Forever Changes (complete with bonus disc).
What are you picking up this week? Are there any releases worth adding to the list?
Continue reading "Largehearted Boy's Interesting CD Releases This Week"
DOWNLOAD: Jim Walsh talked about it on WNYC (MP3)
Their legend is entrenched in rock history: Three neighborhood friends form a band in a Minneapolis basement, recruit a 12-year-old brother to play bass, and become one of the most critically acclaimed rock acts of the 1980s. Along the way there's comedy, tragedy -- and a lot of beery folklore. Longtime Twin Cities music critic Jim Walsh joins us to share his oral history, "The Replacements: All Over But The Shouting." [WNYC]
One day I will read more, and when I do, I would like to read
this book by Jim Walsh
. Download Jim Walsh's WNYC interview above. Check out four more related events, below...
Continue reading "if I read more, I'd probably read..... The Replacements: All Over But the Shouting: An Oral History"
---