Entries tagged with: The Waldos
Earlier this year, we mentioned that the legendary now-closed NYC punk venue Max's Kansas City would be celebrating its 50th anniversary from June 4-7 at Bowery Electric, the current home of many '70s-era NYC punks. Now the lineups have been announced.
Night 1 features an all-star Jayne County tribute, Jahn Xavier & the Bowerytones, The Sick F*cks, Ruby & the Rednecks, The Magic Tramps, Zecca and The Black Cats NYC, with MC Jimi Lalumia and DJ Mojo, and cameos by Miachael Alago and Yvonne Sewal.
Night 2 has The Waldos, Testors (the original lineup featuring Sonny Vincent), New York Junk, Luigi & the Wiseguys and Love Pirates, with Bill Popp & the Tapes playing in the Map Room. MC Jimi Lalumia's role is reprised, this time with DJ Rob Select, and there will be cameos by Steve Dior and Tammy Faye Starlight reprising her acclaimed off-broadway performance as Nico.
Night 3 has Pure Hell, Sea Monster, Puma Perl & Friends and Joey Kelly All Stars, with Martin John Butler in the Map Room. MC Jimi Lalumia, DJ Mojo, and a cameo by Tammy Faye Starlight as Nico once again.
And finally, night 4 has Nelson Slater, Prima Donna, The Rattlers, 4 on the Floor, Deborah Front, Hipp Pipps, The Flashcubs, MC Jimi Lalumia, DJ Twig the Wonder Kid, and a cameo by Penny Arcade
All four nights will be hosted by Peter Crowley. Tickets for all four shows, and a four-night pass, are on sale now.
tUnE-yArDs at ACL 2014 (more by Tim Griffin)

You can browse our full NYC show calendar for all of tonight's shows, but here are some highlights...
Strand of Oaks @ Ace Hotel (5 PM)
Strand of Oaks made the switch from a somber folk singer to an upbeat folk rocker this year and it's boosted his career more than ever before. Last night the band played their biggest NYC show yet at Bowery Ballroom and tonight they hang around for a free one, part of Ace Hotel's 5 at 5 series.
tUnE-YaRds, Cibo Matto, Beep! @ Music Hall of Williamsburg
tUnE-yArDs dove further into their world of quirky, eccentric pop on this year's Nikki Nack, and Cibo Matto returned with their first album since 1999 which had them still in good form. Tonight's night 2 of their 4-night run at MHOW.
The Blow, Zambri, Cookies @ Glasslands
Tonight two bands  (The Blow, Zambri) who've graced Glasslands' stage many times over the years will say goodbye to the venue which closes at the end of the month. It's the first show in a long time for Zambri.
Flatbush Zombies, The Underachievers, Obey City @ Best Buy Theater
This is a killer double bill with two of NYC's finest drug-rap groups, Flatbush Zombies and The Underachievers. It wasn't too long ago you could catch either of those in smaller venues around the city, but tonight's co-headlining gig at the larger Irving Plaza is sold out.
Doomriders, Black Black Black, Humanless, Mammal @ Saint Vitus
Converge bassist Nate Newton's a busy guy these days. That band's touring next year, his band Old Man Gloom recently put out an album, Cavalera Conspiracy recently put out an album he played bass on, and the stoner metal band he fronts, Doomriders, are celebrating their 10th anniversary with a few shows this weekend. They're in NYC tonight.
The Randy Fuller Four, Andy Shernoff, The A-Bones, Daddy Long Legs, Miriam and Nobody's Babies, Bloodshot Bill @ Bell House
Tonitght's the Norton Records Holiday Spectacular, featuring Randy Fuller (brother of Bobby "I Fought the Law" Fuller) and the label's stable of groovy garage bands.
Richard Buckner, Jessi Robertson, Dan Abraham @ Union Hall
Long-running alt-country singer Richard Buckner may not have gotten as big as some of his Merge labelmates (you may remember one of Arcade Fire's earliest NYC shows was with him) or some of the people he's influenced (like Bon Iver), but he's consistently kept it, releasing his tenth album Surrounded last year.
Sharon Jones & The Dap-Kings, Antibalas, Charles Bradley and The Menahan Street Band @ Apollo Theater
Tonight's the second of Daptone's three-day holiday extravaganza, the "Super Soul Revue" at the iconic Harlem venue.
Philip Glass (The Etudes) @ BAM
Philip Glass' 20-years-in-the-making project is performed in full tonight with help from nine other pianists, including Nico Muhly and Timo Andres.
The Feelies @ Asbury Lanes
Hoboken indie rock legends, The Feelies opened for Yo La Tengo at Town Hall last night and decided to play another area show while they had their gear out anyway.
Single Mothers, Show Me The Body, Basic Bitches @ Baby's All Right
Single Mothers make angry, attitude filled punk that kicks right into full gear and never lets up on the aggression until they leave the stage. It may finally be getting colder out, but you're most likely leaving this one covered in sweat.
Foo Fighters @ Irving Plaza
Foo Fighters have a new stadium rock record out and their tour next year hits NYC for an actual stadium show at Citi Field. But tonight they're in town for something a tad smaller. You have to line up at the box office like the old days to get tickets. Good luck.
Lemonade, Cut Copy (Tim & Ben), JDH (DJ sets) @ Glasslands
Your chances to dance the night away at Glasslands are running out -- this is a good one, a tag team DJ event featuring members of Cut Copy and Lemonade.
Lagwagon, Swingin' Utters, This Legend @ Gramercy Theatre
Because you just can't escape '90s punk nostalgia, Fat Wreck Chords labelmates Lagwagon and Swingin' Utters both have new albums out this year and they're now celebrating them on a tour together.
Elvis Depressedly, Told Slant, Bellows, Yours Are The Only Ears @ Shea Stadium
Elvis Depressedly first began generating some buzz in the Orchid Tapes DIY scene (Alex G, RIcky Eat Acid, Foxes In Fiction, etc), and he's now made the move to larger label Run for Cover (Tigers Jaw, Pity Sex) who will put out his debut full length next year. The rest of tonight's bill is all in the family -- Told Slant, Bellows and Yours Are The Only Ears come from their own DIY community, a collective known as The Epoch, and frequently collaborate/share members.
Potty Mouth, UNiiQU3, The Guests, LADD @ Barnard College
This mutli-genre bill at Barnard College features indie/punks Potty Mouth, electronic producer UNiiQU3 and more.
The Waldos, Dogmatics, Heap @ Bowery Electric
If you're in the mood for some old school punk tonight, head to Bowery Electric where Walter Lure's band The Waldos plays. Before forming this band, Walter was a member of Johnny Thunders' Heartbreakers.
Alberta Cross, Fly Golden Eagle, The Candles, Invisibleman @ Brooklyn Night Bazaar
Brooklyn Night Bazaar is open with a night of folk rock. It's free to get in and watch the bands, and there's plenty of not-free fun too like arcade games, shopping, good food, drinks and more.
For all of tonight's shows, and tomorrow's, check out our NYC concert calendar.
For laughs, check out the NYC Comedy calendar too.
-------------
---
Follow @BrooklynVegan on Twitter.
Follow @bvChicago for just Chicago stuff.
Also follow @bvAustin for just Austin stuff.
Be our friend on Facebook too, and BV Austin's friend on Facebook and BV Chicago's friend on Facebook.
Follow BrooklynVegan on instagram.
What else?
by Andrew Sacher
Marathon

New York punks Marathon, whose lineup included two members that went on to form to Polar Bear Club (but both recently left that band), broke up back in 2006 after the release of their only full length (self-titled). However, after reissuing that album in 2013, the band have now announced two reunion shows in their home state. They happen in Brooklyn on February 28 and Rochester on March 1 (venues TBA) with No Trigger (who also recently became active again) and Fire When Ready (whose only album came out in 2005 and who also don't appear to have played live in a while). The shows also include No Way, Soul Control and Benny Beyond. Flyer and song streams below.
UPDATE: The Brooklyn date happens at Saint Vitus with Marathon, No Trigger, Fire When Ready, and No Way. Tickets go on sale Friday (1/24) at noon.
Marathon's made fans out of other punk bands in the area, including Banquets, who as discussed, play NYC on Thursday (1/23) at Saint Vitus with UnWed (mems. Hot Water Music/Small Brown Bike), Nuclear Santa Claust and Pagan Girls (tickets).
A much older New York punk band, No Redeeming Social Value, will celebrate their 25th anniversary with a show at Brooklyn's Grand Victory on March 29 with Yuppicide, Two Man Advantage, Last Call Brawl and DJ Spag. Tickets for that show are on sale now.
Meanwhile, The Dictators NYC (Dick Manitoba's current version of The Dictators) will celebrate sixty years of Handsome Dick Manitoba on Thursday (1/23) at Bowery Electric with Threats and The Bullys. Tickets for that show are on sale now.
Also at Bowery Electric is NYHC band Reagan Youth on Sunday (1/26) with The Memphis Morticians, Twin Guns, Emergency Break and Dust Angel. Tickets are on sale.
And one more Bowery Electric show is the one February 16, which is the NYC stop of Richie Ramone's (who drummed in the Ramones from '83-'87) 'Something In My Drink' tour. Also on the bill is The Waldos, Threads and The Weapons. Tickets for that show are on sale now. All dates on the tour are listed below.
In other NYC punk news, there's a benefit for the Transcore stage of Punk Island (which Aye Nako have played) at Grand Victory on Tuesday (1/21) with Little Waist, Penguin, Dirty Circle and The Whores (not to be confused with Whores). Tickets are on sale now and "100% of net proceeds will go to cover the costs of the Brooklyn Transcore Stage at the 2014 Punk Island Festival. "
Though this particular project is reggae, H.R. of punk legends Bad Brains will bring his band Dubb Agents to NYC for a show on February 21 at The Studio at Webster Hall with Rebelmatic, Radio Daze and Get Involved (mems Thursday/Judge/Glassjaw).
Another punk show goes down with I Am the Avalanche, The Swellers, Turnover and Bellwether on March 28 at Marlin Room at Webster Hall. Tickets for that show are on sale now.
Turnover are on many dates on the Diamond Youth / Turnstile tour, but not the NYC show which happens on 2/14 at Acheron (tickets).
A week later at the Acheron (2/21) is the previously discussed Iron Chic / Chumped show. Since we last spoke, Earworms dropped off that show and were replaced by Timeshares. Iron Chic also recently announced all dates for their their tour, which you can check out here. Tickets for the Acheron show are still available.
In other recent punk news, Paint It Black announced their first NYC show in years, and The Lawrence Arms and Against Me! are streaming their new albums.
Marathon flyer, streams and more below...
Continue reading "punk roundup: Marathon reunion, No Trigger, Fire When Ready, NRSV, Dictators, Reagan Youth, Richie Ramone & more"
NOFX at Bonnaroo 2011 (more by Dana (distortion) Yavin)

Cali skate punks NOFX have announced a US tour which will go down this fall and hit NYC on November 30 at Irving Plaza. Support at that show, and a few of the other Northeast dates, comes from The F.U.'s and Implants. Tickets for that show are currently on Citi Cardmember, Live Nation (password: "HOB20") and Music Geeks (password: "musicgeeks") presales, and the general on-sale begins Friday (9/13) at 10 AM. All tour dates are listed below.
As discussed, NOFX frontman Fat Mike's label Fat Wreck Chords are doing their official CMJ showcase at Music Hall of Williamsburg on October 18 with Good Riddance and Western Addiction reunions, plus sets from The Flatliners and Brooklyn/NJ surf punks Night Birds. That same lineup (minus The Flatlieners) goes on a Rocks Off Cruise (10/19) the next day. Tickets for both shows are still available.
You can also catch Western Addiction at a smaller, sweatier show when they play Acheron on October 20 with Eric Davidson's (of New Bomb Turks) band Livids and Brooklyn punks Weird Womb. Tickets for that show are on sale now. Western Addiction's only full length album was 2005's Cognicide, which you can stream on Spotify.
Another good punk show at Acheron is Iron Chic, RVIVR, Nude Beach, and Giant Peach on October 13. Tickets for that show are on sale now.
That happens after Nude Beach's tour which hits Mercury Lounge on September 20 with Suspicious Beasts and Honey (tickets).
Meanwhile, you can also catch Long Island's Iron Chic in NYC when they open for Kill Your Idols at Santos Party House on November 30, with Concrete Cross and Bad Side also on the bill. That's Kill Your Idols' second show at the venue after the previously discussed November 29 date with Crime In Stereo and Altered Boys. Tickets for both nights are still available.
Iron Chic have some hometown LI dates coming up too, including the No Fun Club (9/15) stop on the Screaming Females/Waxahatchee/Tenement tour this weekend. All Iron Chic dates are listed below.
Boston punk fans may be interested in knowing that Dropkick Murphys have announced their hometown St. Patrick's Day shows, which include five shows at House of Blues from March 13-16. Tickets for all five shows go on sale Saturday (9/14) at 10 AM.
Don't forget that The Mighty Mighty Bosstones are doing their Hometown Throwdown at the same venue in December.
As mentioned in our last punk roundup, The Casualties are doing some shows in Long Island and NJ this week. Since that post, they've also announced a show happening in Coney Island on Sunday (9/15) at Sideshows By The Seashore (1208 Surf Ave at the corner of Surf and W. 12th). Tickets for that show are on sale now.
Another punk show happening in Brooklyn this Sunday is Upstart Fest at Knitting Factory (9/15) with Koffin Fats, Turbo AC's, The Scandals, and more (tickets).
That same day at the East Village's Bowery Electric is the previously discussed Angry Samoans show with Last Call Brawl and Downtown Brown. Tickets for that show are still available.
Bowery Electric is also hosting the 'Carry On Band Series,' as part of the CBGB Festival, on October 10 (6 PM - 2 AM) with tons of punk legends like Cheetah Chrome, Lydia Lynch, RIchard Lloyd, Syl Sylvain, Lenny Kaye, The Waldos, Glen Matlock, Tuff Darts, Faith, Andy Shernoff and many more. Tickets for that are on sale now.
You can find more punk shows HERE. What else?
All lists of dates below...
Continue reading "punk roundup: NOFX, Western Addiction, Iron Chic, Kill Your Idols, Dropkick Murphys, Casualties, CBGB Fest & more"
Cheetah Chrome w/ RFTT at Maxwell's in 2011 (more by Greg Cristman)

The CBGB Festival kicks off on Thursday (7/5) and continues through Sunday (7/8). We've mentioned a bunch of the festival's shows like the free Central Park show with Guided by Voices, The Pains of Being Pure At Heart, Cloud Nothings, and the War on Drugs, the Webster Hall show with Agnostic Front, Madball, and Murphy's Law (who also play a Rocks Off Cruise), Fishbone at Brooklyn Bowl, the Webster Hall show with Cro-Mags and Sick of it All, and many others. However, if you're looking for others artists that helped define punk and/or make CBGB the legendary venue it is, there are plenty of options for that too.
On Thursday (7/5), The Bowery Electric is hosting a huge show with Tommy Ramone (who drummed on and co-produced the first three Ramones albums), Cheetah Chrome (of Dead Boys/Rocket from the Tombs), The Waldos (ft. Walter Lure of Johnny Thunders' Heartbreakers), Bear 54 (ft. Ernie Brooks of The Modern Lovers), Andy Shernoff (of The Dictators), Richard Lloyd (of Television), The Miamis, The Sic Fucks, and many more. Tickets for that show are available.
That same day (7/5), David Johansen (of New York Dolls) will be playing Sullivan Hall with Daddy Long Legs, Liza Colby & The Sound Machine, Andy & the Rattles, and a late night set by Strawberry Jam. Tickets for that show are available.
Also on Thursday (7/5), you can catch Glen Matlock (of The Sex Pistols) at, wait for it... singer-songwrter mainstay The Living Room with California, Jaymay, Lou-is, and Aurical.
Check the CBGB Festival site for more.
Hilly Kristal entering CBGB on its final night (more)

The CBGB Festival isn't the only place to catch CBGB legends though. Like they've done in the past, Bowery Electric (a venue very close to where CBGB was) will host Johnny Thunders Birthday Bash, a celebration of the late musician, on July 15, when he would have turned 60 (he passed away in 1991). That show features Walter Lure, Alison Gordy, Andy Shernoff, and many more. Tickets are on sale.
Patti Smith will be touring with Neil Young later this year, which hits NYC for two shows (MSG on 11/27 and Barclays Center on 12/3). Patti also plays a sold out show at the Met, on September 28 (a tribute to Andy Warhol).
Blondie will be touring with Devo later this year. Unfortunately, that tour does not come to NYC.
But enough about NYC punks -- California's late 70s/early 80s hardcore scene is getting some pretty solid representation in NYC this summer too. The current version of Dead Kennedys (who no longer count frontman Jello Biafra as a member) will be playing a show at Santos Party House on July 31 with Cerebral Ballzy. Tickets for that show are on sale now.
Cali punks Agent Orange will be heading out on an east coast tour with The Queers, which comes to NYC for a Rocks Off Cruise on August 18. Tickets for that show are available. All dates on this tour are listed below.
Greg Ginn at Issue Project Room in 2010 (more by Lori Bally)

Black Flag founder/guitarist and SST Records founder Greg Ginn will be in NYC for two shows (early and late) with his new project Greg Ginn and the Royal We at The Iridium on July 29, and two more shows at the venue the next night (7/30) with the Les Paul Trio. Tickets for all four Iridium shows are on sale now.
Long-running Black Flag frontman Henry Rollins is heading out on a spoken word tour which hits the capitals of all 50 states. That means the NY show is in Albany and not too close to NYC, but you might have better luck checking out the Trenton, NJ show. The Trenton show is at the Jersey State Museum Auditorium and unfortunately not City Gardens, which is now closed, but during its existence had seen tons of great tours come through including multiple Henry Rollins appearances. A City Gardens documentary is in the works and due in 2013. The other tri-state area date on Henry's tour is Hartford, CT's Webster Theater.
Meanwhile, Keith Morris, who was a Black Flag frontman before Rollins joined, will be in NYC with his band OFF!, when their tour with Refused comes to Williamsburg Park on July 18. Tickets for that show are still available.
While we're on the topic of punk shows in Williamsburg Park, as mentioned, Riot Fest Brooklyn goes down at the outdoor venue on September 8 with Descendents, Hot Water Music, Gogol Bordello, The Bronx, Screaming Females, The Menzingers, and Larry and His Flask. Tickets for Riot Fest Brooklyn are still available.
Speaking of The Menzingers, they have a new live acoustic video for "Ava House" off their 2012 LP, On the Impossible Past, which you can check out below. You can catch them on their tour with The Bouncing Souls, which hits NYC for a show at Brooklyn Bowl on August 5. Tickets for that show are still available.
In other punk news, as mentioned, H2O, 7 Seconds, and Tournament play House of Vans on July 12. 7 Seconds frontman Kevin Seconds is working on a new album which is due out this year. You can check out the album's closing track, "Oh, Rhonda," at the bottom of this post. The entire 2012 House of Vans schedule was also just announced, Turbonegro included. UPDATE: you can also now RSVP for the 7 Seconds show.
Street Dogs will be in NYC for a show at Highline Ballroom on September 15 with Koffin Kats and special guests. Tickets for that show are on sale now.
As mentioned, the Fat Wreck/Rocks Off CMJ showcase happens on October 19 at Music Hall of Williamsburg with Lagwagon, Dead To Me, Flatliners, and Useless ID. Tickets for that show are still available. That same lineup also plays a Rocks Off Cruise the next day (10/20). Tickets for the boat show are available. And Lagwagon are also one of the bands currently announced for this year's Fun Fun Fun Fest.
As mentioned, Leftover Crack plays Warsaw on Sunday (7/8) with Crackbox and more TBA. That show appears to now be sold out (though we are waiting on confirmation of that). UPDATE: this is CANCELLED.
Another anarcho-punk option for Williamsburg this weekend is NYHC band Reagan Youth who are playing The Grand Victory (245 Grand St.) on Friday (7/6) with Dust Angel (ft. Reagan Youth guitarist Paul Cripple), Geek Skull, Lords of Death, and Empty Vessel.
As mentioned, crossover thrashers D.R.I. and Mucky Pup are teaming up for a tour which hits NYC on December 8 at The Studio at Webster Hall with support from No Redeeming Social Value, Undivided, and Blackout Shoppers. TIckets for that show are still available.
There's also a number of punk shows at Acheron this week.
Before we wrap this up, a bit more about classic UK punk making its way to NYC this summer/early fall. In addition to Sex Pistol Glen Matlock, who's here this week for CBGB Fest, The Vibrators will be in NYC for a show at The Bowery Electric on September 29. Tickets for that are on sale now.
Wreckless Eric, who veers a bit more on the new wave/power pop side of punk, will play Bowery Electric on September 7 as part of a duo with his wife Amy Rigby. They also play September 13 at The Saint in Asbury Park, NJ. If the name doesn't ring a bell, his song "(I'd Go) The Whole Wide World" probably does. It's seen some revived popularity in recent years due to Will Ferrell singing it in Stranger than Fiction. Tickets for both NYC area shows are on sale now.
Did we miss anything good?
Videos and lists of tour dates below...
Continue reading "punk roundup: CBGB Fest, Greg Ginn, Rollins, Off!, Dead Kennedys, Menzingers, Vibrators, Wreckless Eric & more"
by Andrew Sacher
Jayne County and the Electric Chairs (not a recent pic)

Looks like CBGB isn't the only legendary NYC punk venue celebrating a "reunion" this year. Max's Kansas City will be throwing an alumni reunion for four days in June at The Bowery Electric from June 7-10. Max's existed just above Union Square on Park Ave. South from 1965-1974 and again from 1975-1981. It was during its second run as a venue that it became known, along with CBGB, as one of the birthplaces of punk in NYC, having played host to Ramones, Blondie, Television, Talking Heads, New York Dolls, Patti Smith, Suicide, and many others.
The alumni reunion at Bowery Electric will include proto-punk legends Jayne County and the Electric Chairs (formerly Wayne County and the Electric Chairs, Jayne changed her name after the band's breakup and began identifying as a woman), who are best known for their single, "Fuck Off," and their excellent cover of the Electric Prunes' "I Had Too Much to Dream Last Night." They play on June 7 with The Rattlers, Sea Monster, Ruby & the Rednecks, and NY Junk. Tickets for that show are on sale now.
On June 8, we'll get Billy Rath's Street Pirates (Billy played bass with Johnny Thunders and the Heartbreakers), The Sic F*cks, Avant Duel, power pop greats The Shirts (who have been reunited since 2003 with founding members Robert Racioppo and Artie Lamonica, but without lead singer Annie Golden), and The Brats. Tickets for that show are on sale now.
On June 9, it's The Nihilistics, The Waldos (featuring Walter Lure of Johnny Thunders' band), The Planets, and Stumblebunny (tickets) and finally on June 10, it's King Bee & the Stingers, The Rousers, The Deer France & Dee Pop Experience, The Bowerytones, Four on the Floor, Street Corner Review, Hudson Dusters, and Honey Davis (tickets). A four day pass, which gains you access to all four shows, is also available.
Speaking of proto-punk shows at the Bowery Electric, Deniz Tek (of Australia's Radio Birdman) is currently on a tour of the US and Europe which brings him to Bowery Electric TONIGHT (5/18), Maxwell's on Saturday (5/19) in Hoboken, NJ and a Philly show on Sunday (5/20). The Master Plan open all three of those shows and Daddy Long Legs are on the Bowery Electric and Philly show. Tickets for tonight's Bowery Electric show and Saturday's Maxwell's show are available. All Deniz Tez dates are listed below.
Now that we're talking about Maxwell's, it's worth mentioning that another NYC punk legend will be there this month when Manitoba plays on May 25. In addition to being the reason that Dan Snaith started using the Caribou moniker, Manitoba is also the current project of Handsome Dick Manitoba, lead singer of The Dictators (who recorded a punk cover of "California Sun" two years before the Ramones did, and had a handful of solid originals as well). Manitoba also includes fellow Dictators Ross the Boss and JP Patternson, Daniel Rey (who's produced records for late-period Ramones, Richard Hell, Misfits), and Dean Rispler. Tickets for the Maxwell's show are on sale now. Manitoba also opens for Dick Dale on a Rocks Off Concert Cruise on 7/22 with The Detroit Cobras (tickets).
Lastly, speaking of CBGB, in addition to this summer's CBGB festival, The Telegraph points out that a CBGB biopic is also in the works which will profile the history of the club and how it became a breeding ground for the thriving late '70s punk scene. The film will star Alan Rickman (aka Severus Snape aka Hans Gruber) as CBGB founder Hilly Kristal, directed by Randall Miller (who worked with Rickman on Bottle Shock) and co-produced by Hilly's daughter, Lisa.
A list of all Deniz Tek dates and some videos are below...
Continue reading "Max's Kansas City alumni reunion, Deniz Tek on tour (dates), Manitoba playing Maxwell's, & other proto-punk news"
Lenny Kaye with Patti Smith at E2NY 2011 (more by Dana (distortion) Yavin)

The Continental, which no longer hosts shows, but is still a bar located on 25 3rd Ave in Manhattan, is hosting their Annual Reunion this Sunday (1/15). The lineup includes The Waldos (with Walter lure), Lenny Kaye (of Patti Smith Group), CJ Ramone, Murphy's Law (who are headlining the afternoon matinee portion), Electric Frankenstein, The Independents, Heap, and more. The full lineup with set times is listed below...
Gogol Bordello - Dec 2009 (more by Paul Birman)

Once again, we're approaching the new year, and as always, there are tons of ways to celebrate in NYC with a number of different New Year's Eve shows.
Gogol Bordello are returning to NYC to play Terminal 5 on December 30 and 31. Tickets for both shows are still on sale and we're also giving away a pair. Details on how to win are below.
Deer Tick will play Brooklyn Bowl on New Year's Eve. Tickets are still available and also available is a combo package that allows you entry to see the Deer Tick show and the Lucero show which happens at the same venue one night earlier (12/30).
Los Lobos, who, along with Deer Tick, have members in the new supergroup Diamond Rugs, also play NYE in NYC at City Winery. They're playing two shows at the venue and tickets for the early show and the late show are still available.
Ted Leo and the Pharmacists will be in the NYC-area for NYE to play The Bell House on 12/30 (tickets) with Obits and Maxwell's on 12/31 (tickets). Comedian Kurt Braunohler opens both shows.
O'Death plays Spike Hill on New Year's Eve with The Woes. Tickets are still on sale.
A few similar electronic shows will happen on NYE, including AraabMuzik, Balam Acab, Light Asylum, Laurel Halo, and Run DMT at 285 Kent, a Laurel Halo DJ set at Zebulon and Nosaj Thing, El Topo (aka Nicolas Jaar associate Dave Harrington), and others at Glasslands. Tickets for the 285 Kent show and the Glasslands show are still on sale.
Another similar option would be the Cheryl dance party at Public Assembly (12/31) with a live set by Midnight Magic. Tickets are on sale now. The Underground Rebel Bingo Club is also throwing a sold out party in Public Assembly's back room.
There will also be DJ parties at Cameo Gallery (tickets) and Santos Party House (tickets).
Mister Saturday Night hosts a party at House of Yes.
Laidback Luke, who will set sail on the Holy Ship! cruise in the beginning of 2012, will be throwing a party at Pacha in Manhattan (warning: avoid at all costs). Another HARD-approved artist, Nero, will be at Webster Hall for an after-hours party, starting at 3:30 AM. Tickets for the party are on sale now (and is also probably somewhere you don't want to be).
Two Daptone Records affiliates will be in NYC on NYE. Charlies Bradley and The Budos Band play Music Hall of Williamsburg and Lee Fields & the Expressions with Sugar Pie Desanto will play The Bell House. Tickets for the Charles Bradley show and the Lee Fields show are still available.
For a different type of soul show, Fitz & the Tantrums are playing Gramercy Theater on NYE, but that show is now sold out.
The Stone is throwing their annual end of the year improv party with John Zorn, Thurston Moore, and others.
The Damnwells play two shows at Rockwood Music Hall.
Sandra Bernhard finishes a run of shows at Joe's Pub on New Year's Eve.
Barbes hosts Spanglish Fly.
Like he's done in the past, Chuck Berry will be playing two shows at BB King's on New Year's Eve. Tickets for the early show and the late show are on sale now.
For two shows that you definitely won't find BBG at, Phish play four MSG shows (12/28-12/31) and Matt & Kim play Hammerstein Ballroom on New Year's Eve with Super Mash Brothers and Body Language. Tickets for the Phish shows and the Matt & Kim show are still available.
In addition to Phish, another jam band option is Gov't Mule's two night run at Beacon Theater from December 30-31. Tickets for both shows are on sale now. Infected Mushroom is at Best Buy Theater.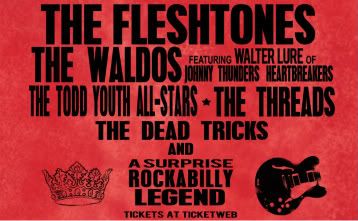 The Fleshtones, Todd Youth All-Stars, The Waldos (featuring Walter Lure of Johnny Thunders' band), The Threads, Richard Bacchus & The Luckiest Girls, and The Dead Tricks will play Bowery Electric on 12/31 with a "surprise rockabilly legend." Tickets are on sale now. The flier for this show is above.
Patti Smith will do her usual run at Bowery Ballroom (12/29-31) but all three shows are now sold out.
In other NYC proto-punk news, New York Dolls will NOT be playing Irving Plaza on 12/30, the show has since been cancelled.
What else?
Details on how to win Gogol Bordello tickets below...
Continue reading "New Year's Eve concerts & parties in NYC --- Gogol Bordello (win tix!), AraabMuzik, Phish, Chuck Berry, Patti Smith, more"
Johnny Thunders would turn 59 Friday (7/15) and his birthday is being celebrated tonight (7/14) at D-Generationer Jesse Malin's LES club Bowery Electric. There will be a number of artists performing including Heartbreaker Walter Lure's The Waldos, Oddball Alison Gordy, Pillbox who are apparently reuniting, and many others that are listed below. There will also reportedly be some special guests including ex-Dead Boy Jeff Magnum (NOT TO BE CONFUSED WITH JEFF MANGUM OF NEUTRAL MILK HOTEL), Jesse Malin, Andy Shernoff of The Dictators, Lenny Kaye and many others.
Many of those playing appeared on the 2009 "Skykrebs Records"-released "Born To Lose" tribute 3CD Boxed set. That includes Krebs & The Maynard G's, The Waldos and Alison Gordy.
Trouser Press writes of Pillbox:
Before there was a Strokes to make it safe as milk, the snarly glam punk spirit of the Stooges, New York Dolls and Dead Boys lived for a time in the skinnyassed tattooed bodies of Pillbox, a New York quartet which offered a skankier, more menacing and less theatrical alternative to the likeminded and better-known D Generation.
Check out the Pillbox video for "Holly" below.
D Generation plays reunion shows in September at bigger venues.
Lenny Kaye, who will supposedly be a special guest at the show tonight, is a longtime member of the Patti Smith Group. Patti Smith plays a free show at Castle Clinton tonight (7/15). Don't forget that, "FREE TICKETS AVAILABLE FIRST-COME, FIRST-SERVED AT THE GATE STARTING AT 5PM. DOORS OPEN AT 6PM." People are already in line as of 2pm. It would be cool of Patti ended up at the Johnny Thunders party afterwards too.
Full Bowery Electric lineup and the Pillbox video below...
Continue reading "Johnny Thunders birthday being celebrated @ Bowery Electric, Pillbox reuniting, Patti Smith playing Castle Clinton today"
---