!!!, Trail of Dead, Misteur Valaire, Sharon Van Etten, TRAA, Corndawg, Atlas Sound & more (Chris G' SXSW recap & pics)
!!! @ the BrooklynVegan/MFM Day Party Saturday

By the time Saturday rolled around in Austin, I was admittedly starting to tire of the massive crowd that had been occupying 6th Street since I arrived on Tuesday. That didn't stop me from hitting up as much live music as I could in that final day though. Thanks to an insane amount of free day parties, this was a relatively easy task, albeit an exhausting one.
To start things off, Jonny Corndawg (who has a Brooklyn Bowl residency coming up) was playing a Fiji Water-sponsored, artist-only brunch in the upstairs of Barbarella where the BrooklynVegan/M For Montreal Day party was happpening downstairs (with !!!, Trail of Dead & more). Though I've seen Corndawg several times before, it goes without saying that he's an entertaining performer/songwriter, and his intimate set was well received by the early morning brunch-eating fans.
After that I jetted downstairs to the outside Barbarella stage to catch one of the weirder performances I'd seen all week. Misteur Valaire, a five piece Canadian dance-punk outfit energetically jumped around stage, switching instruments on nearly every song, and often breaking out into choreographed dance sequences. To say it was odd is an understatement, but nonetheless I had a smile on my face the entire time. It was also a great way to embrace us for the crazy dance party that ensued when !!! (chk-chk-chk) took the stage next.
Nic Offer, easily the greatest short-shorts wearing frontman in indie rock, made no hesitation in getting the increasingly packed outdoor crowd dancing for !!!'s set. Though he did express his dismay of there being a couch on the dance floor (yes, for some reason there was a couch in the middle of the dance floor), Offer used it as a prop to jump into the middle of the crowd several times. And their tribute to the late Nate Dogg, a cover of "Get Up", was a great way to conclude their set.
Up next on the Barbarella outdoor stage was Austin's own Trail of Dead, who initially suffered from sound/equipment problems, but eventually got it together to play a pulverizing set to the still packed outdoor stage. Though short in length, it was in no way short on enthusiasm, and Trail of Dead blasted through their set as they flung themselves around on stage. Bassist Autry Fulbright III even broke a bass string towards the end of their ecstatic concluding song, a feat I've rarely seen accomplished.
After an ill-fated trip to the free Mess With Texas party where I hoped to catch the Dead Milkmen and Odd Future (the location was so dusty and packed it was unbearable), I was able to make it into the official Red Ryder SXSW showcase at the Central Presbyterian Church on 8th Street in time to witness a jaw dropping performance from Sharon Van Etten.
Sharon Van Etten @ the Red Ryder SXSW showcase

Van Etten was one of the more talked about performers of the entire SXSW festival, and I couldn't have been happier to catch her set after missing her at the BrooklynVegan showcase earlier in the week. The church made for absolutely breathtaking acoustics. Members of Wye Oak and TV on the Radio's Kyp Malone watched from the balcony. I cannot stress it enough, do not miss her upcoming show at the Music Hall of Williamsburg on April 16th.
Portland, Oregon super-sized group Typhoon followed Sharon Van Etten, and though that may have been the problem, it was also a reminder that often less is more. Not to say they didn't put on a heartfelt performance, or that the massive church setting wasn't perfect for their big, full sound, but their enthusiasm at times came off as a bit much. Though if you're a fan of the Polyphonic Spree or We're From Barcelona, Typhoon is likely right up your alley.
After catching them at the Bowery Ballroom the week prior, I was definitely excited to see the Rural Alberta Advantage again. They didn't disappoint. Stating that they played the same venue at SXSW in 2009, keyboardist Amy Cole expressed a slight feeling of déjà vu, but said they were happy to be performing in such a space for a second time. What was apparently a repeat of that '09 performance, the band returned for an encore of a stripped down performance of their song "Good Night" surrounded by the crowd, completely un-mic'd and unplugged. It was an entrancing and honest moment from the Canadian band, and a perfect way to end a long, long week of live music where I also caught sets by The Kills and Atlas Sound.
Pictures from everything mentioned above, below...

--
Atlas Sound @ Flamingo Cantina
Johnny Corndawg @ Barbarella (BV/Fiji Artist Brunch)
Misteur Valaire (BV Party @ Barbarella)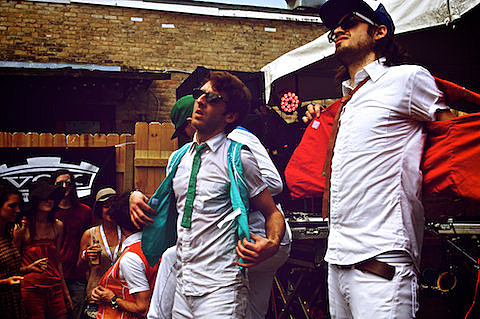 !!! (BV Party @ Barbarella)
And You Will Know Us by the Trail of Dead (BV Party @ Barbarella)
Sharon Van Etten @ Central Presbyterian Church
Typhoon @ Central Presbyterian Church
The Rural Alberta Advantage @ Central Presbyterian Church