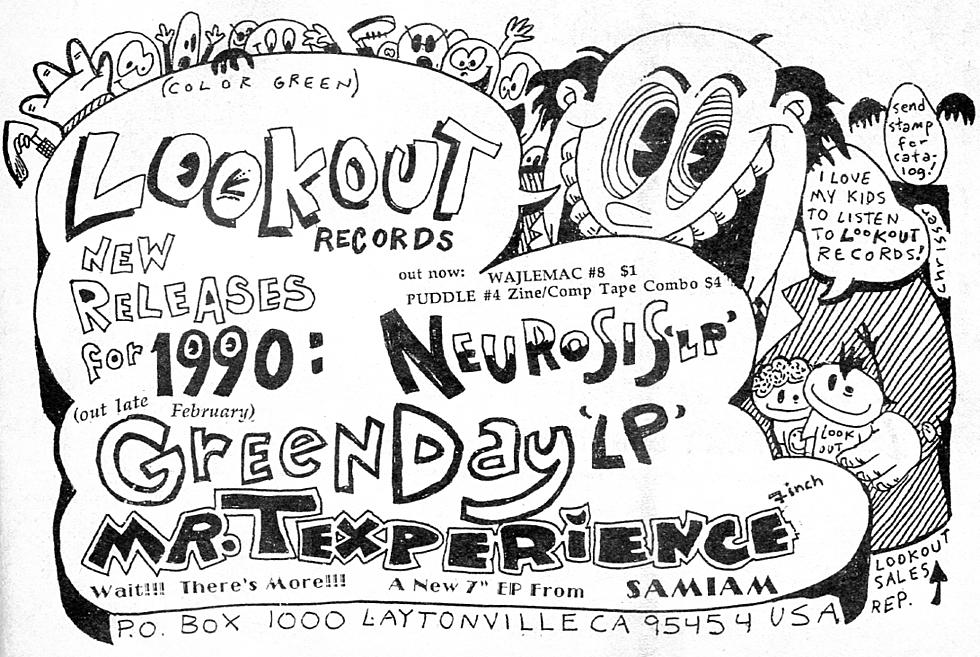 10 must-have Lookout! Records albums
Lookout! Records may have called it a day back in 2012, but its influence is alive and well. The specific type of pop punk that Lookout! was best known for has influenced a new crop of notable bands that tend to end up on labels like Dirtnap or Hardly Art or Don Giovanni (the latter of which even went on to work with Lookout! co-founder Larry Livermore). And some of the classic Lookout! bands are killing it as we speak. Pansy Division released a great new album (their first in six years) and have been called an influence by a certain rising punk duo. Green Day put out an album that's not half bad and did a tour of club shows like the old days, with plenty of Lookout!-era deep cuts worked in to their setlists.
It feels like as good a time as any to take another look at Lookout!'s great -- and often unpredictable -- catalog. I've made a list of ten albums the label put out that I think are essential, and that particularly resonate today. It's not a top 10. It excludes foundational Lookout! bands like Larry Livemore's band The Lookouts (whose Tre Cool eventually joined Green Day) and Crimpshrine (whose members would form Operation Ivy, Rancid, Pinhead Gunpowder, and more), and it excludes some real Lookout! staples like Screeching Weasel's My Brain Hurts, The Mr. T Experience's Love Is Dead, and Avail's 4am Friday. Those are all classics (even if it can be tough to be a Screeching Weasel fan these days) and Lookout! has released plenty of other fantastic stuff too. This is just one person's selection of ten gems from their catalog.
Some of the albums are agreed-upon classics by bands whose careers are inseparable from the label. Others are cool little nuggets by artists who you're probably familiar with but don't usually associate with Lookout! -- whether they joined the label's roster after finding success somewhere else, or didn't find success until reinventing themselves years after being on Lookout!. Some of these records are right up that classic pop punk alley, others are not. Some are very popular, others are not. Maybe you'll find something new to like from this list. If nothing else, hopefully this just inspires you to throw on some good tunes.
10

Ted Leo + the Pharmacists - The Tyranny of Distance (2001)

Lookout! Records birthed countless pop punk heroes, but the biggest mark they left on indie rock was Ted Leo + the Pharmacists. Ted was in a handful of bands before forming the Pharmacists (like Citizens Arrest and Chisel) and he's remained very active in the six years since the Pharmacists' most recent album (including a new creative relationship with Aimee Mann). Most of what he does is worth hearing, but a lot of us have a special place in our heart reserved for anytime the Pharmacists do something. (Their last album, 2010's The Brutalist Bricks on Matador, is really good. Give us a new one soon, guys!) And then when it comes to the Pharmacists, there's yet another special place reserved specifically for The Tyranny of Distance, their first album for Lookout!. The whole indie/punk crossover thing is pretty widespread right now, and Ted is one of the clear forerunners. Tyranny turned 15 this year, but it could've come out yesterday and fit right in with the year's best indie rock records. Basically every song is an indie-punk ripper, but Ted also found ways to shake things up and throw in a string-laden acoustic ballad ("The Gold Finch and the Red Oak Tree") or some new-wavey dance rock ("St. John the Divine"). Tyranny got a 10th anniversary performance back in 2011, but given the current indie-punk craze, it'd be a great time to revisit this album once again.

9

Neurosis - The Word As Law (1990)

Neurosis are most known as a sludge metal band, and all of their most classic releases are either on Alternative Tentacles, Relapse, or their own Neurot Recordings (like this year's great Fires Within Fires), but as most Neurosis fans know, they did two records as a punk band before finding the sound they're known for today. The best of those is their 1990 sophomore album The Word As Law, their sole full length for Lookout! Records. It's kind of just fun to think about the fact that Neurosis were a punk band that were labelmates with Green Day for a minute (this show must have been crazy!), but The Word As Law really does remain a gem of both Neurosis' and Lookout!'s discographies. The band's vocalists had mostly perfected their distinct styles by then, and you can hear the psychedelia creeping in. "I would be dishonest if I didn't point out that psychedelics had a huge influence in getting us from Pain of Mind to Souls at Zero in [four] years," Scott Kelly said in an interview earlier this year, and The Word As Law was right smack in the middle of that transition.

8

Mary Timony - Ex Hex (2005)

By the time Mary Timony put an album out on Lookout!, her 2005 solo album Ex Hex, she'd already cemented herself as an indie/punk staple in Autoclave (Dischord), Helium (Matador), and other various projects. Ex Hex isn't as canonized as, say, Helium's The Dirt of Luck, but it's an album in Mary's prolific discography that catches the eye in 2016, as it's also the name of her great current band. Ex Hex the band is more glammy power pop than Ex Hex the album -- which has songs like "Silence" that go into out out-there proggy territory, "In The Grass" which dives into atmospheric pop, and "Backwards/Forwards" which is almost math-metal -- but the way she's crafting melodies these days is more in line with Ex Hex than with Helium. This one's another outlier in the Lookout! catalog, but its effect on modern music is strong. Speedy Ortiz singer Sadie Dupuis has said she's "a huge fan of pretty much every band [Mary Timony's] been in," and the fidgety pop-math of Ex Hex tracks like "9x3" or "W.O.W." certainly sound like proto-Speedy Ortiz.

7

Bratmobile - Ladies, Women and Girls (2000)

Like Mary Timony, Bratmobile were a force long before ever signing to Lookout!. (They also briefly had Mary's Autoclave bandmate Christina Billotte playing in the band.) Their 1993 debut album on Kill Rock Stars, Pottymouth, is one of the defining releases of the original Riot Grrrl era (and of course is where Potty Mouth got their name), and if you only ever hear one of their albums it should be that one. But Ladies, Women and Girls, their 2000 sophomore album which followed a four-year hiatus, is a very fun record in its own right. Bratmobile's poppy, funny riot grrrl can be heard today in buzzy bands like Chastity Belt, Childbirth, and Tacocat. Ladies, Women and Girls may not have expanded on the Pottymouth sound, but it helped keep it alive and helped introduce it to younger generations. Bratmobile singer Allison Wolfe is also helping to keep that sound alive herself in the more post-punky Sex Stains, who very recently released their debut album on the aforementioned Don Giovanni Records. She sounds as timeless now as she did in 2000, as she did in 1993.

6

Tilt may have ended up on Fat Wreck Chords for their remaining four albums, but their 1993 debut on Lookout! remains a high point of their discography and '90s pop punk in general. It kicks off with "Crying Jag" and "White Homes," which made their way on to two 90s soundtracks (the coming of age flick Angus and the Ben Affleck-starring college flick Glory Daze, respectively), and then into the hearts of awkward teenagers. I won't recommend those movies to anyone over 14 (or maybe just not to anyone), but the songs and the rest of Play Cell still rip. Punk has always been a welcoming environment for people with no vocal training, but Cinder Block (aka Cindy Morgan) was one of the punk singers who could really sing. She belts it on this record, and honestly I'm kinda surprised her voice never made them more popular. Both of those songs still sound like they could've been real hits during punk's mainstream boom. That said, Tilt weren't really a pop band. You can hear more hardcore and harder '70s punk in Tilt than their Ramones/Buzzcocks-worshipping labelmates, and more of the angsty grunge stuff going on at that same time too. Thanks to newer grunge-punk bands like Bully and Dilly Dally, Tilt sound more relevant today than a bunch of their more popular peers.

5

Pansy Division - Deflowered (1994)

Pansy Division make humorous, unabashedly sexual, queer pop punk, and thanks in part to opening Green Day's Dookie tour, they were one of the most popular queer punk bands of the '90s. Deflowered, the album Pansy Division were supporting on that tour, is still an absolute classic. Its influence may be stronger now than ever, particularly on the fast-rising Polyvinyl signed duo PWR BTTM, who recently interviewed Pansy Division. In sound, Pansy Division were classic Lookout!. But by opening the album with a non-subtle song about needing your man to reciprocate in bed, they were wasting no time telling homophobic punks to fuck off. At that time, a lot of the world sadly wasn't ready for it. Pansy Division's Jon Ginoli told PWR BTTM in that interview that a lot of Green Day's fans thought Pansy Division were a joke. On Green Day's current tour, they sold "no racism, no sexism, no homophobia" shirts at their merch table and when Billie Joe said the same phrase on stage, the whole crowd cheered. Now a band like Pansy Division (or PWR BTTM or G.L.O.S.S.) gets welcomed with open arms by punks and non-punks alike, so it was a perfect time for PD to release their classic-sounding comeback album. It's also a perfect time to revisit Deflowered.

4

The Donnas - Turn 21 (2001)

Like Green Day, The Donnas honed their sound on Lookout! before signing to a major and getting majorly popular. They started out, like a lot of Lookout! bands, worshipping the Ramones. But Turn 21, their last album before making the jump to Atlantic and the one where they introduced the hard rock sound they'd become famous with, is their best. It wasn't unprecedented to be four girls mixing punk, hard rock, and heavy metal -- The Runaways had done it -- but it wasn't especially common either. The Donnas basically took beer-fueled, hard-partying cock rock and reversed the roles entirely. On "Do You Wanna Hit It?," Donna A gets drunk watching basketball on a Friday night and tells a guy "I'm tired of hitting on you, it's about time to be getting on you." On the even-less-subtle "40 Boys In 40 Nights," she's getting down with groupies every night of tour ("You know I'd do 'em all if I could"). It's fun, and it was a refreshing change from like, Motley Crue and Warrant and whatever. Not to mention they were still eschewing hair metal's goofiness and bombastic production for badassery and a rawer punk sound on this record. And lyrics aside, The Donnas had serious hooks and serious riffs. Riffy punk has really been having a moment lately, and one band, Big Eyes, has gotten more than one Donnas comparison for their excellent new album on Don Giovanni. Tweens call them an influence too. The Donnas weren't always the coolest band to like, but lasting influence beats coolness any day. And besides, as Donna A said in 2013, "We didn't give a fuck about being cool, we just wanted to have a good time."

3

The Queers - Don't Back Down (1996)

Tons of bands on Lookout! channelled the Ramones, but The Queers took it a step further and simultaneously channelled a band the Ramones themselves were influenced by, The Beach Boys. With the amount of lo-fi beach punk bands that have come out since the Best Coast/Wavves breakthrough, the intentionally-retro Queers are starting to look a little ahead of their time. That Beach Boys influence is on plenty of Queers records, but it's especially on Don't Back Down, named for its title track which of course is a Beach Boys cover (and has a very retro '60s-style surf rock video). The Queers sound as natural doing a punked-up "Don't Back Down" as the Ramones did doing "Surfin' Safari." (The 2007 reissue has a "Little Honda" cover too.) Even when The Queers aren't covering The Beach Boys, they're finding other ways to reference them. The "I wish they all were punk rock girls" line on "Punk Rock Girls" is surely a nod to you know what song. "Janelle, Janelle" sounds more than a little like Ramones/Beach Boys standard "Do You Wanna Dance." There's also a cover of "Sidewalk Surfer Girl," a 1965 single by The Hondells (whose most popular single was a cover of "Little Honda"). The Queers also distanced themselves from the pack of Ramones worshippers by not restricting themselves to that sound. "I'm OK, You're Fucked" and "Brush Your Teeth" are basically '80s-hardcore songs. "I Can't Get Over You" has cuddlecore icon Lisa Marr on lead vocals. And that expanded reissue has a Muffs cover.

2

Green Day - Kerplunk (1992)

Green Day may be a full-on arena rock band with a Broadway show who haven't released great music in years, but their first four albums were some of the best -- and certainly some of the most influential -- to come out of the entire '90s pop punk boom. They may have taken over the world with major label debut Dookie, but they had already perfected their sound two years earlier on Kerplunk. Maybe it's just because I'm tired of hearing Dookie's hits, but Kerplunk holds up way better (as does Dookie's tighter, sharper, and slightly darker followup Insomniac). The songwriting is more accomplished on Kerplunk than on their debut, and it's a much more consistent album from start to finish (only joke song "Dominated Love Slave" breaks its reign of all hits). It's the first home of "Welcome to Paradise," which of course became an even bigger smash when it was re-recorded for Dookie, but other than a bigger production budget, the Dookie version is more a repeat than an improvement. On Kerplunk, Green Day proved they could keep one foot in punk's underground and still write hits.

There's honestly a good case to be made that "Welcome to Paradise" is Green Day's best single -- it's withstood being outplayed to death a lot better than "When I Come Around" and "Brain Stew" and "Good Riddance (Time of Your Life)" and certainly better than anything on American Idiot -- but even today, it never overshadows the rest of Kerplunk. "2000 Light Years Away" and "One of My Lies" probably could have gotten as big with the right push from radio and MTV. "No One Knows" and "Christie Road" (the latter of which is almost proto-emo) showed Green Day could write non-cheesy ballads years before they got rich with cheesy ones. Just about every song on the album has a chorus that proved Billie Joe Armstrong could write a better melody than most of his less famous peers (even if a lot of those peers were harder and faster). The way Green Day straddled the line between their punk roots and their pop ambitions in 1992 feels a lot like the way bands like Beach Slang, Joyce Manor, PUP and Modern Baseball are doing it now. It feels safe to say those bands learned a thing or two from Kerplunk.

1

Operation Ivy - Energy (1989)

Kerplunk may have been Lookout!'s biggest album, but its best album was by Green Day's old pals (who Green Day have famously covered at least 500 times) Operation Ivy. Energy was the ska-punk band's only album and came years before ska-punk's huge boom in the '90s (a boom that was also aided by Op Ivy guitarist/backing vocalist Tim Armstrong's band Rancid). And even after ska-punk became an easily-dismissible genre, Energy remained a vital-sounding classic. Like Kerplunk, the rest of the album risks being overshadowed by its big single, but not because it's low quality. "Knowledge" is one of the best punk songs of all time; anything is gonna suffer a bit in its presence. The 18 songs that follow it on Energy may not be 10/10s, but they're all solid 8s and 9s.

Like Rancid, Op Ivy only rarely used horns, instead relying on the upstrokes, basslines and certain vocal harmonies to earn the "ska" tag, and they stayed firmly planted in hardcore punk. Ska often got knocked for being too happy-go-lucky, but Op Ivy were nothing of the sort. Sometimes (like "Sound System" and "Bankshot" and "Freeze Up") they did fast-paced skank-ready ska-punk. Other times (like "Take Warning") they slowed it down for a swaying sound that was closer to ska's first or second wave. Other other times, they were giving a raw ska-punk facelift to "These Boots Are Made for Walkin'" (but renaming it "One of These Days"). More often than not, they just sounded like an angry punk band. As far as popular '90s punk vocalists went, Tim Armstrong was always the edgiest and least accessible, but compared to Op Ivy's throat-shredding leader Jesse Michaels, he actually sounds kinda tame. (Especially when the only Energy song he sings lead on is the softer "Bad Town.") Rancid of course made some excellent records (like the super-classic ...And Out Come the Wolves that they played in full last year for its 20th anniversary) but it's been a while since they put out a truly great one. Jesse Michaels, on the other hand, has been on fire lately and he's been doing it by honoring his Op Ivy style. His current band Classics of Love are way more Op Ivy-ish than his last band Common Rider, and last year he sang guest vocals on Leftover Crack's comeback album, the hardest ska-punk album released in years. But the most recent proof that the ska revival is upon us, is the great new Jeff Rosenstock album that has a real-deal hardcore song and a real-deal ska song. Jeff's obviously a huge Operation Ivy fan, and with all the current buzz his music is stirring up, what better time to revisit Energy?