Lady Gaga played Knitting Factory NYC as Stefani 10 years ago today (tonight she does the Grammys tribute to Bowie) UPDATE: Watch it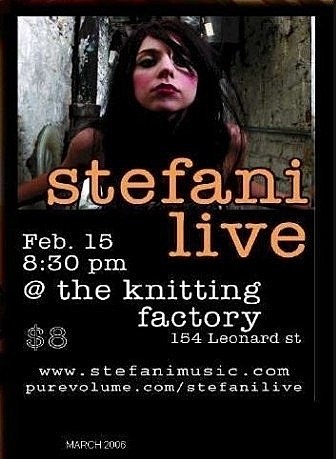 Lady Gaga, real name Stefani Germanotta, will perform the David Bowie tribute at the Grammy Awards Ceremony tonight (UPDATE: it happened, and you can watch it HERE), and as Gaga fan @GagasGrkMonster points out, the performance is exactly ten years to the day after one of her early shows at Knitting Factory NYC (back when it was still on Leonard Street in Tribeca). That was when she was going as Stefani and was still enrolled in NYU. A video clip from that show has been online since 2006, which you can revisit below. To quote Wikipedia,
Gaga withdrew from CAP21 at 19, in the second semester of her sophomore year, deciding to focus on her musical career. Her father agreed to pay her rent for a year, on the condition that she re-enroll at Tisch if unsuccessful. "I left my entire family, got the cheapest apartment I could find, and ate shit until somebody would listen," she remembers. Settled in a small apartment on Rivington Street towards the summer of 2005, Gaga recorded a couple of songs with hip-hop singer Grandmaster Melle Mel, for an audio book accompanying the children's book The Portal in the Park, by Cricket Casey. She also began a band called the Stefani Germanotta Band (SGBand) with some friends from NYU - guitarist Calvin Pia, bassist Eli Silverman, drummer Alex Beckmann and booking manager Frank Fredericks - in September of that year. The band played a mixture of songs: some self-penned alongside classic rock numbers like Led Zeppelin's "D'yer Mak'er". Playing in bars like the Greenwich Village's The Bitter End and the Lower East Side's the Mercury Lounge, the band developed a small fan base and caught the eye of music producer Joe Vulpis
Also below are other Stefani videos from the era, including a Led Zeppelin cover at The Bitter End, a show at Cutting Room, and more.