1000s (including Kathleen Hanna) rally for Planned Parenthood (Mtn Goats & Nellie McKay performed) — pics & video
On Saturday, February 26, thousands of people came together in Foley Square, in downtown Manhattan, to stand up for women's health, and fight back against the recent Congressional attacks against Planned Parenthood and family planning funding.

The rally comes on the heels of passage of dangerous anti-choice legislation in the House of Representatives, which, if made into law,
would eliminate basic health care and education services for millions of Americans - and according to Department of Health estimates, 800,000 New Yorkers.
Nellie McKay and John Darnielle played two songs each at the event. Lots of politicians spoke. More pictures, videos and the full speaker/performer list by minute (the setlist), below....


Congressman Jerrold Nadler
Congressman Anthony Weiner
Congresswoman Yvette Clarke
John Darnielle of the Mountain Goats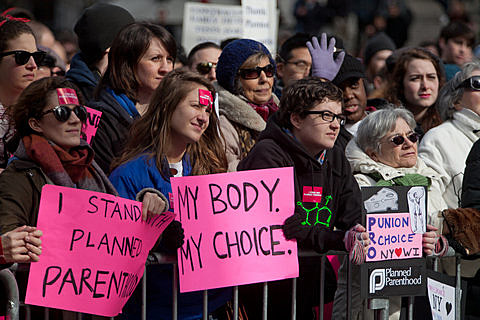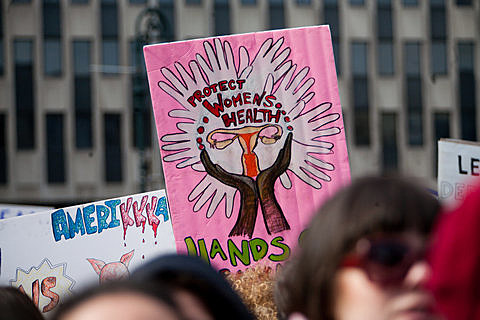 Cecile Richards at Stand Up For Women's Health Rally 2011

Congressmember Chuck Schumer Speaks At Planned Parenthood Rally

The Mountain Goats - "Jenny" / "Color in Your Cheeks" (2011-02-26)

Nellie McKay - "One's on the Way" / "Mother of Pearl" (2011-02-26)

Time Speaker/Performer
12:30 Rude Mechanical Orchestra, Musical performance
1:01 Joan Malin, President/CEO, Planned Parenthood of New York City
1:05 Christine Quinn, New York City Council Speaker
Letitia James, New York City Councilmember
Jessica Lappin, New York City Councilmember
Brad Lander, New York City Councilmember
Rosie Mendez, New York City Councilmember
Dan Garodnick, New York City Councilmember
1:11 Toshi Reagon, Musical performance
1:17 Congresswoman Carolyn Maloney
1:21 Adjoa Tetteh, Member of Activist Council of Planned Parenthood of New York City
1:24 Congressman Jerrold Nadler
1:27 Jamia Wilson, Women's Media Center
1:30 Cecile Richards, President, Planned Parenthood Federation of America
1:33 Senator Charles Schumer
1:36 Rev. Donna Schaper, Judson Memorial Church
1:39 Kathleen Turner, Actress and President of Planned Parenthood Federation of America's Board of Advocates
1:41 Jessica Gonzalez-Rojas, National Latina Institute for Reproductive Health
1:44 Congresswoman Yvette Clarke
1:47 Brooklyn Young Mothers, Reading of personal stories
1:49 Kathleen Hanna, Singer of Bikini Kill and Le Tigre, and co founder of the Riot Grrrl Movement
1:52 The Mountain Goats, Musical performance
2:03 Jasmine Burnett, Trust Black Women/Sister Song
2:06 Congressman Anthony Weiner
2:09 Congressman Eliot Engel
2:12 Amanda Marcotte, Journalist
2:15 Gloria Steinem, Co-founder of Ms. Magazine
2:19 Bill de Blasio, New York City Public Advocate
2:22 Cheryl Mchunguzi, Long Island Think Tank for African American Progress
2:25 Liz Krueger, New York State Senator
Gustavo Rivera, New York State Senator
Tony Avella, New York State Senator
Eric Adams, New York State Senator
2:28 Dr. Sarah Miller, Physicians for Reproductive Choice and Health
2:31 Maddy Wyatt, Musical performance
2:38 Christine Canedo, Member of Activist Council of Planned Parenthood of New York City
2:40 Lynn Paltrow, National Advocates for Pregnant Women
2:43 Sonia Ossorio, National Organization for Women
2:46 Scott Stringer, Manhattan Borough President
2:49 Catherine Abate, Community Health Network
2:52 Veronica Bryd, Planned Parenthood\Federation of America
2:55 Nellie McKay, Musical performance
3:01 Lois Uttley, Raising Women's Voices
3:04 Jeff Klein, New York State Senator
David Carlucchi, New York State Senator
3:07 Cecilia Gaston, Violence Intervention, Inc.
3:10 Shelby Knox, Sex education activist
3:12 Dick Gottfried, New York Assemblymember
Linda Rosenthal, New York Assemblymember
Charles Lavine, New York Assemblymember
3:15 Tracey Brooks, Family Planning Advocates of New York State
3:18 Donna Lieberman, New York Civil Liberties Union
3:20 Rude Mechanical Orchestra, Musical Performance