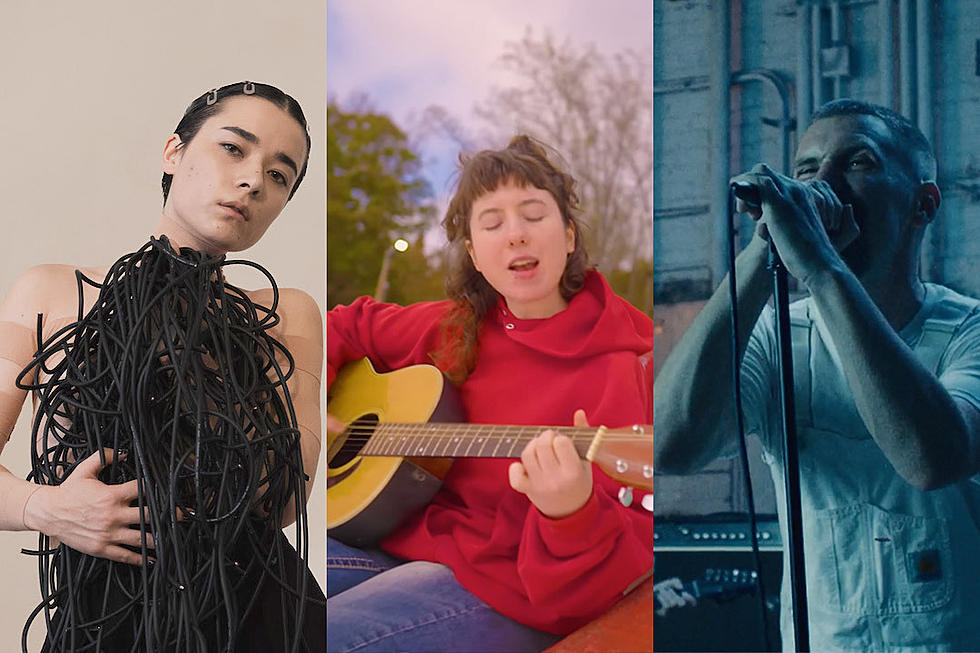 15 Artists to Watch in 2023
With almost all the music in existence at your fingertips, it's harder to ever to sift through all the noise and find a new favorite band, but we're always trying our best to do that and we've put together a list of 15 artists that we highly recommend keeping an eye on this year. Some of them have already been around for a few years and others are very new, but all of them feel poised to reach new audiences in 2023 for one reason or another. 15 is a small number and there are so many other artists we're excited about at the moment, so this is just a starting point, but if you're looking for some new music to fall in love with this year, you might find one or more new faves right here. Read on for our list, in alphabetical order…
Blondshell
NYC-born singer and songwriter Sabrina Teitelbaum dropped out of the University of Southern California ahead of her junior year to focus on music, and released her first EP as BAUM in 2018. The alt-pop of Ungodly sounds worlds away from the music she's been making with producer Yves Rothman as Blondshell, which is instead informed by the indie rock she got into as a teenager, with searing lyrics atop grungy guitar. She cites Hole's Live Through This as a particular influence, telling NME, "that album was when things came together the most for me. I just think that all of that music that I was listening to happen to be written from a place of anger, desperation and really heightened emotions, and I think that let me feel like, 'OK, I don't have to water my emotions down, I can make music with the most intense feelings that I have, and that's fine'." Tietelbaum's debut single as Blondshell, "Olympus," came out in June to immediate acclaim; amid the ensuing buzz, she signed to Partisan Records in December and is releasing her self-titled debut LP in April. Having recently wrapped up a tour with Suki Waterhouse, she'll be on the road again soon, too, including a stop at SXSW.
Cheekface
Though the Greg Katz (ex-LA Font)-fronted LA trio Cheekface have been releasing albums since 2019, it was 2022's Too Much to Ask that first caught our attention. It's been an addictively fun listen since August, and clearly we're not alone because they were recently tapped to open for Jeff Rosenstock and after a bunch of excitement surrounding the band's sold-out NYC release show at Baby's All Right (which they immortalized as a live album), their newest tour includes a headlining show at the bigger Bowery Ballroom. Garnering comparisons to artists like They Might Be Giants, Dead Milkmen, LCD Soundsystem, The Dismemberment Plan, Pavement, and Cake, the band cover important topics with a sense of humor and catchiness. Fun fact for those with a fondness for the Meet Me In the Bathroom era: The band's Amanda Tannen was a member of popular early-2000s NYC post-punk band Stellastarr*! (which also means at least one member of the band has played Bowery before!).
DEBBY FRIDAY
Nigerian-born artist DEBBY FRIDAY has been defying categorization as part of Canada's underground music scene since the late 2010s, first in Montreal, then in Vancouver and now based out of Toronto. She established her sound on 2018 EP Bitchpunk, a title that also doubles as as descriptor for her sound that mixes rap, electro, post-punk, industrial, techno and more into a glitchy, bruising and bitcrushed blend that is fiery and magnetic. (Imagine The Prodigy, Tricky and Skunk Anansie collaborating in 1995 but then remixed in 2023 by Death Grips and Four Tet, and you're kinda close to what she does.) Following 2019's Death Drive EP, DEBBY signed with Sub Pop and during the pandemic made her full-length debut, GOOD LUCK, with Holy Fuck's Graham Walsh along with a companion short film she co-directed with Nathan De Paz Habib. An EGOT doesn't seem out of reach.
Girl Scout
Swedish four-piece Girl Scout met while studying jazz in Stockholm, but together they make blissful indie pop. Their debut EP, Real Life Human Garbage, came out earlier this month via Made Records, and it feels like the work of a band that's been around much longer, capturing everyday anxieties and memories of awkward moments with hooks to spare, recalling the likes of Alvvays and Belle and Sebastian. "The songs represent our early days, when we had no idea what the band would be and every song came out of the pure excitement of having a band," they say. "It encapsulates when we realize the true magic and joy of songwriting." Up next, their North American live debut, which will happen at SXSW in March.
High Vis
London's High Vis put a high energy spin on their country's '90s indie guitar music, somewhere between laddish Britpop and baggy Madchester grooves, with a decidedly in-your-face aggression and attitude. After five years of playing mostly to punk crowds, the band released their terrific second album, Blending, which is loaded with jangly-yet-muscular earworms and started to get them noticed outside of their usual circle. Album highlights like "Trauma Bonds," "Talk For Hours," "Join Hands" and "Fever Dreams" are instantly catchy, arena-ready anthems that sound like a level-up maneuver. That may happen sooner than later -- the band's UK/EU winter tour was entirely sold-out, as are many of the dates on their first-ever North American tour (including two NYC shows).
Lifeguard
Chicago trio Lifeguard are part of the same vibrant indie rock scene that gave us Horsegirl, Post Office Winter, and Friko. It's a tight-knit circle: Lifeguard drummer Isaac Lowenstein is the brother of Horsegirl's Penelope Lowenstein, and he and bassist Asher Case both played in a very early lineup of Horsegirl. There are other blood connections, as Asher is the son of Brian Case (FACS, The Ponys, 90 Day Men). With the trio rounded out by singer/guitarist Kai Slater, the group formed when the three members were in their early teens – their one-sentence Bandcamp bio is "The best teenage band since Squirrel Bait" – drawing from post-hardcore and post-punk, citing everyone from Unwound to Bauhaus as influences which are definitely heard in their sound. Lifeguard released their debut album, Dive, in 2020 and followed it up with the heavy, assured Crowd Can Talk EP last year. While shows have been almost exclusively in their hometown so far, they've already built up a reputation as a firecracker live act -- they've got upcoming Chicago shows opening for June of 44 and Eleventh Dream Day -- and were terrific at their NYC show with Horsegirl last summer.
Mandy, Indiana
Manchester's Mandy, Indiana sound like an illegal warehouse party in an abandoned factory. With pummeling beats, shearing guitar noise, depthcharge bass and woozy synths, they could be mistaken for that factory being back in operation. The four piece, which includes charismatic French singer Valentine Caulfield (who wails icily in her native tongue), released their excellent debut EP not long after changing their name from Gary, Indiana. Since then they've been remixed by techno/shoegaze kindred spirit Daniel Avery and are gearing up to release their full-length debut on Fire Talk. That record hasn't been announced yet but excellent new single "Injury Detail" is a dark, propulsive first taste that has shades of peak Underworld in its steely bones. The US will get its first taste of Mandy, Indiana's intense live show when they visit for SXSW in March.
Militarie Gun
Too many bands make you choose between catchy hooks and hard-hitting, unfiltered aggression. With Militarie Gun, you don't have to. Judging by the music they've released so far, they're shaping up to be something like this generation's answer to Hüsker Dü; a band whose roots are in hardcore and punk but who have their sights set on power pop euphoria. They released a few increasingly good EPs before signing to Loma Vista (Show Me The Body, Denzel Curry, Soccer Mommy), who put out the All Roads Lead to the Gun (Deluxe) compilation last year, and now they're gearing up for their first proper album. Lead single "Do It Faster" is one of the most undeniable songs they've released yet, a song with punchy, sugary hooks worthy of Guided by Voices or Weezer that still maintains the grit and heft of the hardcore scene that Militarie Gun cut their teeth in.
Miss Grit
As A.I. chatbots gone rogue dominate the news cycle, the timing has rarely been so ripe for the debut LP from Miss Grit, Follow The Cyborg, to arrive this Friday (2/24). The project of Korean-American musician Margaret Sohn, who released a couple of EPs under the moniker before signing to Mute in September, it finds Sohn fully realizing their sci-fi vision with synths. "Guitar is the instrument I've known the longest," they told Rolling Stone, "so I have so many habits built in. It was getting too repetitive and restraining. I had to turn to synthesizers to make it work." The resulting songs are bold, striking, and gleaming like chrome.
Model/Actriz
The 20 year nostalgia cycle is currently at the early-'00s which is fortuitous for NYC's Model/Actriz who sound like they could've existed two decades earlier in the city, sharing bills with Liars, Lightning Bolt, Out Hud and Light Asylum. The four-piece have been lurking around the fringes of the Brooklyn scene since the mid-2010s, and became known as a formidable, don't-miss live act by the end of the decade. The pandemic dampened their momentum, but Model/Actriz returned last year with gnawing single "Mosquito" -- Rich Bawling of The Sound of Animals Fighting put on his Best of 2022 list and declared them a "band to watch" -- which is also on their terrific debut album Dogsbody that's out this week via True Panther. Having gone on the road with The Soft Moon for a few shows last year (a good double bill), the band are finally going to get to take that acclaimed live show on the road this spring for their first major headlining tour that includes SXSW and their biggest NYC show yet.
MSPAINT
"We frankly have no fucking clue what our influences are," MSPAINT leader Deedee said in a recent interview with Stereogum. "Don't interpret this as me giving us mad credit, but we didn't discuss a single thing, except that we'd all been in different bands together and apart for over a decade, were sick of playing rock music, and decided there'd be no guitars." That's kind of the best possible way to describe the Hattiesburg, Mississippi synthpunk/art punk band MSPAINT, who really never sound like one band in particular. They're recommended if you like Suicide, Pere Ubu, Big Black, Liars, Xiu Xiu, or Show Me The Body, but MSPAINT don't really sound too much like any of those bands, they're just likeminded and similarly anomalous. Their debut LP Post-American comes out in March via Convulse Records, and every song they've released so far has been a straight-up banger. Deedee's loud, coarse shout, Nick Panella's warped, buzzing synths, and the band's pounding rhythm section come together to create music that's delightfully weird and strangely addictive. In some alternate, grimy underworld, this would count as pop music.
Parannoul
In certain corners of the internet, the anonymous South Korean artist Parannoul already has a cult following, but if you've yet to dive in, there's no better place to start than this year's After the Magic, Parannoul's most expansive, gorgeous, and welcoming project yet. It's already gotten a bigger push than Parannoul's earlier material thanks to being released on Topshelf Records and getting a coveted Best New Music from Pitchfork, but the main reason After the Magic is roping in new fans is just the music itself. The most direct comparison for Parannoul is the electro-shoegaze of aughts-era M83, but After the Magic also has hints of The Notwist's glitch pop, The Appleseed Cast's soaring vocal-oriented post-rock, and Sufjan Stevens' fluttery arrangements. It's a shoegaze album that never relies on rehashing the same old shoegaze influences as everyone else, and the music is so deeply beautiful that it can bring a tear to the eye whether or not you understand the Korean-language lyrics.
Pynch
With a bright, jangly, hooky sound, London's Pynch recall the mid-'00s days of post-Libertines guitar pop, but in a very 2020s way. Having caught the attention of producer Dan Carey (Fontaines DC, Hot Chip, Kae Tempest) early on, the band released their debut single, "Disco Light," on his Speedy Wunderground label in 2019. Following a few more terrific singles, Pynch will release their debut album, Howling at a Concrete Moon, in April which was co-produced by Stereolab drummer Andy Ramsay and the bandleader Spencer Enoch. That mid-'00s nostalgia is front and center on the album's wonderful first single, "2009," that opens with the lines, "I'm gonna dye my hair and listen to heavy metal / and skate down to the edge of the world." Says Spencer, "My overarching concept for the album was to try and capture my experience of what it has felt like to be young and living in Britain at this particular point in history. I've tried to take my inner search for meaning and set it against the strange cultural and economic landscape that we find ourselves in."
Scowl
Santa Cruz band Scowl have been grinding in the punk underground since forming in 2019, and 2023 looks to be the year that they boil over. They're gearing up to make their Coachella debut, and they're a rare band who fit in equally on that festival, the emo-leaning Bamboozle, the nu metal-leaning Sick New World, and hardcore-leaning fests Outbreak and Furnace Fest. Their upcoming EP Psychic Dance Routine was produced by Will Yip (Turnstile, Title Fight, etc), and it owes as much to alternative rock heroes like Nirvana, Hole, and The Breeders as it does to Scowl's formative hardcore influences like Negative Approach and Ceremony. Vocalist Kat Moss has a knack for soaring, sneering, very catchy melodies as well as bloodthirsty screams, and even the most cynical music fans would nod along to Scowl's classic punk rhythms.
Wednesday
Just when you think you've heard every possible revival of '90s rock, Wednesday come along with a fusion of shoegaze, grunge, and alt-country that feels genuinely new. They've already got three albums dating back to 2018, but their upcoming Rat Saw God – their first for Dead Oceans (Phoebe Bridgers, Mitski, Japanese Breakfast) – is shaping up to be a big step up. Both singles they've released so far are sprawling, lengthy mini epics; the country-gazing "Chosen to Deserve" is the perfect soundtrack to a windows-down, spring/fall drive, and the eight-and-a-half minute "Bull Believer" is a grunge journey that ends with a truly explosive climax that finds Karly Hartzman screaming her head off. Their knack for mixing earth tones and fiery guitar rock puts them in a similar lane as Big Thief, and like that band does, Wednesday have been outdoing themselves at every turn.
--
Listen or subscribe to a playlist with a song from each artist: