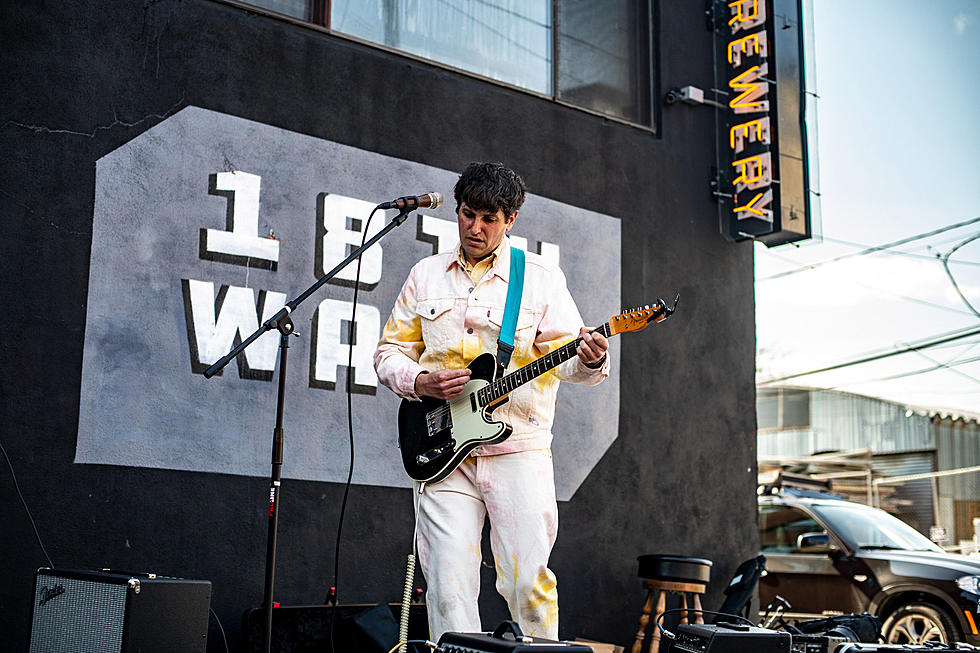 18th Ward hosting free outdoor shows on Sundays through the summer (lineup)
The Natvral at 18th Ward Brewery (photo by Toby Tenenbaum)
The New Colossus Festival is presenting a series of free, all-ages outdoor shows every Sunday at 18th Ward Brewery in East Williamsburg -- like the one they did earlier this month with The Natvral -- and they've shared the initial schedule and lineups. The events happen on the street outside of the Brewery (300 Richardson St) which is the same block as Brooklyn Steel, from 1-6 PM. In addition to the music, there will be record fair fendors, food, and drinks. No RSVP is required but they do ask that you please wear a mask.
Among the artists announced are Teenage Halloween (June 27), LAPÊCHE,
Jeanines, and Strawberry Launch (May 30), Bodega's Ben Hozie,  Safer (Mattie Safer of The Rapture), Lily Desmond, and Forever Honey (June 6), Teenage Halloween and more on June 27, Shilpa Ray, Moon Kissed and more on July 11, SAVAK, Tough Sunshine and more on July 18, plus Sundays curated by Fire Talk Records (8/8) and Cake Shop (8/15).
UPDATE (5/10): Lots more artists have been added to the lineup -- check it out below.
More artists are still to be announced but head below for the current lineup.
NEW COLOSSUS PRESENTS AT 18TH WARD -- FREE SHOW LINEUP
Sunday April 18
Shadow Monster
Pynkie
Sunday April 25
Granite to Glass
Sunday May 2
Lila Blue
Sunday May 9
Bloody Your Hands
Deep Sea Peach Tree
Sunday May 16
Thin Lear
Juliet Garrett
NISA
S.C.A.B.
Kissed By An Animal https://kissedbyananimal.bandcamp.com
Sunday May 23
Climates
Betrayer
Yours Are The Only Ears
CLONE (release party )
Jelly Kelly
Sunday May 30
Joy Cleaner
May Rio
Strawberry Launch
Jeanines
Lapeche
Sunday June 6
Job Creators
Lily Desmond
Forever Honey
Bodega Ben (Ben from Bodega)
Safer
Sunday June 13
Gorgeous
Freezing Cold
Johnny Cuomo
The Backfires
Holy Tunics
Sunday June 20
Imaginary Tricks
War Violet
Diary
Love, Burns
Sunday June 27
Growing Stone
Teenage Halloween
Johnny Dynamite
Dolly Spartans
Emily Weekes
Sunday July 11
Nihiloceros
Giant Gowanus
Moon Kissed
Colatura
Shilpa Ray
Sunday July 18
Nick and the Old Sport
Squirrels From Hell
DECLARED GOODS SHOWCASE
Savak
Women Of The Night
Tuff Sunshine
Sunday July 25
Ok Cowgirl
Lady Pills
Cigarettes After Breakfast
Sharkswimmer
Dead Leaf Echo
Sunday August 1
Gloomies
Cry Babi
SLMBR
Spud Cannon
Sunday August 8
Firetalk Records Presents (TBA)
Sunday August 15
Cake Shop Presents
Sunday August 22
Noel H (Mass Gothic)
Willy Mason
Exmazed
Le'Asha
Jess Zambri
Sunday August 29
Emmerson and Her Clammy Hands