1st annual Brooklyn Folk Festival – lineup & schedule
Down Home Radio is proud to announce the 1st annual Brooklyn Folk Festival, Friday, May 15th - Sunday, May 17th, 2009 at the Jalopy Theater. This festival will feature the best in old-time music, blues, pre-blues, jug band music, New Orleans jazz, folk style songwriting, African folk music and Mexican folk music and dance. Come down and check it out, its gonna be fun!
There are no advance tickets for the Red Hook festival. "$10 Per Day or $25 for 3 days - Afternoon Workshop Included!" In addition to shows and workshops at the Jalopy, there are also official festival jam sessions taking place at Moonshine. Full schedule and poster below...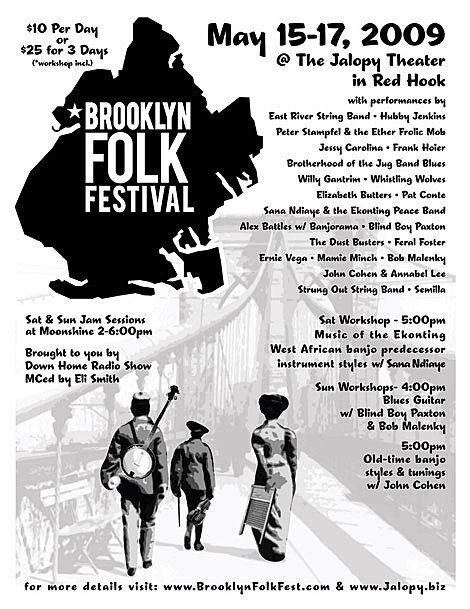 Brooklyn Folk Festival Friday lineup
Brooklyn Folk Festival Saturday lineup
At Jalopy:
7:30 Willy Gantrim (Originals, Slide Guitar Blues, Country and Folk songs)
8:00 Whistling Wolves (World Champion Whistling + Amazing Harmonica & More!)
8:45 Sana Ndiaye & the Ekonting Peace Band (West African Traditional Music from the Gambia River Delta Region)
9:30 Pat Conte (Blues and Old Time on Banjo, Guitar, Fiddle, Zither & More!)
10:05 Alex Battles w/ Banjorama (Jugbandy, Blues Original Songs)
10:45 Elizabeth Butters (Ballads & Folk Songs on with Guitar & Dulcimer)
11:20 The Dust Busters (Old Time String Band, Jug Band Music, Ballads, Originals, - Fiddle, Guitar, Banjo, etc.)
12:05 Feral Foster (Blues, Folk & Original Songs)
12:40 John Houx (Folk and Original Songs)
Jam Session at Moonshine 2-6:30pm

Saturday Workshops:

5:00pm Music of the Ekonting - workshop with Sana Ndiaye (West African banjo predecessor instrument styles)
Brooklyn Folk Festival Sunday lineup
At Jalopy:
6:30 Ernie Vega (Blues, Folk & Original Songs)
7:00 Mamie Minch (Blues, Folk & Original Songs)
7:35 Bob Malenky (Country Blues Guitar Master)
8:10 John Cohen & Annabel Lee (Old-Time Duets on Banjo & Guitar)
9:00 Semilla (Son Jarocho, Folk Music and Dance from Mexico)
10:00 Strung Out String Band (Old-Time String Band)
10:45 Danny Kalb (Blues Guitarist)
Jam Session at Moonshine 2-6pm

Sunday Workshops:

4:00pm Bob Malenky - Blues guitar workshop
5:00pm John Cohen - Old-time banjo styles & tunings workshop