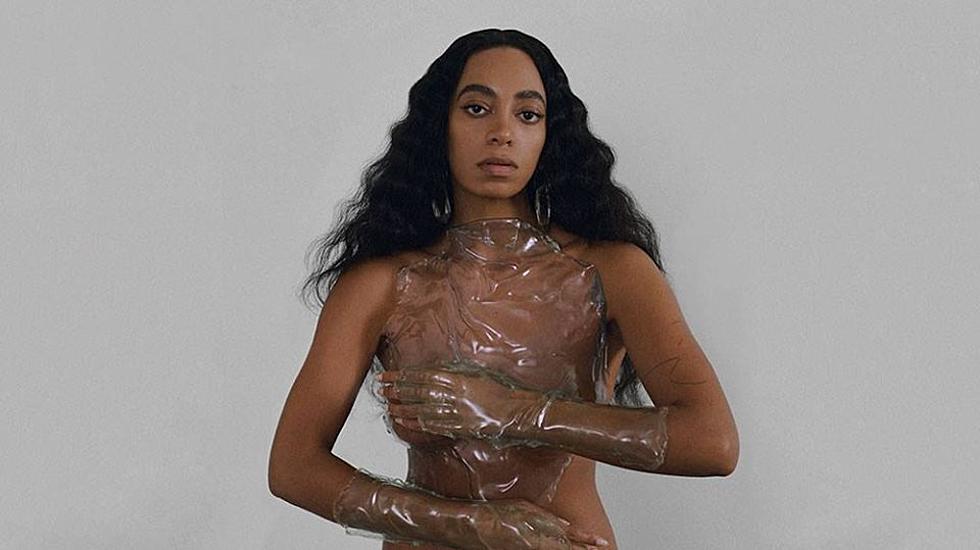 Notable Releases of the Week (3/1)
Solange (photo by Max Hirschberger)
Before I get to the new music out this week, I want to say rest in peace to a true music legend that we lost this week, Talk Talk's Mark Hollis. Talk Talk started as a synthpop/new wave band (having emerged out of Mark Hollis' short-lived punk band The Reaction) and then went on to basically invent post-rock, and they influenced tons of the artists we talk about in this column and on this website, as the many tributes that came pouring in from other musicians reinforced. Not to mention, Mark Hollis' 1998 solo album remains an underrated gem. Basically everything Mark Hollis touched turned to gold, and the music we love today wouldn't be the same without him. We already miss you, Mark.
Check out my nine picks below. What was your favorite release of the week?
Solange is finally back with a followup to 2016's already-classic A Seat at the Table, and When I Get Home is a sprawling epic like its predecessor, but a noticeably more psychedelic and experimental one. It's 19 songs long, but many are short interludes, and songs often fade right into the next one. It's a little similar to last year's great Earl Sweatshirt album in that way, and it features co-production by Earl (who opened for Solange in 2017) on a song too. It also features co-writing and production on several songs by the genre-defying New York collective Standing on the Corner who also worked on Earl's album, as well as by experimental composer Chassol (who opened those same Solange shows with Earl). Solange had described the album as having "a lot of jazz at the core, but with electronic and hip-hop drum and bass because I want it to bang and make your trunk rattle," and that's a pretty accurate description. There's definitely a lot of jazz, especially in the shimmering keys that are all over this album (and played on one song by Tyler the Creator), but it's still very much in the electronic and hip hop realm and very groovy. Other notable guests include Panda Bear, Blood Orange, Sampha, Cassie, Abra, Pharrell, The Internet's Steve Lacy, Scarface, Devin the Dude, Raphael Saadiq, and more, but Solange is very much the star of the show. We'll have a longer review coming at some point soon. In the meantime, dig into this instantly great album...

Philly's Devil Master deservedly picked up some buzz for their 2016 and 2017 EPs, which helped get them a deal with Relapse, who compiled those EPs as Manifestations last year, and now they're back with their proper debut album, which delivers on the promise made by the early EPs and then some. It was produced by the great Arthur Rizk (who's worked with Power Trip, Pissed Jeans, and more), and Rizk helps Devil Master sound a lot crisper than they did on the EPs without sacrificing the filth and rawness that made those EPs so appealing. Everything Devil Master did on those EPs comes to life (or, death) more than ever on this album. Their black metal side is even more evil, their punk side has even more attack, and their melodies pop more than ever. Devil Master make dark, harsh, fuzz-covered music, but they've really got a knack for writing music that's actually kinda catchy too, and that comes through on Satan Spits on Children of Light even more so than it did on the EPs. Devil Master share a member with and often play shows with the current lineup of Integrity, and what they do is actually cut from a pretty similar cloth to Integrity's recent music. Like Integrity, Devil Master put the heavy, hellish sounds of the underground in the forefront, but a love of classic rock and NWOBHM is lurking in the shadows. It's still a lot more vile (and more punk) than classic rock-loving black metallers like Tribulation and Kvelertak, but the interest in bright, soaring leads is there. Satan Spits is an album of sonic contradictions, but not in a way that sounds forced or anything. Devil Master sound like they're just writing exactly what they feel like writing, no matter what specific subgenre a certain part might sound like, and they pull it off so naturally. And they're better off for it. Enough bands try to fit squarely within one specific genre; it's nice that Devil Master would rather do the opposite.

Jennifer Herrema and Neil Hagerty reunited Royal Trux a few years ago, and after touring and putting out a live album, they're now back with their first studio album in 19 years, White Stuff. Albums like 1990's Twin Infinitives remain noise rock classics, but White Stuff tends to pick up where the swaggering classic rock references of its 2000 predecessor Pound for Pound left off. They find time for a little trademark Royal Trux weirdness though, like with the trippy psychedelia of "Purple Audacity #2" or the strangely fitting Kool Keith contributions on "Get Used To This." It's not as out-there as Royal Trux once were, but even on the most accessible songs, it's still covered in scuzz.

After becoming an established musician as a member of both Kevin Morby's band and Mega Bog, Meg Duffy released the first Hand Habits album Wildly Idle (Humble Before The Void) in 2017 (released on Woodsist) and we named them one of the best new artists of that year off the strength of it. Now Hand Habits is on larger label Saddle Creek, who has been on a roll with new signings lately, and their second album (and label debut) is out now. Wildly Idle was self-produced and home-recorded, but Meg made placeholder in Justin Vernon's April Base studio and co-produced it with Megafaun's Brad Cook (who's also worked with Waxahatchee, The War On Drugs, Sharon Van Etten, and more). They also brought in a few other collaborators, including Lomelda's Hannah Read who sings on the album. The new process made for an album that's often bigger-sounding and more fleshed-out than Hand Habits' debut, but it still retains the intimate indie folk sound of its predecessor. Saddle Creek (who recently put out albums by Big Thief and Tomberlin) is the perfect home for this kind of thing, and if you dig that type of stuff but haven't heard Hand Habits, let this gorgeous album be your introduction.

London rapper Little Simz' third album GREY Area is bolder, louder, more confrontational, more fleshed-out, and stronger from start to finish than anything she's done previously, and it's the best rap album of 2019 so far. You can read my full review of the album here.

Blu and Oh No have both been staples of underground rap for years, so it's exciting that they've come together for this new collaborative album, which has Blu at the mic and Oh No in the producer's chair (plus rapping from Oh No on recent single "Pop Shots"). Blu and Oh No are both students of the classics, but they've always been concerned with innovation too. So this is the kind of album that will appeal to fans of the head-nodding production and the tongue-twister rhymes of '90s-style rap, but it never sounds like it was intended to be a throwback. Oh No's production is soulful, psychedelic, and above all, cinematic -- there are multiple times where listening to this album feels like a film score is playing in the background. And Oh No's beats are the perfect setting for Blu, whose bars cut through the mix with the same impact that he had when he broke out into the world with his underground classic Below the Heavens. Down to its title, A Long Red Hot Los Angeles Summer Night is a very West Coast album, the kind where you can hear the sounds and feel the warmth of the California streets when you listen to it, the same way you can on recent albums by Kendrick Lamar and Anderson .Paak. If you like those guys, this record's worth a spin too.

2 Chainz - Rap or Go to the League

Def Jam

2 Chainz has been honing his craft for over a decade now, and though he hasn't had a hit as ubiquitous as the ones he had earlier on, he's arguably been getting even better. His last album, 2017's Pretty Girls Like Trap Music, was deservedly hailed as one of his best, and on first listen, Rap or Go to the League makes it seem like Tity Boi has more where that came from. He was best known early on as one of the most fun and funny new rappers around, but he's been honing a more serious side and it's a good look for him. Def Jam's press release for the album (which Lebron James executive produced) said the album is "celebrating black excellence and focusing on the power of education and entrepreneurship" and "challenges the notion that the only way out of the inner city is either to become a rapper or a ball player," and 2 Chainz wastes no time jumping right into those topics. Album opener "Forgiven," which features soul powerhouse Marsha Ambrosius, is one of the most powerful 2 Chainz songs yet, and it goes right into the equally hard-hitting "Threat 2 Society." From there, 2 Chainz further explores a soulful side on "Money In The Way," and later in the album he brings in some introspective, emotional ballads with the help of Ariana Grande ("Rule the World") and Ty Dolla $ign ("Girl's Best Friend"). He even brings in Chance the Rapper for melancholic lines about Trump. It's not just a "mature" album though. He's still got bangers like "Momma I Hit A Lick" (ft. Kendrick Lamar), "High Top Versae" (ft. Young Thug), and "2 Dollar Bill" (ft. Lil Wayne & E-40) that should satisfy anyone wanting more Old 2 Chainz. There was a time when it seemed like 2 Chainz was gonna be a flash in the pan, but he's proving that he's capable of writing increasingly diverse and increasingly compelling albums long past his initial buzz. And it's a very exciting thing.

Robert Forster - Inferno

Tapete Records

Robert Forster is the co-founder and co-frontman of jangle pop greats The Go-Betweens, and he's also a prolific solo artist who's now back with his first solo album since 2015's Songs to Play. This album reunites him with producer Victor Van Vugt, who also worked on his 1990 solo debut, and it's great stuff. Bill wrote a longer review of the album for Bill's Indie Basement and you can read that here.

North Carolina rapper DaBaby has released his first full-length (and Interscope debut) since putting out the breakthrough single "Walker Texas Ranger" earlier this year. It features that song and 12 others, and guests include Offset, Rich Homie Quan, and more. It's a really fun record, and you can read more about it here.