2009 Clearwater Festival – day 2 in pics (Grace Potter, rain, Elvis Perkins, soy power, Taj Majal, Arlo Guthrie & more)
Grace Potter and the Nocturnals

"CROTON-ON-HUDSON, NY - The Great Hudson River Revival, Clearwater's annual two-day music and environmental festival at Croton Point Park, came to a rousing close here on Sunday evening as a rain-drenched crowd of several thousand people cheered for headliner Arlo Guthrie and a number of onstage guests, including Taj Mahal and Pete Seeger.

Exact attendance figures are not available, but Festival Director Jon Dindas said that advance ticket sales surpassed last year's totals, and that the overall number of festivalgoers for 2009 peaked near seven thousand on Sunday-a remarkable accomplishment considering the rainy weather throughout the weekend.

"The true Clearwater spirit shined forth at this year's Revival, as both audience members and nearly eight hundred festival volunteers were able to withstand the challenges of the weather and yet still celebrate music, environmental education and the willingness to work for change and to make a difference in the world," said Dindas...

...The musical offerings on Sunday were filled with highlights. A succession of acts at the Circle of Song that included Rik Palieri, Work o' the Weavers and a Hudson River Sloop Singers Reunion drew a crowd of festival veterans while the Persuasions, Grace Potter & the Nocturnals and Cornmeal kept folks smiling. And then there was the inevitable full-stage hootenanny during Arlo Guthrie's festival closing set, which culminated in a rendition of "Let it Shine" with a backing band and chorus that featured Pete, Taj, Rainbow Stage performers Elvis Perkins in Dearland plus the aforementioned Jay and Molly, Tao and Mike and Ruthy.

Monday, Clearwater festival workers and volunteers are busy at Croton Point Park packing away equipment and mending the grounds. It is a Clearwater tradition to leave the park in better shape than it was before the Revival sets sail each year, and 2009 will be no different in this regard." [Clearwater]
The pictures from Saturday are HERE. More pictures from Sunday, below...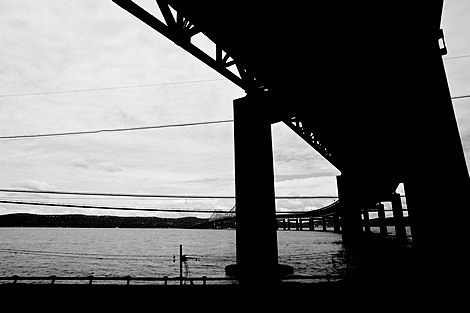 Grace Potter and the Nocturnals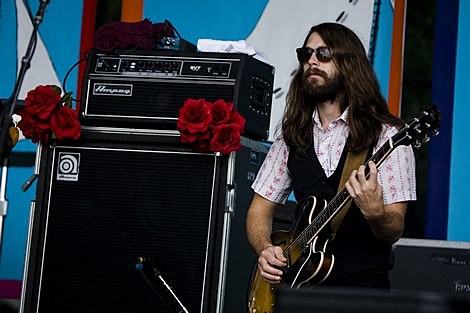 Pete Seeger ,Tao Rodriguez-Seeger, Arlo Guthrie, and Friends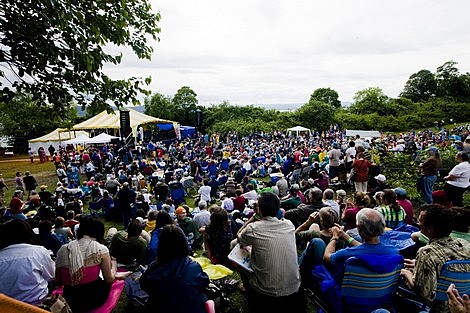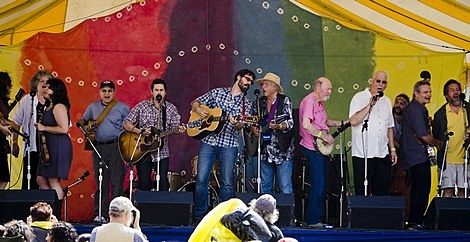 Elvis Perkins in Dearland (with a special guest from Dr Dog)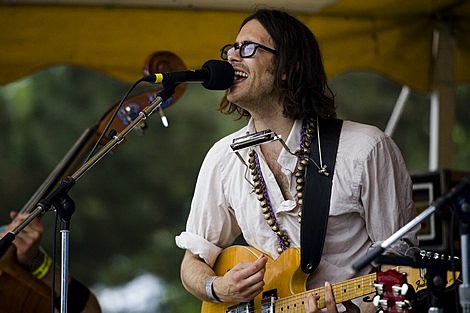 Dance tent...
All pictures by Chris La Putt, except this one from the very end of Arlo, Taj and Pete leading a sing-along
(this photo by Dino perrucci / Clearwater)

And for the record, here was the whole schedule:
Clearwater Festival Saturday, June 20th schedule
7:00pm Susan Tedeschi (HS) *
4:45pm Richie Havens (HS) *
2:45pm Old Crow Medicine Show (HS) *
12:45pm Alejandro Escovedo (HS) *
11:00am Pete Seeger and Kids(HS) *
6:45pm Dr. Dog (RS)*
5:00pm A.C. Newman (RS)*
3:30pm Allison Moorer (RS)
2:00pm Tao Rodriguez-Seeger (RS)
12:30pm Mike & Ruthy (RS)
11:00am Jennie Arnau (RS)
6:00pm "The Waltz Hour" - Jay Ungar and Molly Mason (DT)
4:00pm Mike & Ruthy with Family and Friends (DT)
2:00pm The Vanaver Caravan (DT)
12:00pm Big Band Sound (DT)
10:15am ReadNex Poetry Squad (DT)
6:30pm Dog on Fleas (FS)
5:40pm Rik Palieri (FS)
4:30pm Hudson River Playback Theater (FS)
3:20pm The Kids from Room 12 (FS)
2:30pm Story Laurie & Ira McIntosh (FS)
1:40pm The Hudson River Ramblers (FS)
12:50pm Paul Richmond & Friends (FS)
12:00pm Grenadilla (FS)
10:30am Walkabout Clearwater Chorus (FS)
6:30pm "Tales a-Flowin" - Bates, Forest, Leaf Arrow, Kessel, Koram,
Kruk, Storycrafters (SG)
6:00pm Walkabout Clearwater Chorus (SG)
5:30pm Jonathan Kruk (SG)
4:30pm "World Story Traditions" - Kessel, Arrow, Koram (SG)
3:45pm Baba Jamal Koram (SG)
3:15pm Davis Bates (SG)
2:15pm "Stories from Planet Earth" - Hudson River Playback Theater (SG)
1:30pm Louise Omoto Kessel (SG)
12:30pm "Animals & Nature" - Bates, Forest, Kruk (SG)
12:00pm Leaf Arrow Storytellers (SG)
10:30am "First Wave" - Bates, Forest, Leaf Arrow, Kessel, Koram,
Kruk, Storycrafters (SG)
6:15pm "Hudson River Songs" - Dan Einbender (COS)
5:30pm "Revival Pop" - Linda Richards (COS)
4:45pm "Uke Can Do It" - Donna Nestler, Evy Mayer, Edukated Fleas (COS)
4:00pm "Rounds Galore and More Singers" (COS)
Sol "Roundman" Weber, C.J. Fitts, Jan Maier, Evy Mayer, Sara Ruderman
3:00pm Arm-of-the-Sea Theater (COS)
1:00pm Circle of Gospel (COS)
12:00pm Rick Nestler (COS)
11:15am "Sisters in Song" - Melissa Ortquist, Sarah Underhill (COS)
10:30am "Open Shanty Sing" - with Jan Christensen (COS)
Clearwater Festival Sunday, June 21st schedule
7:00pm Arlo Guthrie *
4:45pm Taj Mahal*
2:45pm Grace Potter & the Nocturnals*
12:45pm Tao Rodriguez-Seeger*
11:00am The Persuasions
5:15pm Elvis Perkins in Dearland *
3:30pm Pete Seeger & Tao Rodriguez-Seeger *
2:00pm Cornmeal
12:30pm Jay Ungar & Molly Mason Family Band
11:00am Sleepy Hollow String Band
6:00pm Manchado
4:00pm MacTalla Mór
2:00pm Caravan of Thieves
12:00pm Cliffsidepush
10:15am (To Be Announced)
FAMILY STAGE (FS)
a
5:30pm Kenny Young & the Eggplants
4:30pm Something to Say Café
2:50pm Louis Omoto Kessel, Baba Jamal Koram
2:00pm The Ebony Hillbillies
1:10pm Roger the Jester
12:20pm Dan Einbender
11:30am Elizabeth Mitchell & You Are My Flower
10:40am Ratboy Jr.
5:30pm "One More Story For The Road" - Forest, Kessel, Koram, Smith,
Storycrafters
4:45pm Storycrafters
3:00pm Roger the Jester
2:00pm "Musical Stories" - Forest, Kelly, Storycrafters
1:15pm Heather Forest
12:15pm "Guffaws, Chuckles, & Grins" - Kessel, Koram, Storycrafters
11:45am Joy Kelly
10:30am "Stories of Spirit & Heart" - Forest, Kessel, Koram, Smith,
Storycrafters
5:45pm Hudson River Sloop Singers Reunion
5:00pm Work o' the Weavers
4:15pm "Songs from the Road" - Rik Palieri
3:30pm "Jug Band Jam" - Dirty Stay Out Skifflers
2:45pm "Songs of Peace & Justice" - Gillen & Turk, Hope Machine
2:00pm Walkabout Clearwater Chorus
1:15pm "The Irish in Me" - Rick Nestler, Stout, Terry Sullivan
11:45am Open Round Robin Hootenanny Song Circle
11:00am