2011 Bang on a Can Marathon (pics, video & review)
words & photos by Andrew Frisicano
"13 consecutive hours of experimental and avant-garde noodling" - NY Times on the Bang on a Can Marathon as quoted by Glenn Branca
The 2011 Bang on a Can Marathon went down on Sunday, June 19th, at the World Financial Center in NYC. As usual, a healthy contingent stayed for the duration (not me, I made it from around 5pm to the end). But even in just those last few hours there were some incredible performances. I caught Bang on a Can All-Stars playing with Philip Glass (who also opened with a solo performance of his "Metamorphosis IV"), a lively set from Sun Ra Arkestra, a show-stealing piece by Evan Ziporyn for himself and three other clarinetists, and a closing, full-on rock set by Glenn Branca Ensemble, who played from his album The Ascension: The Sequel.
Before that, Signal performed a droning, dramatic piece by BoaC cofounder Julia Wolfe, and Talea Ensemble and soprano Tony Arnold lead the NY premiere "An Index of Metals" by Fausto Romitelli, which tapped a laptop for atmospherics that bounced around the room's different speakers. Asphalt Orchestra similarly made good use of the Winter Garden space, marching around various quadrants of the room (and starting off the day with an outdoor performance). As you'll see in the pictures below, the Sun Ra Arkestra also made their way around the room, leaving the stage in a procession to the back.
As with past years, the Winter Garden was an adequate but not ideal venue. The sound could vary dramatically in different corners of the massive room, from bone dry in front of the stage to an echoey wash-out in the wings and the back (most noticeable when a speaker takes the mic, and is unintelligible from various vantage points). At the same time, the open space encourages the concert's free-flowing, low-pressure atmosphere, which is a huge part of its recurring appeal.
More pictures from the day, and a couple of videos, below...

--
Asphalt Orchestra at Bang on Can 2011 Marathon

Talea Ensemble with Tony Arnold
(a sign on the squeaky door that led outsetÉ)

Toby Twining

Bang on a Can All-Stars w/ Philip Glass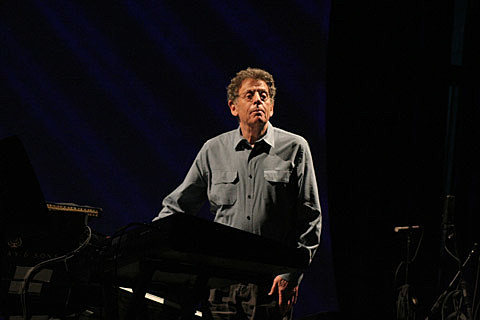 BoaC cofounder David Lang & Evan Ziporyn

Evan Ziporyn, Carol McGonnell, Joshua Rubin and Michael Lowenstern

BoaC cofounder Michael Gordon

Glenn Branca Ensemble

(The Cantaloupe Records cantaloupeÉ)

Todd Reynolds performs Transamerica at the Bang on a Can Marathon 2011

Bang on a Can All-Stars with Philip Glass - Music in Similar Motion (Live at BoaC Marathon 6-19-11)

Talea Ensemble in Fausto Romitelli's An Index of Metals (excerpt) at Bang on a Can Marathon 2011

Toby Twining at the Bang on a Can Marathon 2011