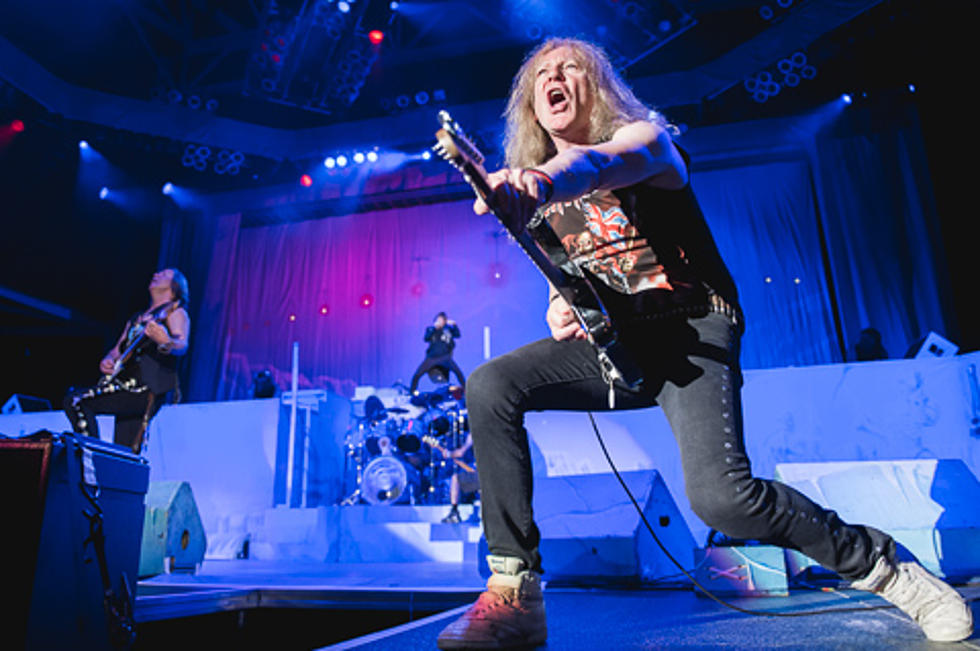 24 of the best 25 metal bands, according to a MetalSucks poll (#1 coming soon, but seems obvious)
Timothy S. Griffin
Iron Maiden in Austin in 2013 (more by Tim Griffin)

MetalSucks has been spending the past month releasing a list of the 25 greatest metal bands of all time, counting down to number 1 with a new band each day. They polled a pretty broad array of metal experts, ranging from critics to music industry types to musicians that run the gamut from Chuck Billy of Testament to Anatamy of Habit's Mark Solotroff. They released number 2, Iron Maiden, earlier today which came in ahead of other huge/classic bands like Slayer, Metallica, Pantera, Judas Priest and Megadeth. Number 1 gets revealed tomorrow, and considering Black Sabbath have yet to make this list, we think we may have a hunch as to who it's going to be.
The list slants pretty heavily towards classic thrash and death metal bands, with Sabbath being the only doom band in sight. In addition to the obvious classic bands in the top 10, there are some modern genre-busters (Opeth, Meshuggah), foundational death and grind (Napalm Death, Morbid Angel), and some good old 80s theatricality (Dio, Mercyful Fate). Limiting the list to 25 means there are going to be a ton of omissions, but still maybe Neurosis, Converge or Mastodon could've made it instead of Ozzy getting on there twice?
The legacies of classic bands like Metallica, Megadeth, Anthrax and Sepultura, which many would say have taken a hit in recent years, appear untainted here considering they still all take high slots. Something else of note is that there's not one single solitary black metal band on this list. I guess Lamb of God are more important to this panel anyway.
Check out the full list below, and check MetalSucks tomorrow for the inevitable Sabbath reveal.
MetalSucks' Top 25 Metal Bands of All Time (via poll)
#1 -- Black Sabbath
#2 -- Iron Maiden
#3 -- Slayer
#4 -- Metallica
#5 -- Pantera
#6 -- Judas Priest
#7 -- Megadeth
#8 -- Death
#9 -- Motorhead
#10 - Carcass
#11 - Cannibal Corpse
#12 - Anthrax
#13 - Sepultura
#14 - Dio
#15 - Mercyful Fate
#16 - Morbid Angel
#17 - Meshuggah
#18 - Opeth
#19 - Testament
#20 - At The Gates
#21 - AC/DC
#22 - Celtic Frost
#23 - Ozzy Osbourne
#24 - Napalm Death
#25 - Lamb of God