2:54 made their US debut, played Pianos w/ Caged Animals (pics & review)
photos by Erik Erikson, words by Bill Pearis
2:54

UK band 2:54's new EP, Scarlett, sounds amazing: rolling flinty basslines, layer upon layer of guitar haze and the alluring vocals of Colette Thurlow. (Her sister Hannah provides much of the aforementioned haze.) As well it should, the record was mixed by Alan Moulder who provided polish for Ride, My Bloody Valentine and Curve (whom 2:54 most resemble) in the early '90s.
Though they didn't quite hit those stellar sonics live last night at Pianos (12/30) -- their second-ever American show and a short one at maybe six songs -- what they did have in spades is promise. Colette suffered through microphone feedback problems and there was a crackle running through the speakers on the first couple songs. 2:54 also seemed a little green, not quite jelled as a cohesive unit. But when it did -- like on "Cold Front" with its spare, skeletal arrangement -- you felt that in six months or so these Brits are gonna get there. And hopefully we'll be saying "the records are good, but you really have to see them live."
Openers were Caged Animals, the new band from Soft Black's Vincent Cacchione who sound like a big hug. Warm and poppy, except for the last song where things turned briefly feral (hooting and strange faces). I only caught the last three songs, but I thought they were terrific when they opened for Metronomy during CMJ. They have it pretty together for as new an endeavor as Caged Animals are. Catch them again tonight (12/1) at Big Snow Buffalo Lodge with Shilpa Ray, EULA & Quilty.
More pictures from the Manhattan show (their first US show was at Shea Stadium in Brooklyn one night earlier), below...

--
Caged Animals...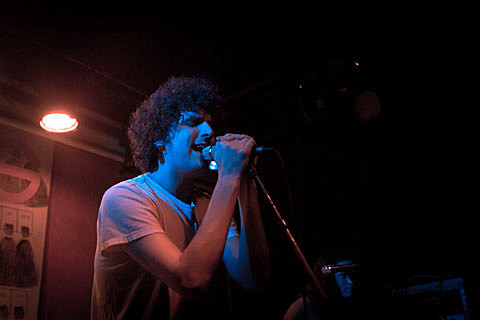 2:54...