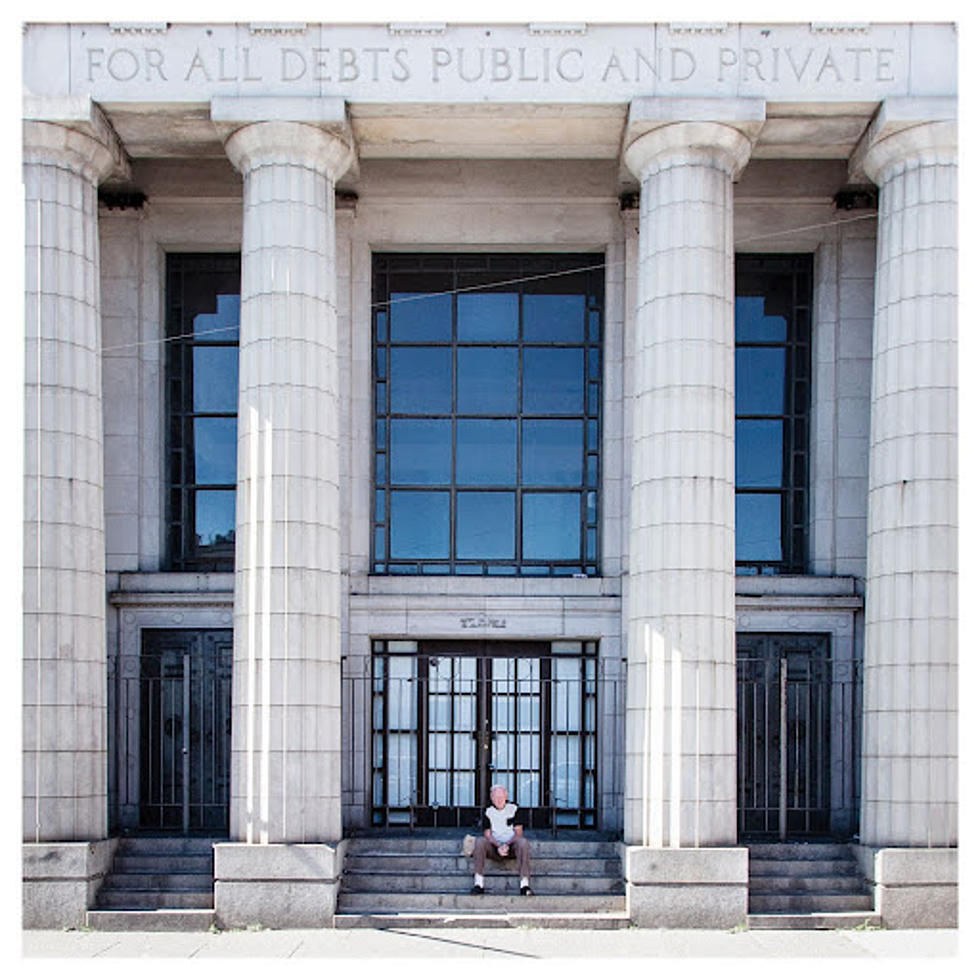 Defcee album art
So many artists, so little time. Each week we review a handful of new albums (of all genres), round up even more new music that we'd call "indie," and talk about what metal is coming out. We post music news, track premieres, and more all day. We update a playlist weekly of some of our current favorite tracks. Here's a daily roundup with a bunch of interesting, newly released songs in one place.
DEFCEE & BOATHOUSE - "RAGNAROK" (ft. KIPP STONE)
Underground Chicago rapper Defcee has announced a followup to last year's Messiah Musk-produced Trapdoor. It's called For All Debts Public and Private, due April 19 via Closed Sessions, and this one was entirely produced by fellow Chicagoan BoatHouse. It's got appearances from Armand Hammer, SolarFive, greenSLLLIME, Mother Nature, and Kipp Stone, the latter of whom appears on the the great lead single "Ragnarok."
--
EZRA COLLECTIVE - "MAY THE FUNK BE WITH YOU"
UK genre-defying jazz group Ezra Collective returns with new song "May the Funk Be With You," and as the title suggests, the '70s funk vibes are strong on this one.
--
ALEX CAMERON - "K HOLE"
Aliex Cameron's new album, Oxy Music, is out next week and he's just shared a new single and video. On "K Hole," Alex says: "Generation self medication. Social groups, shattered mirrors pieced back together and bound by saliva. Holding hands just to say 'it's Ok that everything isn't Ok.' There's love here, and peace, if you're alright with being on your own. We like it in pairs - but there's only room for one in a K Hole." The video was shot at Brooklyn's St. Ann & The Holy Trinity Church.
--
HAIM - "LOST TRACK"
"'I'll never get back what I lost track of.' We had that line written for the last year but could never figure out what to do with it," Haim write. "We kept writing it down, not knowing where it should live. Cut to PTA shooting the director's cut issue for @wmag with our baby sister on the cover! An opportunity arose to do a quick music component while shooting the story. Paul mentioned having the book Appointment in Samarra as a possible direction. So we did some digging around the book and were inspired by the scene where the main character throws a drink in someone's face at a country club. We were inspired by the idea of someone doing something so drastic to get out of a situation they felt uncomfortable in – just to feel something. We finally remembered that lyric and wrote and recorded the song and shot the whole thing in a few days! Anyway, felt fun to do something very collaborative/ off the cuff."
--
ICEAGE - "PULL UP" (ABRA COVER)
Danish post-punks Iceage have covered Abra's R&B jam "Pull Up" which is something no one expected to happen but it is actually pretty good. Iceage retain some groove but make it their own.
--
EX-VÖID - "NO OTHER WAY"
Ex-Vöid, the band featuring former Joanna Gruesome members Lan McArdle and Owen Williams, have shared another track from their upcoming debut album. Their voices sound great together on "No Other Way," a Mould-ian earworm which Williams says is "about experiencing Stockholm Syndrome in a relationship." He does admit, "I wrote it before I was ever in a proper long term relationship, so I think I was just trying to affirm my own single-hood. Around the same time I kept telling everyone I was 'trying to cultivate an asexual mystique' so who knows what was going on with me." Bigger Than Before will be released on March 25 via Don Giovanni.
--
MIDLAKE - "NOBLE"
Midlake will be back with their first album in a decade later this month and one of the most affecting songs on the album is "Noble" that is named after drummer McKenzie Smith's son who was born with a rare brain disorder. "When he was born, they were told the life expectancy of most children with his disease was between six months to two years. The heavy nature of Noble's condition and the new reality for my friend and bandmate McKenzie (and his wife and daughter) wasn't something we took lightly," says singer Eric Pulido. "We were really excited to create this song for him and for Noble to not only acknowledge the struggle but also celebrate this amazing and beautiful boy. The wonderful news is that more than two years later, Noble is still here with us! He has beaten so many odds already and continues to amaze and prove to us how incredibly strong he is. His life is extremely challenging on many levels, so every day we have with him is a precious gift."
--
THE COLOR FRED - "CREATURES"
Former Taking Back Sunday guitarist/vocalist and Breaking Pangaea frontman Fred Mascherino has announced his first Color Fred album in 15 years, A Year and Change, due April 1 via Heading East Records. New single "Creatures" has a late '90s/early 2000s emo vibe and sounds like a return to Fred's pre-TBS roots.
--
CHARLI XCX - "BABY"
Charli XCX's new album Crash is out this month, and she's shared another advance taste of it, "Baby," which she told Zane Lowe on Apple Music 1 is "probably the most sexy song I've ever made."
--
WHORES. - "IMPOSTER SYNDROME"
Atlanta sludge metal band Whores. have confirmed that a new album is coming this year, but first here's a new single, which is heavy and pissed-off but still very melodic. They also announced a tour with Bummer and Capra.
--
LOOSE ARTICLES - "CHAOS"
Manchester's Loose Articles will release their Chaos EP on July 1 via Alcopop! Records, and the newly-released title track has a skeletal, early post-punk vibe.
--
VIDEO PRICK - "HATE IT HERE" / RAW BREED - "RAW IS WAR"
Hardcore bands Video Prick (from Seattle) and Raw Breed (from Denver) are putting out a split EP on April 15 via Convulse Records, and one song from each is streaming now: Video Prick's discordant, abrasive "Hate It Here" and Raw Breed's forceful, aggressive "Raw Is War."
--
SPARING - "STILL" (RUFIO COVER)
Sparing showed off a grungy emo vibe on last year's Old Dreams EP, but here they channel their love of high-speed pop punk with a Rufio cover.
--
HAUNTER - "CHAINED AT THE HELM OF ESCHATON" (CLIP)
Austin black/death metallers Haunter have announced a new album, Discarnate Ails, due May 6 via Profound Lore. It's made up of three lengthy songs, and you can hear about three minutes of the closing track now.
--
CHRISTOPHER MARTIN - "MOBILE HOTEL"
Jamaican reggae/dancehall singer Christopher Martin is back with a breezy, catchy new single.
--
CARLA MORRISON - "CONTIGO"
Mexican singer Carla Morrison has announced her album of entirely new material in seven years, El Renacimiento, due April 29 via Cosmica (shortly after she opens Coldplay's Mexico dates). It includes recent singles "Ansiedad," "No Me Llames", "Obra de Arte," and "Contigo," the latter of which you can hear below.
--
HATER - "HOPES HIGH"
Sweden's Hater have a new album, Sincere, out in May and here's another preview. "Hopes High" is set to a martial groove, part komische and part hazy psych.
--
COLPITTS (KID MILLIONS/MAN FOREVER) - "BREAD"
Colpitts is the new solo project from John Colpitts -- aka Oneida drummer Kid Millions aka Man Forever -- and he'll release new album Music from the Accident on March 18 via Thrill Jockey. Greg Fox and Noah Hecht (Porches, Fiery Furnaces) play on "Bread" and while you might expect a track with three drummers to lay down a beat, this is all synths.
--
THE NATVRAL - "A PORTRAIT OF SYLVIE VARTAN"
Onetime Pains of Being Pure at Heart frontman Kip Berman is back with a new The Natvral single that will be out as a 7" on April 26 on Prefect Records. "'A Portrait of Sylvie Vartan' is about the allure and the limits of self-invention, and the ways we relate - or don't - across oceans, language, and time," says Kip. It's also about pancakes and milkshakes.
--
LIFE - "BIG MOON LAKE"
LIFE hail from Hull UK (home of The Housemartins!) and the city, with is in the North East of England, plays an intrinsic part in their style and their third album, North Eastern Coastal Town. "North East Coastal Town is our love letter to the city. The album is an ode to kinship and relationship with its musical and lyrical spine picking out themes of love, desire, beauty, horror, chaos, pride and most importantly the sense of belonging. It's a reflective body of work dedicated to people and place and those that have always been there and made us feel like we belong." Check out the driving new single "Big Moon Lake."
--
SHARON VAN ETTEN - "USED TO IT"
Sharon Van Etten released new single "Porta" last month and is now back with another new song. Awash in ethereal synths, "Used to It" was originally written for 2020 HBO documentary Baby God.
--
KATRINA FORD (CELEBRATION) - "PEACE OUT"
Katrina Ford of Celebration and Mt Royal has been quiet the last few years, but is gearing up to release her solo debut. Details on the record are still TBA, but she's shared a new song today. Dark, cinematic and quietly groovy, "Peace Out" that has Katrina singing "Is there anyone who can follow down the rabbit hole?"
--
WEIRD NIGHTMARE (ALEX OF METZ) - "SEARCHING FOR YOU"
METZ frontman Alex Edkins is releasing a solo album under the name Weird Nightmare which will be out May 20 via Sub pop. "Hooks and melody have always been a big part of my writing, but they really became the main focus this time" says Alex, who is definitely in poppier territory here.
--
BESVÄRJELSEN - "DIGERLIDEN"
Swedish stoner doomers Besvärjelsen have announced their sophomore album Atlas, due 5/27 via Magnetic Eye, and you can read more about lead single "Digerliden" here.
--
TOOL - "OPIATE²"
Tool have released "Opiate²," the nearly-ten-minute rework of the title track of their 1992 EP. Read more about it here and pre-order the accompanying Blu-ray/art book here.
--
PUP - "MATILDA"
PUP have shared the third single off their anticipated Peter Katis-produced fourth album THE UNRAVELING OF PUPTHEBAND. Read more about it here and pre-order the album on splatter vinyl here.
--
BARTEES STRANGE - "HEAVY HEART"
Bartees Strange has signed to 4AD and his first single for the label is the triumphant, anthemic indie rock of "Heavy Heart," which you can read more about here.
--
Looking for even more new songs? Browse the New Songs archive.