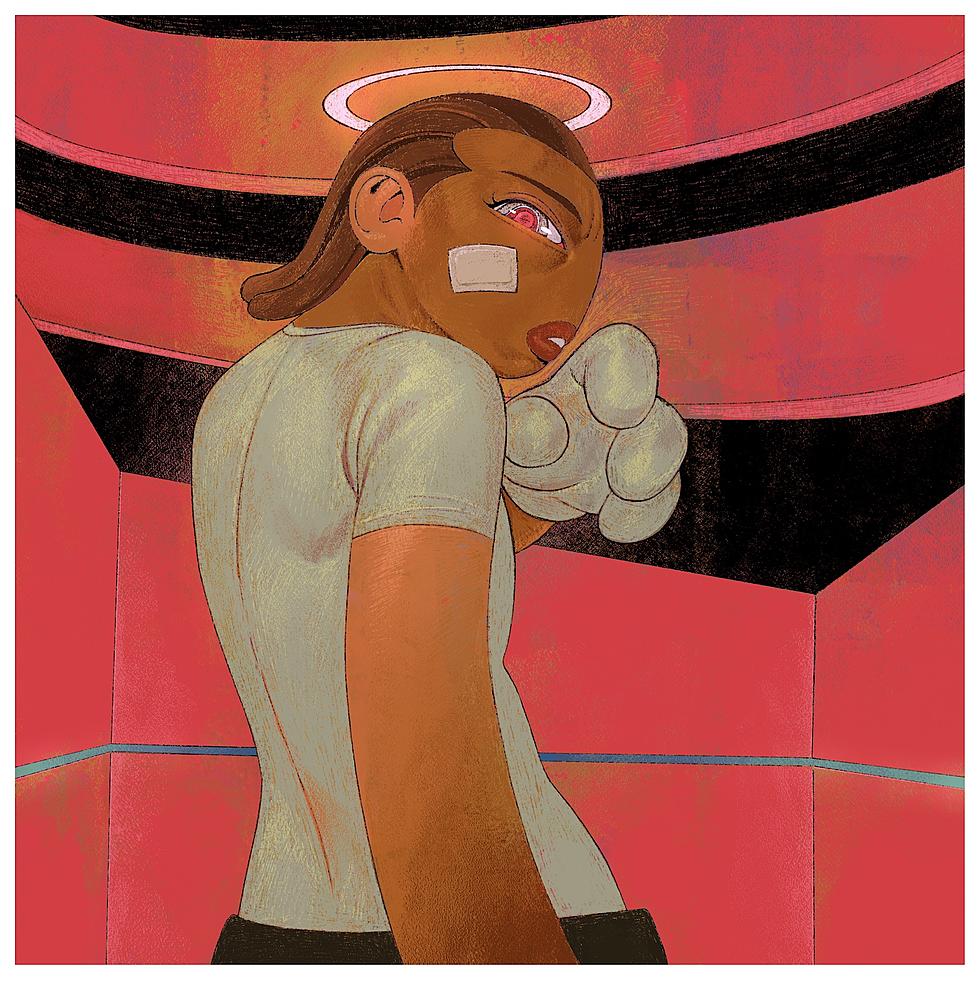 McKinley Dixon album art
So many artists, so many songs, so little time. Each week we review a handful of new albums (of all genres), round up even more new music that we'd call "indie," and talk about what metal is coming out. We post music news, track premieres, and more all day. We update a playlist weekly of some of our current favorite tracks. Here's a daily roundup with a bunch of interesting, newly released songs in one place.
HMLTD - "THE END IS NOW"
UK band have shared another delightfully chaotic circus-pop song from their upcoming LP The Worm.
--
MCKINLEY DIXON - "RUN, RUN, RUN"
McKinley Dixon will release new album Beloved! Paradise! Jazz!? on June 2 via City Slang, and new single "Run, Run, Run" is a mix of harmony-laden soul, indie-rap, kinetic rhythms, and more.
--
THE NEW PORNOGRAPHERS - "PONTIUS PILATE'S HOME MOVIES"
"Lyrically, it is very much a stream-of-consciousness story about the disease of social media and online culture," says the rarely straightforward AC Newman about the latest song to be released from The New Pornographers' upcoming Continue as a Guest. "The narrator that only likes art when it changes the subject, buried in daydream, thinking it's an entrance, and the idea of Pontius Pilate entertaining his friends with home movies of the crucifixion (what else would he be showing? That part's clear, right?). It was a product of being stuck at home at a time when online was the only way for many to communicate, and obviously it had its negatives. One of those songs that might seem like word salad but is not, its disjointed nature very deliberate."
--
SNAPPED ANKLES - "PLANET YOU" (BLURT COVER)
UK band Snapped Ankles will release the Blurtations EP for Record Store Day 2023 in the UK, featuring covers of six songs by DIY post-punks Blurt. For those who can't snag a copy, the EP will be out via Bandcamp later in the spring.
--
FACS - "SLOGAN"
Chicago's FACS have shared a second song from their upcoming album Still Life in Decay. Moody, muscular and atmospheric, "Slogan," owes just a little to Wire.
--
ASHER GAMEDZE - "WYNTER TIME"
Cape Town, South Africa jazz drummer and composer Asher Gamedze has announced a new album, Turbulence and Pulse, due May 5 via International Anthem. The first taste is the calmly stirring, nearly-10-minute "Wynter Time."
--
I AM THE AVALANCHE - "HONEY BEE"
I Am the Avalanche have dropped a new single, and this one's a rager that really finds Vinnie Caruana leaning into his melodic hardcore roots.
--
SKEE MASK - ISS009
Electronic musician Skee Mask has dropped off a new four-song EP.
--
LOS OCUPADOS - "A BETTER WAY"
Olympia, WA ska-punks Los Ocupados have shared this catchy, lo-fi new song.
--
CALIFONE - "THE HABSBURG JAW"
Indie vets Califone have announced a new album, Villagers, due May 19 via Jealous Butcher Records, and first single "The Habsburg Jaw" is a breezy song that finds Tim Rutili & co. in fine form.
--
ACID KING - "MIND'S EYE"
San Francisco doom vets Acid King have dropped off another taste of Beyond Vision. "Mind's Eye" is a seven-minute, fuzzed-out trip.
--
TELEMAN - "CHERISH"
UK group Teleman will release their fourth album, Good Time​/​Hard Time, in one month via Moshi Moshi. "Cherish" is appropriately delicate and sweet.
--
GUARDIAN SINGLES - "CHAD AND STACEY"
New Zealand's Guardian Singles will release new album Feed Me To the Doves on May 26 via Trouble in Mind. The album opens with garage punk burner "Chad and Stacey."
--
ISSEI HERR – "AVEU (THE BEGINNING IS A FAREWELL)" (FEAT. MARIA BC)
Brooklyn cellist and composer Issei Herr will release debut album Distant Intervals on April 7 via NNA Tapes. Maria BC features on the mournful "Aveu (The Beginning Is a Farewell)" that closes the album.
--
KATE DAVIS - "LONG LONG LONG"
Kate Davis' new album Fish Bowl is out later this month, and the latest single is "Long Long Long." "This song longs less for a person, and more for answers," she says. "There's an insatiable craving for clarity and destination. I think that's why I was so attached to the visual of driving endlessly through the night. Time is explicitly described, but in the same breath, it means nothing. This song references three songs that were anchors for memories and markers of time in my life. Barenaked Ladies - 'One Week,' Kylie Minogue -'Can't Get You Out Of My Head,' and Failure - 'Stuck On You.' Out of all the songs on 'Fish Bowl,' I might be attached to this one the most. It helped me tease out some personal desires and truths."
--
EDDIE CHACON - "SUNDOWN"
Charles & Eddie cofounder Eddic Chacon releases new album Sundown at the end of the month and this is the very groovy title track.
--
KID KOALA - "1000 TOWNS (FT. COELACANTH)"
Here's another scratch-heavy jam from Kid Koala's upcoming album/board game, Creatures Of The Late Afternoon.
--
ELISAPIE - "UUMMATI ATTANARSIMAT (HEART OF GLASS)" (BLONDIE COVER)
Montreal-based folk aartist Elisapie has shared this unique cover of Blondie's "Heart of Glass" which has been translated into Inuktitut. She says: "My adoptive mother was from the small village of Ivujivik. It was a 30 minute plane ride from my village. We would often go there to visit her family. Once we arrived in Ivujivik, my parents would go gambling at some random cousin's house. I would later have mixed feelings towards their gambling addiction. But not back then. Back then, it meant the children were free to do whatever they pleased. The older kids were the ones who ran the show and they knew how to throw a party. When I was around 5 or 6 years old, I remember one particular night when they put Heart of Glass on. They all started dancing like crazy. I watched their joy with such admiration. I couldn't believe I got to stay up so late. I felt so loved by my maniacal babysitters. They laughed at me and swung me around. They treated me like the most beautiful doll. When this song comes on, I am back in that wonderful small dance hall of sorts with my big cousins."
--
PROTOMARTYR - "MAKE WAY"
The opening song on Protomartyr's upcoming album Formal Growth in the Desert, "Make Way" is bleak, atmospheric and aggressive, with Casey singing "You can grieve if you wanna, but please don't ruin the day," before barking the song's title.
--
BAXTER DURY - "AYLESBURY BOY"
"This song is about coming from one place and arriving at another without fitting in to either, and I think of these people like characters from Studio Ghibli's Spirited Away," says Baxter Dury. New album I Thought I Was Better Than You is out in June.
--
CREEP SHOW (JOHN GRANT + WRANGLER) - "YAWNING ABYSS"
Creep Show, the collaboration between John Grant and synth trio Wrangler (which includes Cabaret Voltaire's Stephen Mallinder, Tuung's Phil Winter and Ben "Benge" Edwards), are back with the follow-up to 2018's Mr Dynamite. It's titled Yawning Abyss and will be out June 16 via Bella Union. Check out the title track.
--
PETER GABRIEL - "PLAYING FOR TIME"
"'Playing For Time' is a song that I have been working on for a long time and have performed live, without lyrics, so some people may be familiar with it. It's been an important song for me. It's about time, mortality and memories and the idea that each of us has a planet full of memories which get stashed inside the brain." Peter is releasing one song a month on the full moon till his whole album i/o is out.
--
STRANGE RANGER - "RAIN SO HARD"
"Towards the end of the movie Slacker, there's a brief scene where this old guy is wandering around recording his thoughts into a tape recorder," Strange Ranger's Isaac Eiger says of their new single for Fire Talk. "Just kind of rambling about loss and the impossibility of understanding anything while it's happening. I don't know if I saw Slacker around the time when I wrote this song but when I think about the song, that guy sometimes comes to mind."
--
CONFUSION - "STORM THE WALLS"
'90s-era Brooklyn band Confusion had a mix of hardcore and death metal that helped pave the way for a lot of what's going on in heavy music today, and now the band is putting out the discography comp Storm The Walls: 1990-1994 this summer via DAZE and Generation Records. It comes with liner notes from members of Indecision, All Out War, Starkweather, Next Step Up, Darkside NYC and more, and the first song to be released is the remastered version of "Storm the Walls." For more, read vocalist Mike Scondotto's (also of Shutdown, Inhuman, and The Last Stand) new interview with No Echo.
--
BEACH FOSSILS - "DON'T FADE AWAY"
"'Don't Fade Away' is about missing old friends, being on tour, self-medicating, longing, anxiety, love, being an idiot, having fun, embracing your mistakes and keeping your spark," says Beach Fossils frontman Dustin Payseur. The song is the first release off of Bunny, Beach Fossils' first LP since 2017. Read more about it here.
--
ALASKA REID - "BACK TO THIS"
"Back To This" is the first single off Alaska Reid's just-announced debut album Disenchanter, co-produced by A.G. Cook. The song meshes indie country with grungy guitars and '80s-inflected synths. Read more about it here.
--
BLONDSHELL - "DISAPPOINTMENT" (THE CRANBERRIES COVER)
Along with announcing her first North American headlining tour, Blondshell shared a cover of The Cranberries' "Disappointment," which you can read more about here.
--
RUFUS WAINWRIGHT - "DOWN IN THE WILLOW GARDEN" FEAT. BRANDI CARLILE
Rufus Wainwright announced star-studded album Folkocracy today with lead single "Down In The Willow Garden," an intensely dark classical folk ballad with locked-in harmony by Brandi Carlile. Read more about it here.
--
RATBOYS - "BLACK EARTH, WI"
Ratboys' one-off single "Black Earth, WI" is eight and a half minutes of sprawling, countrified post-rock recorded straight to tape. It's the Chicago band's first new music since 2021. Read more about it here.
--
BARTEES STRANGE - "DAILY NEWS"
Bartees Strange shared Farm To Table vinyl exclusive "Daily News" on streaming today. It's futuristic and expansive with glimpses of synth pop and shoegaze, plus a standout saxophone feature at its close.
--
ANGEL OLSEN - "NOTHING'S FREE"
Angel Olsen announced new EP Forever Means today with soulful single "Nothing's Free." "It felt really difficult to exclude it from Big Time," Angel says, "but it felt more soulful than the direction of that record, it was coming from a different place. For me, when I wrote it, I was coming to terms with my identity and sexuality. I was opening up in a new way."
--
BRIGID MAE POWER
Irish artist Brigid Mae Power announced new album Dream From The Deep Well today with the release of the title track, a delightful acoustic folk song complete with a harmonica solo. Read more about it here.
--
INDIGO DE SOUZA - "SMOG"
"Smog" is the second single off Indigo De Souza's upcoming album All Of This Will End. "I wrote Smog when I was living alone, and I was surrounded by people who were always mowing their lawns in this neighborhood. And I was just always thinking about how I wish that it could be quiet and I didn't have to hear the machine hums all around me. And then at nighttime when I was by myself, I would record music and I wrote this song kind of just about that coming alive and reconnecting with myself," Indigo said on Apple Music 1.
--
DRAIN - "FTS (KYS)" / "INTERMISSION"
Santa Cruz thrashy hardcore band Drain have shared "FTS (KYS)," the third single from their upcoming Epitaph debut Living Proof, and the music video version opens with "Intermission," the album's rapped interlude track by Oakland rapper Shakewell, formerly of the hardcore band Betrayal. Read more here.
--
MANCHESTER ORCHESTRA - "THE WAY"
Manchester Orchestra's new album & VR film The Valley of Vision comes out this week, and they've just shared its second single, "The Way." Read more about it here.
--
Looking for even more new songs? Browse the New Songs archive.