4knots Festival in pics (Archers of Loaf, The Drums, Crocodiles, Bleached, Hospitality, Nick Waterhouse and more)
Archers of Loaf / Crocodiles / the scene at 4Knots 2012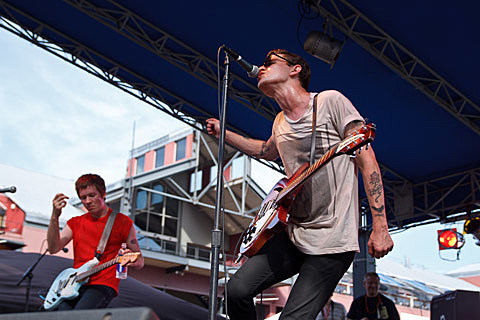 Even though the fire that broke out on the deck at the South Street Seaport Mall was certainly the most memorable act of the day, the Village Voice 4Knots Festival was a fine time at South Street Seaport, loaded with good performances amid the smoke and oppressive humidity. There was a big crowd for this second year of the fest, much bigger than last year, and though there wasn't a headliner the size of, say, Steve Malkmus or M.I.A. or Spoon (like they had at Siren in years past), that seemed by design in these post-Drake years. I like every band that played the main stage.
Well, I don't know anything about the first two bands who played the main stage -- The Smiling Lies and Fast Years -- who played before I got there at 1PM and seemed to be on by contractual obligation. Nick Waterhouse made a good, friendly primer for the day with his vintage, baritone sax-fueled '60s soul and R&B, looking dapper in a white oxford shirt that had to have been hot on stage. I prefer him in a tiny sweaty club to a big outdoor fest (I can say that about most bands) but he had the sweaty part down.
Bleached were up next and while we've yet to get an album from these girls, the crowd seemed to know most of their set of hook-laden poppy, punky, curled-lip songs. Hospitality were up next -- almost exactly a year ago they played to about 60 people at the Fulton Stall Market across the street from the Seaport, and they've come a long way since. Most of the crowd was bobbing along to much of their Merge debut... at least till the fire cut their set short.
After the smoke cleared it was Crocodiles whose new album Endless Flowers finds them branching out of strict JAMC love into brighter, poppier corners. They were probably the most animated band of the day with Brandon Welchez definitely playing up the rock frontman gig to the hilt. Crocodiles also inspired the only crowd surfing I saw on Saturday (but I might have missed some).
Speaking of animated, The Drums were up next. Once known for their Bring It On as an indie rock band, tambourine-tossing fabulousness, they are now a real live rock band with little in the way of backing tracks. While I think their most recent album was pretty good, and they sounded tight, they are a little on the subdued side live these days, or at least have been the last two times I've seen them. I think I liked them better live when they mostly pretended to play their instruments.
I was wondering if a lot of the crowd might leave after The Drums' set but, nope, everyone stuck around for recently-reformed '90s indie rock royalty Archers of Loaf. I'll admit I was never the biggest fan -- that was my college roommate, who seemed to get mail-order daily from TeenBeet, Merge and Simple Machines while I scoured import racks for Ride and Blur EPs -- but I certainly absorbed a lot through osmosis and the hit-filled set ("Web in Front," "Wrong," "Plumb") was even recognizable to this casual Archers listener. My friend Chris, a giant Archers fan, dubbed their performance "awesome."
Meanwhile on the Skipper's stage, we got mischievous Montreal band Doldrums, the twangy retro rock of Devin, punk-ish rockers Team Spirit (featuring Ayad of Passion Pit) and Delicate Steve whose set was also cut short due to the fire. And the afterparty went down in Beekman Beer Garden where things got wild during Black Lips' set.
More pictures from 4Knots are below...

---
The Smiling Lies (Amanda)