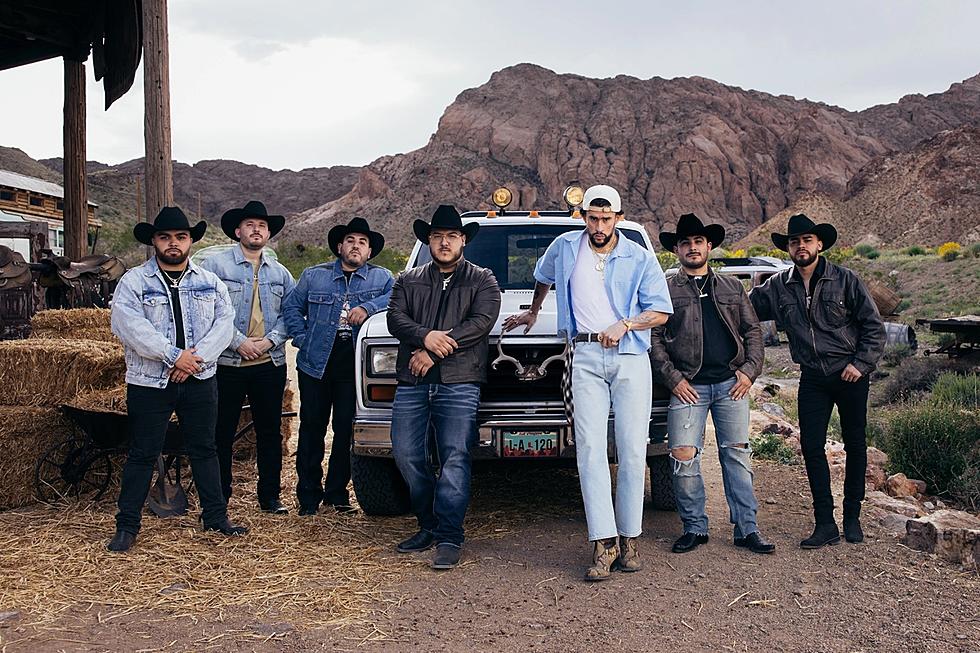 5 songs to know from regional Mexican music's current global takeover
Grupo Frontera & Bad Bunny by Eric Rojas
As you may have noticed, regional Mexican music is in the midst of a massive global takeover. "Regional Mexican" is an umbrella term used by radio stations that encompasses rancheras, corridos, cumbias, boleros, norteño, sierreño, mariachi, and other styles of music, and as discussed in a recent Billboard article, it's "gone global" many times throughout history--Billboard Español associate editor Isabela Raygoza names 1950s mariachi star and actor Pedro Infante, '70s ranchera star Vicente Fernández, and '90s Tejano queen Selena as just three examples. But there's no denying that it's having a unique moment right now. As we speak, two songs in the Top 10 of the Billboard Hot 100 are regional Mexican songs, marking the first time in history that any regional Mexican artist has cracked the Top 10 in the US. The first to enter was "Ella Baila Sola," a collaboration with Peso Pluma from Eslabon Armado's excellent new album Desvelado. The other is Grupo Frontera's collaboration with Bad Bunny, "un x100to," which was released after Bad Bunny headlined the first weekend of Coachella and then performed by both artists together during Bad Bunny's weekend two set. (And it wasn't the only time that regional Mexican music was performed at Coachella this year... more on that below.)
"Ella Baila Solia" and "un x100to" are just two of the great regional Mexican songs released this year but it doesn't stop there. If you're looking for a place to start within this current wave of artists leading the charge for regional Mexican's current global takeover, we've put together a list of five songs that are all worth knowing, and that show how much modern crossover appeal this movement has while still honoring the traditions that this music has had for decades.
Eslabon Armado - "Ella Baila Sola" (ft. Peso Pluma)
Patterson, California-based group Eslabon Armado's new album Desvelado is great from start to finish, and features collaborations with likeminded artists Grupo Frontera, Luis R Conriquez, Oscar Maydon, Junior H, DannyLux, and Edgardo Nuñez, as well as Puerto Rican rapper Jhayco, but the song that's made history as the first regional Mexican song to enter the US Top 10 is the collaboration with Peso Pluma, whose fusion of corridos and hip hop has made him a perfect crossover star. (Dipping his toes into reggaeton on Yng Lvcas' "La Bebe" remix and working with Puerto Rican rapper Eladio Carrión on recent single "77" only adds to his widespread appeal.) "Ella Baila Sola" is a sierreño song fueled by propulsive guitar, staccato horns, and an impossibly catchy vocal tradeoff between Peso Pluma and Eslabon Armado singer Pedro Tovar. Whether you speak Spanish or not, the passion and emotion in their voices is universal.
Peso Pluma is also gearing up for his first US tour.
Grupo Frontera - "un x100to" (ft. Bad Bunny)
Bad Bunny has broken down so many barriers for Latin music, incorporating reggaeton, dembow, cumbia, mambo, salsa, bossa nova, and much more into his songs, and lately he's been in love with this new movement of Mexican music and is using his platform to help popularize this music too. "I think it's beautiful what is happening," El Conejo recently told Zane Lowe on Apple Music 1. "It's very necessary because the world needed, I think the world needed to know more about all culture, the Latin culture. Another perspective is not only reggaeton and perreo and urban music. There are also other very beautiful and very wild genres of Latin music." After hopping on a remix of corridos singer/rapper Natanael Cano's "Soy El Diablo" in 2019, he took his love further by collaborating with Texas-based norteño band Grupo Frontera on their latest single "un 100xto." The band formed in 2019 and had begun taking off in 2022 with a popular cover of Morat's "No Se Va" and their own "Bebe Dame" (ft. Fuerza Regida), but it's "un x100to" that launched them into the global public eye. It's a romantic cumbia-norteño about missing your ex, and Bad Bunny's unmistakable voice blends perfectly with Grupo Frontera's style.
Yahritza y Su Esencia - "Frágil" (ft. Grupo Frontera)
Washingon-based Yahritza Martinez became the youngest Latine artist (at age 15) to ever crack the Billboard Hot 100 when Yahritza y Su Esencia--her trio with brothers Mando on requinto guitar and Jairo on bajoloche (a type of acoustic bass)--reached No. 20 with "Soy El Único" off their 2022 debut album Obsessed. They kept the momentum going with this year's Grupo Frontera collaboration "Frágil," and it sounds like they're only getting better. It embraces Frontera's cumbia-norteño style, giving things a more upbeat twist than the percussion-less ballad that put Yahritza on the map, and it's a sentimental breakup song with melodies that you can't get out of your head.
Natanael Cano - "Pacas De Billetes"
Sonora-born artist Natanael Cano has been credited with helping to pioneer the fusion of corridos and hip hop that's become known as corridos tumbados, the same new subgenre that Peso Pluma has been helping to popularize--and Natanael collaborated with Peso Pluma on recent singles "PRC" and "AMG," the latter of which also features Gabito Ballesteros. (And as mentioned above, he had Bad Bunny on a track three years before Grupo Frontera did.) He's been very prolific, and his latest single is "Pacas De Billetes," a forward-marching track with fiery guitar and horns that match the bravado in Natanael's hummable hooks.
Conexión Divina - "Paso A Pasito" (ft. Gabito Ballesteros)
Conexión Divina is the trio of Mexican-American musicians Liz Trujillo, Ashlee Valenzuela, and Sandra Calixto, who formed after meeting on social media, and they've gone on to be coined "the world's first Gen-Z female sierreño group." With two members who are openly queer, they're also helping to bring a greater amount of LGBTQ+ representation to regional Mexican music. Their debut single "Odio" came out last September, and they got booked on Coachella just months later--the same edition that hosted Bad Bunny and Grupo Frontera's collaborative live debut and Becky G bringing out Peso Pluma. This year saw the release of their debut album Tres Mundos, featuring "Odio" and 13 other songs. One of those other songs is "Paso A Pasito," a collaboration with Gabito Ballesteros that proves "Odio" is not their only crowdpleasing single. The trio sound great trading lines with Gabito, and the kinetic instrumentation would get anyone dancing.
--
That's just the tip of the iceberg and there's so much more out there. What else would you have on your list?