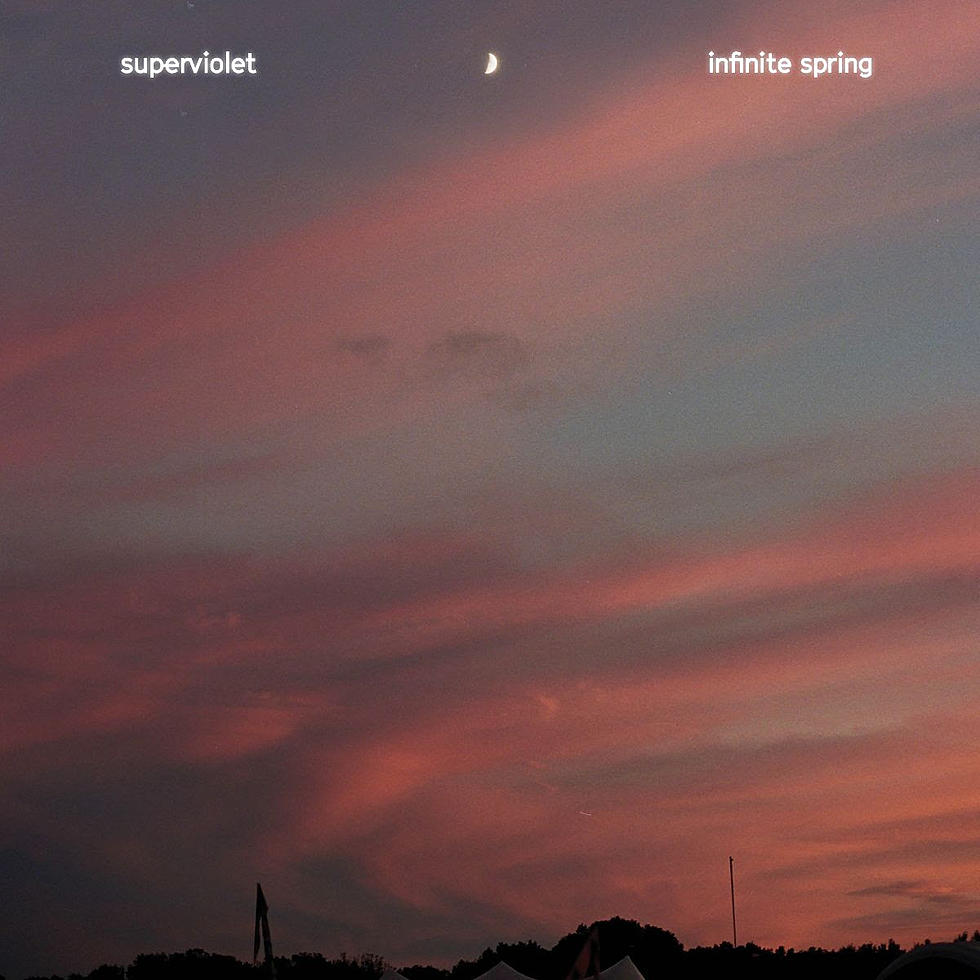 Superviolet art
So many artists, so many songs, so little time. Each week we review a handful of new albums (of all genres), round up even more new music that we'd call "indie," and talk about what metal is coming out. We post music news, track premieres, and more all day. We update a playlist weekly of some of our current favorite tracks. Here's a daily roundup with a bunch of interesting, newly released songs in one place.
BONNY DOON - "LET THERE BE MUSIC"
"We're really attracted to simplicity. We're always trying to reduce an idea to its essence, but this one was so simple that it felt like it was pushing that practice farther, which was exciting to us," Bonny Doon's Bobby Colombo says of the bouncy title track to new album Let There Be Music. "We've rarely had as much fun tracking a song, and I think that's probably how it became the title track. It just felt like the energetic center." The album's out June 16 via ANTI-.
--
SUPERVIOLET - "LOCKET"
The Sidekicks vocalist Steven Ciolek has shared another track off the debut album by his new project superviolet, which was made in close collaboration with Saintseneca's Zac Little and The Sidekicks' Matty Sanders. "Locket" is a fuzzed-out yet jangly pop track and another very promising taste.
--
SANITIZERS - S/T EP
Noisy Denver hardcore band Sanitizers have dropped this new self-titled EP via Convulse, who's been on an absolute roll this year (with MSPAINT, Gel, Gumm, and more), and this new EP is no exception.
--
THE LINDA LINDAS - "TOO MANY THINGS"
Young LA-based punks The Linda Lindas shared their first single of 2023, "Too Many Things," today, a '00s-infused angsty pop-punk banger with a super-catchy chorus. Read more about it here.
--
THE DREAM SYNDICATE - "SOME KIND OF ITCH (LIVE)"
The Dream Syndicate are releasing a deluxe box set for the 40th anniversary of their debut album, The Days of Wine and Roses, featuring a ton of previously unreleased material. This is one of the bonus tracks.
--
ORIGAMI ANGEL - "THANK YOU, NEW JERSEY"
Origami Angel's new single is one big collage of ideas that goes from crunchy power pop-punk to a Beach Boys homage to tropical bossa nova, and Gami make it work in the quirky way that only they can. Read more here.
--
Looking for even more new songs? Browse the New Songs archive.