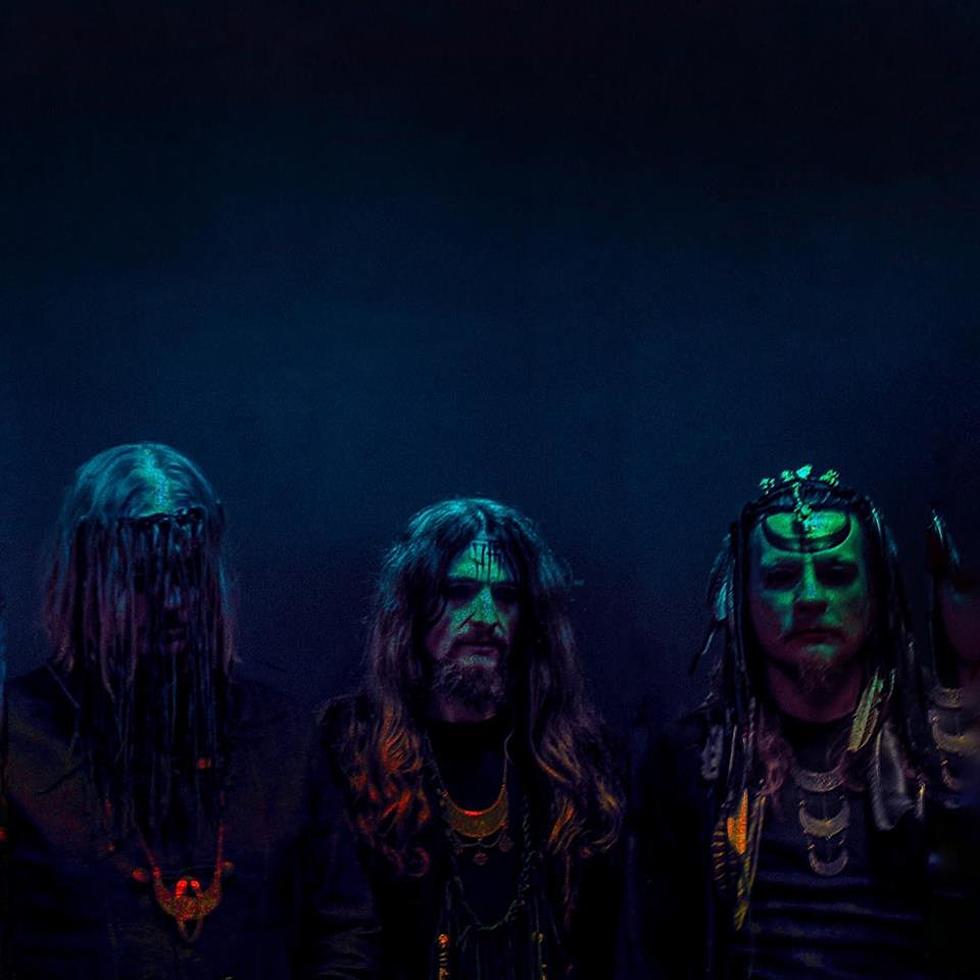 7 great metal and hardcore albums from 2019 you may have missed
Waste of Space Orchestra (photo by Kalle-Erik Kosonen)
We cover tons of metal every week here on BrooklynVegan (and our metal sister site Invisible Oranges covers even more). We post daily metal news, weekly metal song roundups, and I review lots of metal for my weekly Notable Releases column. Still, metal is a vast musical world and there are too many great metal albums coming out all the time to keep track of them all. To catch up, we've looked back on the first half of 2019 and picked seven metal (and hardcore) releases that we haven't given enough (or any) attention here on BrooklynVegan. Some of them have been mentioned on the site before, but most haven't and we haven't previously reviewed any of them. If they're new to you too, we hope this list turns you on to something you might like. (And if you've already heard them all, rock on.)
What metal or hardcore albums do you think have gone overlooked this year so far?
Waste of Space Orchestra - Syntheosis

Svart

It's nothing new for a guitar-oriented rock band to put "orchestra" in their band name and have the word have little or nothing to do with the music, but Waste of Space Orchestra -- a collaboration between Finnish metal bands Oranssi Pazuzu and Dark Buddha Rising that originally came about when Roadburn commissioned them to collaborate in 2018 -- is not one of those bands. They rely on traditional rock and metal instrumentation (guitar, bass, keys, drums, clean-sung and screamed vocals), but their arrangements sound much more inspired by orchestral music than by rock and metal bands. Their debut album Syntheosis is similar, in a way, to Godspeed You! Black Emperor or late-period Swans -- artists that use rock instrumentation to create music with movements that echo classical music. Even calling Syntheosis "progressive rock" would be understandable but sort of off base. Even darker prog records tend to sound fantastical, or are full of complex musicianship, but Syntheosis isn't really either of those things. Like Swans, Waste of Space Orchestra often make their point just by swaying between two evil-sounding chords. The songs can be long and multi-faceted and ambitious but there's still a "less is more" mindset applied. The heavy riffage and occurrences of screamed vocals give the album the unique thrill of metal, but Waste of Space Orchestra spend most of Syntheosis' running time completely ignoring metal trends and stereotypes. They sound like they set out to make some of this year's most eccentric heavy music, and, given the high amount of acclaim this album is already deservedly getting, I'd say they succeeded.

For more on this album, read a longer review at Invisible Oranges.

Ithaca - The Language of Injury

Holy Roar

Ithaca, the UK metallic hardcore band who tell Revolver "we are a band that beseeches people from the varying scale of gender, and also people from different ethnic backgrounds, and varying sexualities as well," followed a couple EPs with their debut album The Language of Injury this year, and it's one of the finest 2019 debuts of its kind. Though the band clearly have a strong political message and care about diversity, they don't put themselves in a "political band" box and they're just as prone to personal and poetic lyrics as they are to radical politics. The sounds they make can't be put into a box either. They've got some modern post-metal atmosphere recalling bands like Deafheaven or Oathbreaker, but they also don't shy away from their strong love of early 2000s US post-hardcore and metalcore, the kind you might've found on Trustkill Records or Ferret Records. In fact, singer Djamila Azzouz shouts out former Ferret band From Autumn To Ashes in that same aforementioned Revolver interview. "I could go on about that band for forever, they're one of my favorite bands of all time," she says. "That was the first time I'd ever heard that song, and it blew my mind. Holy shit, it's like metal but also hardcore … and there's cleans [vocals]!" If you spent the early 2000s listening to stuff like that and you've grown to embrace the current decade's wave of post-metal, you may find that The Language of Injury very much speaks to you. Similarly to one of last year's hottest heavy bands, Vein, Ithaca nail a perfect mix of nostalgia for the turn of the millennium and a strong embrace of the present. As a lot of people who came of age during the Ferret Records era are now becoming the fans, artists, and critics driving today's music industry, Ithaca couldn't have arrived at a more perfect time.

Oozing Wound - High Anxiety

Thrill Jockey

Thrash is a complicated genre because it remains one of the most thrilling offshoots of metal, but it's nearly impossible to come up with new versions of it and even most of the best modern thrash bands are knowingly retro. Not Oozing Wound though; since 2011, they've been figuring out how to take the thrill of thrash, the rawness of its punk roots, and the weirdness of psychedelia and come out with something that sounds thrashy yet innovative. Their latest triumph is this year's High Anxiety, which is one of the year's most fun and most weird metal albums thus far. As song titles like "Surrounded By Fucking Idiots" and "Tween Shitbag" probably make clear, Oozing Wound have a sense of humor, but they're no joke. Their riffage is as tough as just about any great thrash band then or now, but most thrash bands don't also offer up songs like the eight-minute acid trip of "Birth of a Flat Earther." Singer Zack Well also avoids falling into the usual thrash frontman trap of "sounding just like Metallica or Slayer," instead favoring a gravelly, maniacal bark that sounds like Lemmy being struck by lightning. High Anxiety takes itself seriously but not too seriously, it is metal and punk in equal measure, and it is pop and experimental in equal measure too. It's a lot of stuff at once, but presented in a way that's cohesive and not all over the place. And for its entire running time, it rips.

Downfall of Gaia - Ethic of Radical Finitude

Metal Blade

Germany's Downfall of Gaia formed back in 2008 as a crust punk band, but they gradually transformed into more of an atmospheric post-black metal band, and each new album has seen them further sharpening their genre-defying mix of sounds, leading up to this year's great Ethic of Radical Finitude. At this point, they've mastered the post-rock/black metal blend about as effectively as the genre's bigger names like Deafheaven, Alcest, and Woods of Desolation, but unlike those bands, they've still got the punk/sludge roar of their early days coming through in the vocals. Where vocals for a lot of bands like this are a reverb-coated afterthought, Downfall of Gaia's are bold, forceful, and full of clear emotion. (There are also just a couple of D-beat parts that pummel their way in to the otherwise atmospheric record.) It's not unheard of to combine these sounds, but it's still a lot less common and a lot more refreshing than your average "atmospheric black metal" album. The album is as dedicated to the clean post-rock parts as to the metal and punk parts, and it's not everyday that a band can do all three of those things as exceptionally well as Downfall of Gaia can. If there's a record on this list that can bring the punks, the metalheads, and the Explosions in the Sky fans together, it's this one.

Батюшка (Batushka) - Панихида (Panihida)

self-released

Polish black metal band Batushka deservingly picked up a lot of buzz for their 2015 debut album Litourgiya, which saw them infusing black metal with church chants and coming out with one of the most unique black metal debuts in a while. After their status gradually grew, though, the band split and two competing versions of Batushka emerged. Bartłomiej (or Bartek) Krysiuk's version was able to keep the name Batushka, and they signed a deal with Metal Blade, who recently issued the band's new single "Polunosznica" and plans to release their debut album in July, but a lot of people seem to agree that Krzysztof "Derph" Drabikowski's version of the band is the one that most picks up where Litourgiya left off. His version is called Батюшка (the Cyrillic transliteration of "Batushka") and his debut album Панихида (Panihida) is out now. The album starts off with a similar chanting-infused black metal style as Litourgiya, but it progresses from there, incorporating piercing screams, thrilling riffs that can be breathtakingly melodic or punishingly aggressive, and gorgeous clean sections make for a nice change of pace. Whether or not you consider this album the "true" followup to Litourgiya, it's a damn good one, and in about a month from now we'll be able to hear how the other version of Batushka holds up compared to this one. Either way, Panihida is a hell of an album, and -- like Litourgiya -- it has no trouble standing out amongst the sea of often-similar-sounding modern black metal bands.

One Step Closer - From Me To You EP

Triple B Records

One Step Closer hail from Wilkes-Barre, PA, which -- thanks to bands like Title Fight, Cold World, and Bad Seed -- has a pretty good reputation in the hardcore scene. And going by the strength of this year's killer From Me To You EP, One Step Closer just might be the next Wilkes-Barre hardcore band that everyone is talking about. Vocalist Ryan Savitski has a pained shout that's very aggressive but very human, full of despair and not afraid of melody but also as powerful as some of the more metallic vocalists on this list. Like a lot of good hardcore bands, One Step Closer keep things simple, but they're also never channelling one specific type of hardcore. You can hear the era of '80s DC bands that started incorporating a little melody into their hardcore like Dag Nasty, you can hear some chugging '90s metalcore, you can hear no-frills early 2000s crushers like American Nightmare and Modern Life Is War, but really there isn't just one thing that One Step Closer remind me of. They aren't doing something revolutionary, but they're one of those bands who just know how to make familiar sounds feel fresh, and this EP makes me think they've got a really bright future.

Sinmara - Hvísl Stjarnanna

Ván Records

Sinmara hail from the much-talked about Icelandic black metal scene (they share members with Wormlust, Almyrkvi, Slidhr, and Svartidauði, and have a split with Misþyrming), and with their long-awaited sophomore album Hvísl Stjarnanna -- which comes five years after their debut album Aphotic Womb -- they're continuing to make a case for themselves as one of the scene's most crucial bands. Compared to their much rawer sounding debut, Hvísl Stjarnanna continues in the more melodic, more ethereal vein that Sinmara began exploring on their 2017 Within the Weaves of Infinity EP, and the result is their most fleshed-out release yet. It's still a punishing, heavy album, but the melodies and the atmospheres are gorgeous. The production is also cleaner (but not overly polished) and the musicianship is tighter too. Though it's a long-awaited followup album, it's also a new beginning, and I won't be surprised if Hvísl Stjarnanna is the album that turns a lot of people on to Sinmara (especially here in the U.S., where Sinmara recently went on their first proper U.S. tour). It's a much grander album than the debut, but still too dark and evil to fall into "hipster black metal." They're not doing something drastically new, but the album is proof that a raw metal band can clean up their sound without losing their edge.