7 Seconds (Kevin) & Bouncing Souls (Greg) in conversation
7 Seconds & Bouncing Souls on tour in 1994

Twenty years is a major milestone for any band, but in a genre like punk rock that thrives on boundless energy, ducking authority, and youth, it's a particularly notable achievement. This year marks the 20th anniversary of The Bouncing Souls, and yet more clicks on the odometer in the touring van. The band kicks off a set of dates this week with fellow NJ luminaries Lifetime and punk rock legends 7 Seconds.
7 Seconds know a thing or two about longevity. The band is currently approaching it's 30th (!) year and prides itself on being one of the longest standing hardcore bands in existence, joining the esteemed ranks of Bad Brains, DOA, and Circle Jerks among others. Vocalist Kevin Seconds has been the face of the band since inception, spending the last few years on the road as a solo acoustic act, similar to like-minded punks Chuck Ragan, Walter Schriefels, and Greg Attonito of The Bouncing Souls.
On the eve of the Bouncing Souls / 7 Seconds dates in NYC (which impact 8/21 & 8/22, Lifetime opens on 8/20 & 8/23), we got a pair of punk rock veterans to sit down for an interview... with each other! Greg called in to speak with Kevin Seconds while on the Warped Tour, and the two discussed their upcoming tours in their respective bands and as solo artists, as well as what it means to still be a punk in 2009. Read it below....

====
The Bouncing Souls (Greg) @ Fun Fun Fun Fest 2008 (more by Kyle Dean Reinford)

Kevin Seconds

Bouncing Soul Greg Attonito: When I thought about doing this interview, there was a couple of questions that I wanted to ask that people don't really ever ask you.
Kevin Seconds: (Laughs). Okay?
GA: One of them is ... around the first time we met you guys on tour, the 7 Seconds guys played this game. And I believe it was called Stonehenge?
KS: Yeah. (Laughs). Yes, we did play that.
GA: Can you describe Stonehenge for us?
KS: Well, let's see, I think it originated from our gigs in Sacramento. I just sort of did it with the guys from 7 Seconds and then we started doing it with other bands and then we would be playing in a city somewhere and someone would yell out from the crowd. And I'm like; "Who the fuck is that?" (Laughs). But essentially it's like...it's really a dumb game, as you know... you're just standing with a group of people and if one person yells "Stonehenge", then everybody has to freeze until the person who yells "Stonehenge" says, 'Break'. So you try to do it when people are either in the middle of talking or walking. It's ridiculous, which is why it's kind of funny. Then there's all these rules like you can't do it while someone's working, or when there's an emergency situation, and then there is Midwest Coast rules, the East Coast rules, the West Coast rules....
KS: Yeah, you know, every once in a while we break it out when it's appropriate. I forget about that!
GA: I always thought it was really cool. I saw my first game of Stonehenge at a Chinese restaurant when we were eating with all you guys. (Laughs).
KS: (Laughs). You guys were with us on your early tours, right? You guys are great to hang out with and watch every night.
GA: Likewise. How's the coffee shop doing?
KS: We ... well, we closed - Allyson and I closed the café about four months ago. It got to be kind of political and stupid I just didn't have any more energy to put into it. It was like draining me, you know... dealing with that kind of stuff. It just made me realize that as much as I love the café, and it was a fun thing to run, it was sort of like buying a full time job.
KS: So we closed it down and I miss it, but at the same time, and who knows? We may some day do it again if we get the bug. I'd rather just go travel and be a bum. But it's been pretty nice and it's actually enabled me to hit the road more, do more art and do more...
GA: Right, right. More music...
KS: That's kind of, that's really where my heart is and where I want to be. Even now at 48 years old.
GA: Yeah. I remember when we did the acoustic show, you were talking about recording in the coffee shop you have upstairs and ...I forget exactly how you said it, but it kind of stuck with me. You can go and escape into your music... whether it's recording or performing.
KS: Yeah. When we jumped into doing it, my wife Allyson and I wanted to make sure that we never got too caught up and that we played at the same time because we're still both musicians... we still paint and draw and take photos and other stuff. We wanted to maintain that art part of it as well.
KS: And, you know, it was nice to have the upstairs room. The studio. We did a lot of really cool sessions and had some great performances up there too. The building itself is awesome and it's just one of those things where we felt so fortunate to find it when we did. But there's a lot of things at play. When you have people that are involved and you have this definite idea and vision and they're kind of going, "Hey, why don't you put up a big screen TV, man? Football on Monday." That sounds like a cheesy bar and it's not really what I want to do. You know what I'm saying?
GA: You don't want to have a sports bar.
KS: Yeah, yeah. I wouldn't know how to run it, I wouldn't want to do it. The key was to always try and maintain the music and the art element aspects of it. We wanted to contribute in our home town because it's slowly dwindling. It's like all these crazy Yuppies moved in from the Bay area and there are no art galleries to go to. Do any of you guys run your own business on the side? You have a record label, right?
The Bouncing Souls @ Generation Records (more by Jacob Blickenstaff)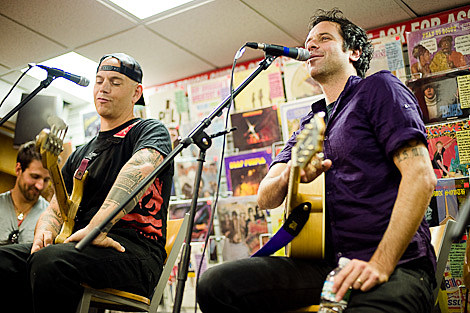 GA: Yeah, we have a label. We have people running the day to day business stuff and we'll just like poke our nose in now and then when things need to be talked about.
KS: Is there a recording studio too?
GA: Slowly bought all the gear. And now we're getting some pretty cool stuff and we recorded another band and it's sounding really good.
KS: You guys are like releasing a song at a time on the Internet, right?
GA: Yeah, we're releasing it on the Internet and on four 7"s which are coming out throughout the year. The best part about that, which we found from experience, is... You know how releasing a CD now.... It's like everybody gets everything so fast that it's just like gone in a second. I remember when putting out a record it was like a big deal.
GA: It was like, the new 7 Seconds record! 7 Seconds is putting out a recording that's coming out in September and everyone was... it was a big deal!
KS: Yeah. People had been waiting for it, there was like this kind of buzz going on, people would come out to the shows, and it would kind of be better... more lasting power or something...
KS: I read what you guys had done and thought "this is a great idea". You're sort of tying in the current technology with the idea that you're still putting out stuff and you guys have a huge audience where people are going to go along with new ideas. And I think it's great. You guys got to be creative, and it's just a whole different ballpark. Yeah. You know, you guys have got to eventually put everything out on CD like at the end of the year or something?
KS: That's great. And you guys are out playing and touring so often that it backs it up. It's one thing that people are releasing stuff, but we'll put out a record like every five years or whatever and then do one tour and then we're dormant for two or three years. That's not the way to do it. And we're just getting like lazier and lamer... So, I was going to ask you guys, so it's your 20 year anniversary. How does it feel? Do you think to yourself "how the fuck did this happen"? How'd we do it for the last 20 years? Does it really even matter?
GA: Yeah. You're a great person to be talking about this because you're kind of like a half a generation ahead of us and we really looked up to like 7 Seconds.
7 Seconds

GA: You guys were kind of paving a path for us... it's easier now, it's more well known, people know how to do it, you know, the times have changed a lot more. It being our 20th anniversary, people look at us now as more like an established band not a music trend. It's funny though because I still feel like people like you and Bad Religion, who are on the Warped Tour with us, are really still paving the way because we're figuring out how to like grow older as a punk rocker. You know what I mean?
7 Seconds in the 80s

KS: Yeah. Which, you know, always seems so kind of like contradictory in a way. I always used to say, I don't want to be up there when I'm 30.
KS: I don't want to do this when I'm 40. But I remember seeing in bands, you know, over the last ten years, older bands that get up there and they kind of look haggard and they kind of look like, you know, they're not really putting ...
KS: I want to still love what I do and I don't want to, you know, be cranking out song after song and just, you know ...
KS: So that's the thing, seeing you guys like last year in Texas and a couple of shows I played with you guys in L.A. or Southern California... you guys are like better than ever before. The energy is even bigger and the passion and drive of the songs... it feels like you guys have lived in this thing now, it's so solid and ... you guys are on a winning streak. I changed my attitude, maybe it's because as I got older I was like, "well, sure I still want to do this, but, should I be doing this?" "Should I be travelling, touring around the world playing music in this big youth oriented genre? " I think the youth is still inside you. It's still going to come out.
GA: That's what's cool about seeing how you did it, because when you get to be... I'm almost 40 and soon you realize that this whole youthful thing is a bunch of bullshit anyway. It's all how you look at life.
GA: And then, of course, as a teenager and at 20 years old you look at older people and you and think "I don't want to do that. I don't want to be that."
KS: I don't know, it's just one of those things. It's kind of more in your heart than anything else. It's more of what's inside you than your actual age. I still love playing energetic music and doing it with as much gusto as I possibly can muster at 48 years old. It's like a thrill for me now, it's like I'm on a mission to keep the spirit alive.
GA: (Laughs). Yeah, I know for me, to see how you've been doing and how great the music is... Every time I've seen you doing the solo stuff, it was just like, "Kevin just keeps getting better."
Kevin Seconds @ Fun Fun Fun Fest (more by Kyle Dean Reinford)

GA: And that is so motivational. It's really great to see that because the last thing I ever wanted to be was that band where people might say "yeah, these dudes were good like maybe five or six years ago".
KS: Yeah. And be devastated because they're just a shell of their former selves. It happens, but you just don't want to see it. (Laughs). I have to think twice about playing...
GA: Yeah. I would rather not see them at all.
KS: Yeah, yeah. This wasn't supposed to become a job. It's become a job for a lot of us and one of the greatest jobs in the world, but it shouldn't feel like a fucking job. You shouldn't have the same attitude that you'd have if you were going out and working on houses or in a bank. During the Fun Fun Fun Fest last year, I saw DOA and they were great. Joey was up there going nuts and the guy's 50 something years old and they're having fun. And I thought, man, this is cool.
KS: They've been at it this long and they're still rocking, you know, it's like... pretty great.
GA: That's cool. Well, excited to be getting out on the road again and it's going to be a lot of fun. I have to say I'm really stoked that you guys are all coming out to do the shows out on the East Coast. People that I have been running into have been saying "it's going to be so awesome."
Greg Attonito & Ari of Lifetime

KS: Oh, yeah, definitely. We're psyched! We just did our first show in about a year and a half up in Reno about three weeks ago. I was really nervous actually... I was like, man, are we going to pull it off? It was pretty phenomenal, and we had a really great packed house. We kept calling it our "warm up shows" for the dates we have with you guys, but it was pretty spectacular. Afterwards we knew we could pull it off. I'm pretty excited. We always love to play with you guys. Speaking of tours, when you and Shanti came to town, you were doing a promotion for the kids book that you put out together. Have you been here and there doing any other touring solo wise with Shanti?
GA: Yeah. Shanti, Vic from The Slackers, and I did nine dates on the East Coast in the Spring. It was a total blast. We ended up just doing a whole bunch of stuff together.
KS: Vic's phenomenal. (Laughs). It's like, I got to know him a little bit last year when we went out on the East Coast and we did some gigs together. I was completely blown away by his ability to pull it off musically and the kind of guy he is. You just want to hang out with him. We stayed with him and I haven't been inspired like on a musical or an art level in a long time. He was just... wow, this guy is really living.
GA: Yeah, I think I remember that when we started the tour, we went over to his house and he was talking about it. "Kevin Seconds like stayed at my house". It was like the coolest thing.
KS: (Laughs). It was a blast, man.
GA: Anyway, after Shanti and I did that book tour, we also got an offer to work on a music TV show with PBS.
Greg & Shanti

GA: It's going to be like a puppet show, but a kind of modern day rock and roll Muppet Show. It's going to be kind of a long creative process.
KS: Yeah, that's great, Greg. That's really cool.
GA: Yeah. And we're going to, of course, like invite all our musician friends on to the show, like Muppet Show style! The general idea is pretty fun... imagine the Chelsea Hotel, but in the puppet world. All these puppet characters live in the hotel and some of them make music, some of them make art.
KS: (Chuckle) Oh, oh, that is great!
GA: And then, of course, the idea is Kevin Seconds is in town on tour. He's staying at the hotel.
KS: Can I get a job... can I be the junkie? I haven't done heroin for a few years. (Laughs) Yeah, best of luck with that, man. That's great. It goes to show that what you guys put together is really fun and everybody loved it. So Greg, you're on the road right now with the Warped Tour. Who have you been paying attention to out there?
GA: There's a handful of really good bands. There's POS, he's a rapper from Minneapolis. The Architects from Kansas City. There's TAT, she's really good. Bayside from New York. Westbound Train, who I've seen for the first time and are a really good soul/ska band. There's a few bad bands out there as well.
KS: Do you guys still all drive, or do you have someone else driving?
GA: For the Warped Tour we have a friend of ours driving. He's been driving overnight pretty much every night. Once in a while we'll help him out, drive for a couple of hours in case he needs to sleep.
GA: But other than that he's pretty much doing all of it. Yeah.
KS: I actually love to drive... I prefer it. I'm a lousy passenger. It's when I get all of my best thinking done.
GA: So what about you Kevin, who have you been really enjoying when you are on the road?
KS: For the last two years I've been doing a lot more of solo acoustic stuff. Playing in Sacramento, I've done songwriting over the last seven or eight years and open mics, but I always had this kind of love/hate thing for it. A lot of people I would see were just influenced by people who I just can't handle... music like Dave Matthews Band or whatever.
KS: But over the last couple of years there have been a lot of great song writers. I love Chuck Ragan, I think he's amazing live. Frank Turner, out of England, is really pretty amazing... I think that what I am into is more like punk/pop as opposed to pop/punk... a little more punky. Bands like The Copyrights, those guys are really big now and it's not so obviously "hey we love the Ramones, we're going to sound like the Ramones". Andrew Jackson Jihad are just phenomenal... just acoustic guitar and stand up bass... they're going to be huge. They are doing so well right now in the underground. For a while I was tuning into radio shows and was always looking for new stuff. It got to the point where I was going back to playing Black Flag and The Jam and Generation X. So it's kind of nice to be excited about kind of new and upcoming stuff again. Definitely.
GA: Speaking of new stuff, how is that radio show working out for you?
KS: The radio thing was just something I've always had an interest in. I did some college radio when I lived in Reno like 20 years ago and here in Sacramento... random appearances, interviews, or the occasional guest host slot. Then a big alternative station approached me and asked if I wanted to do a punk rock show once a week for three hours. I told them "only if I can play what I want and I don't have anybody in the studio with me." So I would play stuff like The Clash and The Avengers on mainstream radio on Friday nights, it was just a kick and lots of fun and people really liked it. Since then I've been doing a lot of Internet stuff, www.punkradiocast.com on Tuesdays and it's more geared towards punk rock. Although it's getting harder to program that every week because it isn't simple to put together a two hour show every week that incorporates everything punk rock.
Special thanks goes out to Greg Attonito and Kevin Seconds! Tickets for the shows at Webster Hall and The Trocadero are on Ticketmaster.
All Bouncing Souls Tour Dates....
USA / Special New York and Philadelphia Shows
Aug 20 2009 WEBSTER HALL New York, New York w/ Lifetime and None More Black
Aug 21 2009 WEBSTER HALL New York, New York w/ 7 Seconds and Tim Barry
Aug 22 2009 TROCADERO THEATRE Philadelphia, Pennsylvania w/ 7 Seconds and None More Black
Aug 23 2009 TROCADERO THEATRE Philadelphia, Pennsylvania w/ Lifetime and Tim Barry
Europe
Aug 27 2009 Uergrou Cologne
Aug 28 2009 Reading Festival Reading
Aug 29 2009 Academy Dublin
Aug 30 2009 Leeds Festival Leeds
Sep 1 2009 Cafe La Peche Paris
Sep 2 2009 Entrepot Brugges
Sep 3 2009 Backage Munich
Sep 4 2009 2 Days a Week Festival Wiesen
Sep 6 2009 Rock Planet Pinarella
Sep 8 2009 Music Box Lisboa
Sep 9 2009 Sala Live Madrid
Sep 10 2009 Sala KGB Barcelona
Canadian Tour w/ Youth Brigade, Off With Their Heads and more!
Sep 23 2009 - Montreal, QC - Foufounes Electrique
Sep 24 2009 - Ottawa, ON - Ritual
Sep 25 2009 - Guelph, ON - Vinyl
Sep 26 2009 - London, ON - Call The Office
Sep 27 2009 - Toronto, ON - Opera House
Sep 30 2009 - Winnipeg, MB - The Pyramid Cabaret
Oct 1 2009 - Regina, SK - Riddell Centre
Oct 2 2009 - Edmonton, AB - Starlite
Oct 3 2009 - Calgary, AB - MacEwan Ballroom
Oct 4 2009 - Banff, AB - Wild Bills
Oct 6 2009 - Victoria, BC - Sugar Nightclub
Oct 7 2009 - Vancouver, BC - The Rickshaw Theater
+ More dates coming soon!