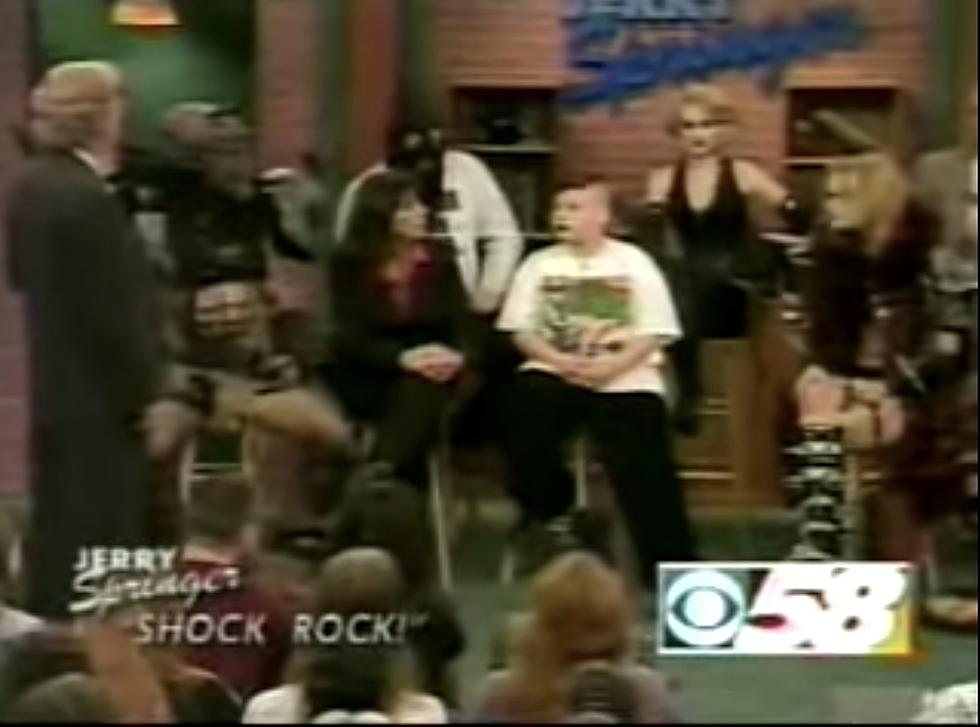 8 Wild Punk & Metal Jerry Springer Moments
GWAR and The Mentors' El Duce on 'Jerry'
Jerry Springer, the onetime mayor of Cincinnati who went on to host a very popular and often controversial syndicated talk show for nearly three decades, has died after a brief illness at age 79.
Over the years, The Jerry Springer Show tackled a wide variety of hot button issues, including a number of episodes on the dangers of music that parents just didn't understand, like punk rock, metal, hip hop, and rave. Whether there were actual controversies or not, it made for good TV.
In tribute to Jerry, we've rounded up some of the most infamous punk and metal Jerry Springer moments, and a few others as well. Watch those below.
G.G. Allin
G.G. Allin didn't do anything that wasn't controversial and his 1993 appearance on Jerry remains one of the show's most infamous moments. "Today he'll face off with the father of a 17 year old girl who has worshiped GG Allin fo four years, and a family who says he is dangerous."
--
The Mentors' El Duce
The Mentors frontman and Kurt Cobain conspiracy theorist El Duce appeared on The Jerry Springer Show for a 1997 episode titled "Shock Rock!" With his face, as always, shrouded in a hood and "groupie" Dominique beside him, he has a fair and balanced talk with a mother who was outraged with what he does. (Lots of people were outraged by The Mentors, who were unquestionably problematic even in the 1980s.) As the opening credits to this episode note, El Duce -- who famously claimed Courtney Love offered him money to kill Kurt Cobain -- died after being hit by a train not long after this episode was taped.
--
GWAR
The same "Shock Rock!" episode as El Duce also featured GWAR who, according to Jerry, "used bloody violence to thrill their fans." Anyone who's seen GWAR live knows that is definitely true, but unlike The Mentors, it's much harder to truly be offended by a band of over-the-top outer space mutants that -- among their many gags -- murder not-so-innocent politicians. But Jerry found some people who said they were, but even he can't keep a straight face:
Jerry actually appeared on-stage with GWAR as part of the episode:
--
Peter Steele (Type O Negative)
In a 1995 episode about "Sexy Groupie Girls," he had on Type O Negative's Peter Steele who, as Jerry tells the audience, was featured in Playgirl magazine for the August 1995 issue about the "10 Sexiest Rockers." When asked how he feels about women throwing themselves at him backstage, he replies with dark smoky glances, "It's odd to me as this is my job. I'm not here to have a good time, I'm here to pay my phone bill." He takes "the fifth amendment" on whether he's slept with any of them, though. "My mother's going to be watching this, so I have to watch what I say."
--
Justin Pearson (The Locust)
Here's one that involves a punk musician but is not actually about punk. On a 1999 episode titled "Secrets Come Out," The Locust's Justin Pearson (also now of Deaf Club, Satanic Planet, Dead Cross & more) appears to tell his girlfirend that he's been sleeping with her roommate -- "When you're on tour, stuff happens!" When a fourth person is brought out, though, it becomes a love rectangle. and things heat up considerably. It was all made up, of course, Pearson and his friends scammed their way onto the show but it doesn't make it any less entertaining.
--
Punk Rockin' Granny & The White Trash Debutantes
We're not quite sure what is going in this mid-'90s episode of Jerry that features a performance by 85-year-old "Punk Rockin' Granny", Patty Pierce, with San Francisco's The White Trash Debutantes but the clip made the end-credits send off of an episode of Talk Soup. One thing is clear: Patty likes to "parrrrrrrrty" (very Beastie Boys) and we like her style even though many in Jerry's audience disapprove.
--
Bushwick Bill / 2 Live Crew / Bytches With Problems
A little more serious than you usually get with Springer, this 1993 episode tackles sexism in rap music, with Geto Boys' Bushwick Bill, 2 Live Crew's Luther Campbell, and group Bytches With Problems as guests. Bushwick Bill's mom calls in at one point, while one audience member asks "What about the children?" Jerry, for his signature "final thought," says, "This episode isn't about whether these groups should be allowed to play...of course they should....this is America....if you don't like it, don't listen to it...what is up for debate is whether these rap groups, who have every right to perform these songs so denigrating to women, should be doing so."
--
"Club Kids!"
In the 90s, Jerry dared to tackle "a growing phenomenon in our culture, young people dressing up outrageously and living an outrageous lifestyle, going to these clubs...usually guys, dressing as women, but not always." Some 20 "club kids" were on the program, many in drag and most quicker than the people asking them why would you dress like this. The audience also got to vote on who was the most outrageous club kid on the show, and that went to -- spoiler alert -- Queerdonna.
That said, not all of Jerry's ideas were the most original (Geraldo much more notably had Michael Alig, Michael Musto and many other notable NYC club kids on his competing shows years earlier):
That said, no disrespect to the Sultan of Salaciousness! Rest in Peace, Jerry.