a free Christmas album by Computer Perfection & friends, Zoos of Berlin dates, MP3s, videos, Pas/Cal & more
Zoos of Berlin @ Market Hotel in September

Detroit's Zoos of Berlin are coming back to NYC for two shows this month: they'll play December 18 at Matchless and December 19 at Cake Shop. They were great when they played Market Hotel back in September. Here's what I wrote on Soundbites:
Zoos of Berlin are from Detroit and are fronted by Trevor Naud who also spent time (maybe still does) in the notoriously unprolific but occasionally awesome Pas/Cal. Unlike that band's sunshine pop, Zoos of Berlin are more buttoned up and immaculate, like a high society tea... but one that desperately wants to be disco-fest. Naud and turtleneck-wearing bassist Daniel Clark keep it regal, but drummer Colin Dupuis and, especially, keyboardist Will Yates are there to party. The result is like a weird mix of Cardinal and Steely Dan, a combination that is perfected on "Electrical Way" which has Yates laying down a super-funky Clavinet part over most of the song, with a breakdown which is straight out of "Peg." And it just sounds awesome, such good musicianship overcoming the deficiencies of Market Hotel's PA, where they played a few weeks ago.
You can download "Electrical Way" at the top of this post. Zoos of Berlin also have a Bowie thing going in there somewhere (yes, his Berlin period if you must know), and there's really nothing like them in NYC right now, which is why you should go despite it being so close to Christmas that you'll probably show up to the gig with shopping bags in tow. (Make room for their album, "Taxis".) They're good so go see them.
Computer Perfection

While we're on the subject of Pas/Cal offshoots, I would be remiss to not mention Computer Perfection, the fairly new band that features most of Pas/Cal (minus main man Casimir) and who released their debut album last month which fans of their old band will probably like too. I caught them at CMJ and thought they were quite good, despite playing in a room smaller than my bedroom. I will admit being swayed by their spot-on cover of The Flowerpot Men's "Beat City" from the Ferris Bueller's Day Off soundtrack, which was enough to help them lug stuff to their van after the show and buy a copy of their CD. They're not touring right now, but keep an eye out.
Computer Perfection released a Christmas record last year that came out so late it almost missed the holiday, but you can still download it -- for free -- from their website. It's like fruitcake, it's just as good a year later. It also features contributions from Chicago's 1900s, Computer Perfection member LTD, and more. It;s worth the disc space of downloading alone for Aunt Beru & The Juicers' "Santa Brings It" which melds "Here Comes Santa Clause" onto Beyonce's "Single Ladies" which is sure to be a hit at any holiday office party. Grab the Zip file above. Cover art below.
Video from Zoos of Berlin's show at Market Hotel in September, plus upcoming tour dates , after the jump.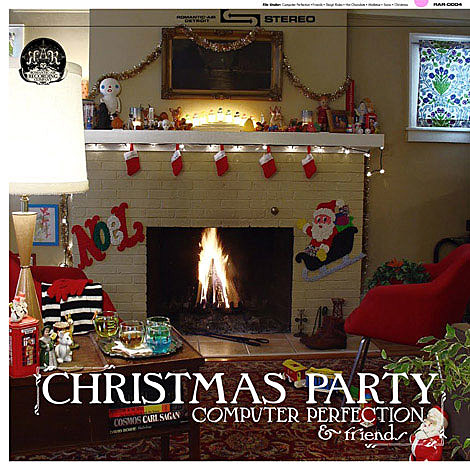 Computer Perfection - Able Archer

Zoos of Berlin - "Electrical Way," Market Hotel - September 2009

Zoos of Berlin - 2009 Tour Dates
Dec 4 The Majestic Cafe [The Recital's final show, also w/ Thunderbirds Are Now!] Detroit, Michigan
Dec 18 Matchless Brooklyn, New York
Dec 19 Cake Shop New York, New York