a free Magrudergrind EP (download it now, order it for later)
2/3 of Magrudergrind, slaying Cake Shop (more here)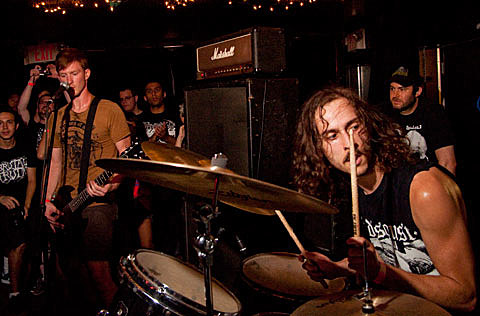 Magrudergrind's mix of blindingly fast/punishing grind peppered with hip hop interludes returns for their new EP Crusher. Featuring six tracks and appearances from Richard Johnson (Agoraphobic Nosebleed/ex-Enemy Soil) and Dom Romeo (Pulling Teeth), the new record officially drops on Monday (11/22), but you can download it for free (above) and stream it (below) NOW! The EP, being released on 10" wax and CD, is currently on pre-order and the price is FREE (but shipping is $6.00). Order your copy.
The reason the EP is "free" is the source of some controversy though...
As you can see, "Scion Audio Visual Presents" and the Scion logo are clearly displayed - an out-of-the-ordinary choice in an overtly anti-capitalist music scene (grindcore). Magrudergrind have commented on said controversy and you can check out their thorough and articulate statement below.
Speaking of Dom Romeo, his incredible band Pulling Teeth have completed their new album Funerary, set for release in March 2011 as a 2xLP on A389 Recordings and on CD/Digital via Firestarter Records. Check out the new song, "Whispers" available for download above and streaming below. No solid touring plans for PT so far, though they recently played LA with Integrity and Ceremony (video of that appearance below).
Streams, Pulling Teeth's album art, Magrudergrind's statement, and some recent video is below...

--
Magrudergrind - Crusher EP

Pulling Teeth - "Whispers" from Funerary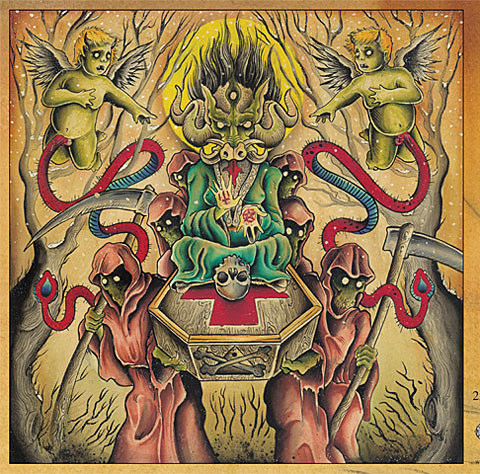 Magrudergrind Live Wagon Wroclaw Poland 05.10.2010

Magrudergrind live @ Bloodshed Fest 2010

PULLING TEETH @ THE ROXY HOLLYWOOD CA 11/13/2010


A MESSAGE FROM MAGRUDERGRIND
We have a new EP titled "CRUSHER" coming out on 10" wax and CD. The EP has 6 tracks with guest appearances by Richard Johnson (Agoraphobic Nosebleed/Ex-Enemy Soil) and Dom Romeo (Pulling Teeth).

The record will be released on Nov. 22, 2010 through Scion A/V.This record is completely FREE for anyone in the U.S. and will ...be streamed and available for download for anyone, anywhere. For people outside the U.S., it will be available in the coming months.

Many of you are probably wondering "why would Magrudergrind put out a record with Scion"?

- We decided to take up this offer in order to give out a 100% FREE, high quality record to everyone, at the expense of a Scion. Scion have covered all the costs for studio, manufacturing, etc.

- Over the years, Scion has dished out tons of money to support this scene. They have made it possible, so that we can all attend and play shows, for FREE, that we otherwise wouldn't be able to attend and play.

- What have we got out of this deal that we would have otherwise have worked with a standard label and the standard record label business model? Scion covers all recording and record manufacturing expenses. They have provided YOU with the platform to have a high quality Magrudergrind record for FREE.

- We did not receive any free car, any fat paycheck, but the ability to give every a free record at the expense solely on a big company that may not see any return on their investment. Who really wins here?

- If Scion covers the expenses of this record and say no one buys their product, who really gains? Us and every single person who got a Magrudergrind record for free.

- In the United States, we do not have wide scaled financial support from the government and industry players as they do elsewhere, for music and arts. We rather a company support music and arts, rather then spend their marketing campaign money on a stupid illuminated eyesore billboard. Everyone, especially in the hc/punk scene has a mind of their own and the agency to make their own consumption decisions. We are not going to, nor do we have the ability to force some kid to decide their purchase decisions. We all are exposed to advertisements and purchase decisions everyday. Even when we decide to buy some band t-shirt or a vinyl record (which has used energy and resources in the manufacturing process), it is up to the individual to make that choice.

- Regarding DIY and our ethical standpoint. We have always been, always will be and currently are very deeply involved in the band processes and the scene we are involved with. This includes our hand-on approach to our music, records, artwork, booking, merchandise, mail-order, etc. We have booked countless tours ourselves with the band, since we we're 17 years old, in the US, Europe and Asia. We have brought over and booked the tours, completely DIY, spending endless hours of work, to bring over many grindcore bands from Europe and Japan. We still take care of all the day-to-day tasks of this band and would not have it any other way. If anyone is questioning our involvement in the DIY scene, look at our hands on approach to everything involved with the band.

If someone has an issue or questions about why we did this or that, simply email us at: magrudergrind AT hotmail DOT com