A guide to Panda Bear's openers
Panda Bear @ 93 Feet East, London - Mar 8th, 2007 (CRED)

Panda Bear is playing some shows this week - two at NYC's Bowery Ballroom, and one in Baltimore, and one in Philly. Along with him at each of the shows will be a circus of friends of the band. Whether you scored a ticket to one of the sold out shows or not, here is a handy guide to the Panda Bear openers...
Rusty Santos (CRED)

Rusty Santos (June 18 @ Bowery) is a New York singer-songwriter whose most notable Animal Collective connection is helping them record their 2004 album Sung Tongs for Fat Cat Records. As well, he helped with production on several Panda Bear records, including the acclaimed Person Pitch.
Kria Brekken (CRED)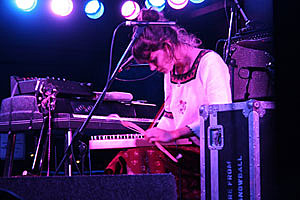 Kria Brekken (Kristín Anna Valtýsdóttir - formerly of Múm) (June 18 @ Bowery) and Avey Tare of Animal Collective released this year's Pullhair Rubeye. She is also married to Avey. The duo previously played many live shows together.
continued below....

Eric Copeland (CRED)

Eric Copeland (June 23 @ Bowery) is 1/3rd of the Brooklyn band Black Dice (video of them playing Brighton Festival). They have toured with Animal Collective and as well worked on 2004's Wastered with them. Eric Copeland and Avey Tare worked together on several records under the name Terrestrial Tones.
Scott Mou (CRED)

Scott Mou (Philly, Baltimore & June 23 @ Bowery) and Panda Bear worked on three albums together under the name Jane. The two also worked together at Other Music in NYC. Queens is Scott's solo project.