a late & long night of black metal @ Europa in pics, video & review (Black Witchery, Proclamation, Abazagorath & more)
Black Witchery

As the clock ticked towards 2AM on Monday night (8/8), a five band bill of raw and dissonant black metal was entering its seventh hour. Plagued by equipment issues and over-long sets, the blackened school night in Greenpoint featured an early-Tuesday morning appearance from Spain's Proclamation, along with support from Black Witchery, a reunited Abazagorath, Deceiveron, and Villains.
Early support was a mixed bag, ranging from tongue-in-cheek and fun, to horrid, and not in an "ugly black metal" sort of way. Brooklyn's Villains match over-the-top and revolting in on-stage banter, with seriously great blackened street-punk. Deceiveron followed Villains, and were probably the low point of the evening. Besides being out of tune for the duration of their stage time, their set was long and uninteresting. Due to equipment issues, Abazagorath (who was next) took close to 45 minutes to set up and were relegated to a 13 minute set. Despite that considerable setback, the reunited New Jersey band's thrashy black metal was engaging. Make sure you catch them on an upcoming go-around.
Black Witchery had the largest crowd of the evening, possibly due to the hour that the band hit the stage (around 12:30). The trio's blackened blasts of war metal incited pits while the band kept it interesting with an animated and costumed live show. Black Witchery's theatrical and anti-melodic black metal was my favorite performance of the evening.
The audience had thinned considerably for Spain's Proclamation, and though they they delivered an excellent set of Blasphemy-style war metal, their late set-time and much-more-energetic direct support of similar-influence made it hard to stay enthralled.
More pictures and video from Europa are below.

--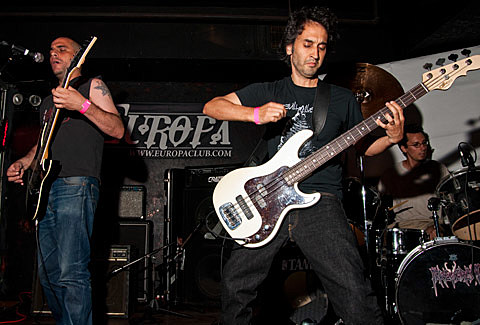 Villains | NYC @ Club Europa | 08 Aug 2011

Abazagorath | NYC @ Club Europa | 08 Aug 2011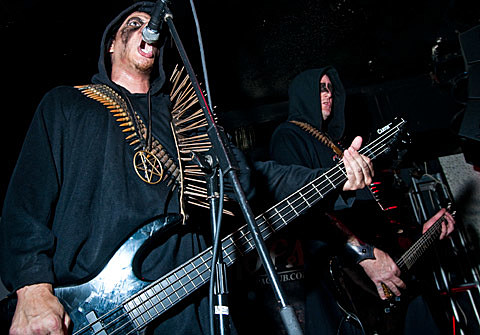 Black Witchery | NYC @ Club Europa | 08 Aug 2011

Proclamation | NYC @ Club Europa | 08 Aug 2011