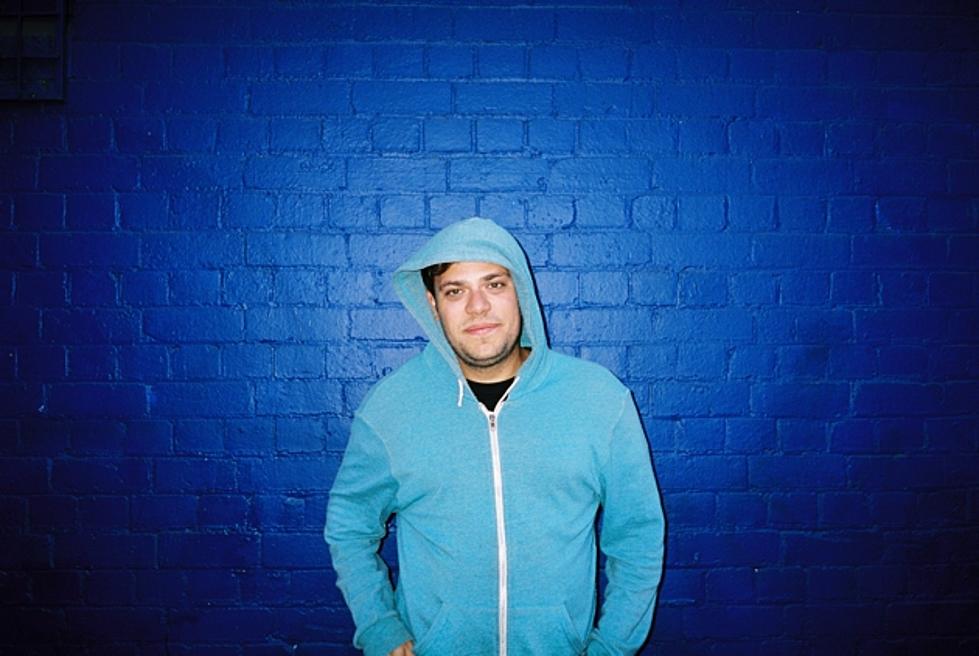 a Q&A with Jeff Rosenstock, song stream, and a chance to win tix to Market Hotel
photo by Andy Johnson
Having done time in various bands, including Arrogant Sons of Bitches and Bomb the Music Industry!, for almost two decades, Jeff Rosenstock made his solo career his main focus with 2015's great We Cool?. "I was at a point in my life where I realized I wasn't ready to quit on music even though Bomb the Music Industry! broke up," Jeff says. "So since then I've just been trying to take things as they come and say yes to every opportunity possible. After we were done recording We Cool?, Christina from SideOneDummy got in touch and said they wanted to put it out... I wasn't intending for anything like that, nothing like that has ever happened for me. But since that was a thing, I just wanted to do a good job - which means touring a lot and making more records... and obviously that stuff is fun to do!"
It gained him a lot of new fans, and his music probably reached younger audiences too, thanks in part to his close relationships with rising bands like PUP and Modern Baseball. It's probably mutually beneficial. Jeff picks up some new fans this way, but he's also an elder statesmen to a lot of these newer bands, who are surely honored to share a stage with him. This is something Jeff does intentionally too. He's about to begin a tour with Hard Girls and Katie Ellen, and he says, "This tour we're gonna try to reach out to younger bands in the cities we're playing. I know when I was in a band in high school and college, I was always excited to open up for touring bands. I also know that a lot of the time that involves knowing someone at the club, doing ticket buys or other obstacles that make it out of reach for some. So this tour coming up we're gonna try and just take submissions on our own and pick 'em on our own and see how that goes."
Jeff follows We Cool? in a week and a half with WORRY. on SideOneDummy (pre-order), and it's quite a followup. It's 17 songs long, many of which continue the indie-punk vibes of We Cool?, but there's more on there too. It's got his first ska song in a while (more on that below) and a 30-second hardcore song called "Planet Luxury." Listen to that one right here:
That tour with Hard Girls and Katie Ellen hits NYC on November 18 at Market Hotel. Tickets for that show are still available, and we're also giving away a pair. Head to the BrooklynVegan Facebook page for a chance to win tickets.
Here's our short Q&A with Jeff (including his take on ska that he miiiight be tired of being asked about), and the list of all tour dates:
You've been playing, in one band or another, for quite a while. Can you tell us about your favorite show you've ever played?
There's been a few that felt really special. Both the ASOB reunion at Warsaw/Webster and the last Bomb the Music Industry! shows were really fun - both being bands that rarely played to more than 300 people, it obviously felt good to feel the support of a thousand people - it's kinda felt like what I imagined being in a rock band would be like when I was a little kid. Also, playing The Weekend At The Wonk in Forrest, Australia... Forrest is a very small town with a population somewhere around 500. I spent a month there with The Smith Street Band and Sam Johnson making a record, so to go back a year later and finally play with my band for the locals, who we would drink at the bar with and probably saw me somewhere between being a hotshot from New York and a total fraud (which honestly, is accurate), was nice. And watching Smith Street Band play Throw Me In The River, the record we made there, front to back at the bar we spent every night at was really special.
Most of your solo career has avoided ska, which you used to play more often, but the new album has a ska song. How'd that come about?
It was more of a matter of not feeling terribly inspired to write a ska song for a few years than avoiding it. With Vacation it felt like I'd be trying to put ska in there just to have it in there, and that was the worst part about the '90s ska/punk boom - bands just putting ska in songs that didn't need 'em to hop on the bandwagon of what was popular at the time. I've been in a ska band (The Bruce Lee Band) for the past few years though, and maybe writing those songs and traveling playing ska in that band brought me back into it? I'm not sure. Usually it's just like, hear a song in my head, try and sort the song out and if it feels good, keep it. Ska or not.
As you might agree, ska is fun! Why do you think it gets such a bad rep?
There was definitely oversaturation in the '90s, but I honestly think that ska/punk was music for kids who were not cool and did not fit in. The indie music media landscape would never praise anything that doesn't have a cool image to it, and people still love to pick on others in they think they're not cool. I know a lot of indie rockers, emo kids, whatever have secretly been in ska bands, and I just refuse to be embarrassed about it. Also, I've answered this question in every interview I've done, so if you're reading this HEY IT'S OK TO LIKE SKA TAKE IT FROM ME, A CHUBBY 34-YEAR-OLD.
You obviously had such a dedicated fanbase before We Cool? came out, but it feels like that album won over people who hadn't listened to your music before. Have you noticed a change in the crowds at your shows at all? Like, say, people who are there for the BTMI songs vs people who are there for the new stuff?
It seems like most people are more down with the new shit, which I'm stoked about because it makes me feel like I'm writing better with every record. Also our band doesn't know how to play Bomb songs, so it's good to know that's not bumming too many people out. I see a lot of younger folks at shows, but that might just feel that way as I get older. Everyone's probably the same age they've always been. We've always done all ages shows, so there's always been a handful of super young kids at shows which I think kicks ass. I used to go to shows when I was super young. The people who come to our shows are great though, we're lucky to have a really open-minded, warm and kind audience who also aren't afraid to scream their brains out and cut fuckin' loose.
Jeff Rosenstock / Hard Girls / Katie Ellen — 2016 Tour Dates
Monday October 24 – Richmond, VA – Strange Matter
Tuesday October 25 – Durham, NC – Duke Coffee House
Wednesday October 26 – Athens, GA – Georgia Theater
Thursday October 27 – Tallahassee, FL – Club Down Under
Friday October 28-30 – Gainesville, FL – The Fest
Tuesday November 1 – Houston, TX – Walter's
Wednesday November 2 – Austin, TX – Mohawk (indoor)
Thursday November 3 – Dallas, TX – Club Dada
Friday November 5 – St. Louis, MO – Firebird
Sunday November 6 – Chicago, IL – Beat Kitchen
Monday November 7 – Minneapolis, MN – 7th Street Entry
Wednesday November 9 – Madison, WI – University of Wisconsin Madison (The Set)
Thursday November 10 – Detroit, MI – El Club
Friday November 11 – Cleveland, OH – The Grog Shop
Saturday November 12 – Ithaca, NY – Martha Hamblin Hall
Monday November 14 – Providence, RI – AS220
Tuesday November 15 – Boston, MA – The Sinclair
Wednesday November 16 – Philadelphia, PA – Philamoca
Thursday November 17 – Washington, DC – DC9
Friday November 18 – Brooklyn, NY – Market Hotel