a take on the Creators Project event @ Milk Studios – pics & video of Mark Ronson, MIA, MNDR, Rapture & more included
Mark Ronson & MNDR @ Milk Studios

The show spaces were predictably cozy and cramped, and USA lost their World Cup match again Ghana, but besides those qualms, not many bad things can be said about the Vice/Intel Creators Project event on Saturday (6/26). Interpol played their first hometown set since unveiling their new lineup earlier in the week, and M.I.A., the night's secret guest, put on a singularly ridiculous, entertaining show, albeit in the crowded, low-ceilinged second floor space. Even the un-affiliated soccer game screened amicably on a huge projector before the music started. If there was one caveat, it was that not that many people, relatively, got in to enjoy the art and music presented. Then again, that's one reason the labyrinthine network of art installations and stages was so surprisingly bearable and easy to navigate.
The same second floor stage that filled up for M.I.A. was also packed to capacity for Sleigh Bells. How much you enjoyed either's set depended a great deal on where you stood (and how early you got there). Cramped in the back, Sleigh Bells sounded pitchy and uneven - but jostled up in the front, the spectacle and body-shaking bass of Die Antwoord were entirely enjoyable. It also depended on your affinity for personal space, which was in short supply anywhere with a decent view of the stage.
And a view was pretty essential to enjoying the antics of the Antwoord crew and M.I.A.'s coterie of stage guests. Mia opened with caustic punk song "Born Free" (video below) a loud if not exactly melodious entrance choice. The stage-show continued the flashy political baiting of the "Born Free" video, which played behind the song. M.I.A. donned pot leaf goggles, rainbow hair and a hooded camo jacket, with a band who alternately wore glow-stick lined clothes and MIA-logoed burkas. Others on stage included a pair of dancers (one ginger-haired), Sleigh Bell's Alexis and Derek, and Ninjasonik. More new songs came, as did "World Town" and crowd-pleasing closer "Paper Planes."
Three of the night's other bands - The Rapture, Gang Gang Dance and Interpol - set up on the first floor studio's back loading dock, which was open to 14th street and the adjacent High Line Park. Gang Gang Dance sounded dependably sturdy in the cavernous garage. Interpol played an 11-song set with four new songs (including the slow-building "Lights") - tight and together, and ready for bigger arenas. The stage was open on three sides, so even without a spot in the front of the stage you didn't get locked out.
I didn't see much on the first floor lounge - Salem took a while to set up and I skipped them to catch Interpol. Neon Indian played the downstairs too, where DJs spun throughout the day. The eighth floor of the building was also part of the show (as was the penthouse/roof VIP-area above it). On eight, there was a screening room where Spike Jonze's I'm Here, a surrealist robot drama, played among other things, as well as installations like Nick Zinner's gothy, minimal photo and ambient-score room.
After M.I.A. I went to downstairs to find Mark Ronson DJing in the first floor gallery. MNDR was on stage with him singing her song "Fade to Black". She also reportedly performed Ronson's new single "Bang Bang Bang" before I got there. NME also says...
"Phantom Planet's Alex Greenwald [sang] the Ronson-tweaked version of Radiohead's 'Just' while executing an impressive crowd-surf.

Ex-[Pipettes] singer Rose Elinor Dougall took to the stage for two new 'Record Collection' tracks, 'Hey Boy' and 'You Gave Me Nothing' - the latter a song co-written by Jonathan Pierce of The Drums. Ronson ended the night with the first public airing of 'Somebody To Love Me', which features vocals from Boy George.
The rest of Ronson's set that I saw, before the end, was mostly soul and early '00s hip-hop (Pharell, Snoop, Stevie, Jay-Z). Upstairs, MIA was still on the stereo, with NASA mixing the verses of "Bombs over Baghdad" over her song "Boyz." Much of the remaining audience was on stage partying with two arthropod-looking creatures. Back downstairs, some diehards were still dancing - the bar was still stocked, and Mark Ronson behind the decks didn't give much reason to leave.
Ryan's Die Antwoord pictures were already posted (as were Ben's of Interpol). The rest of Ryan's pictures, and some videos, below...


Mark Ronson, MNDR, Alex Greenwald & Rose Elinor Dougall...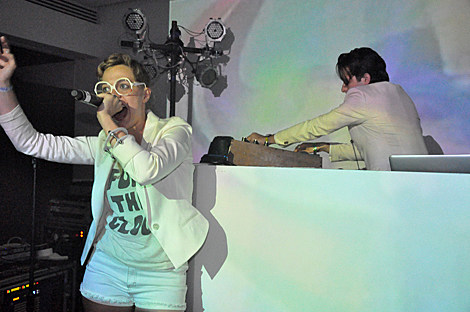 The Rapture "House of Jealous Lovers" LIVE at The Creators Project

Gang Gang Dance live @ The Creators Project

M.I.A. performing "Born Free" at The Creator's Project

Post M.I.A. at Creators Project NYC

Mark Ronson - The Creators Project DJ Set (Live at Milk Studios - June 26, 2010)