A Tribe Called Quest got together (w/ help from Talib Kweli, Mos Def, Hi-Tek & more) @ Knitting Factory in NYC – pics
Benjamin Lozovsky
words & photos by Benjamin Lozovsky
The old Knitting Factory used to be a bastion for independent hip hop in New York City. The new incarnation just took a big step at continuing that legacy, as it hosted one of the most historic hip hop concerts in recent memory.
On Wednesday night (1/20), An astounding array of legends and rising stars rocked the stage to honor everyone's favorite five-footer, Phife Dawg of A Tribe Called Quest. The event, Mind Body Soul, was a benefit to raise awareness for diabetes (Phife just received a kidney transplant related to his trials with the disease). And while diabetes was often on the mind and tongues of the performers, the show was really more of a demonstration of the persisting camaraderie and mutual adoration within a genre too often beleaguered with battles and conflict.
After quick opening sets by Hook, Jasmine Solano, Scotch Davis, and Monica Rush, the venue went from a displaced chill to full on engagement as Talib Kweli lead off the roster of A-listers. Having just arrived at the venue and already sent out to perform, Kweli showed his undying humility and his utmost flexibility though microphone heroics on a short notice set. Greg Nice (of obscure but beloved group Nice and Smooth) then burst out with a virulent spirit, with the mohawked, larger-than-life OG launching himself straight into the audience to parlay with the youngsters up front.
Jeru Tha Damaja was glib and full of grimy charm; he laid down classic tracks and told stories from the tombs of Brooklyn Hip Hop lore. A soft-spoken Dres (from Black Sheep) smoothly enticed with new material to go with that little ditty about train derailment you might have heard.
Compared to the illustrious resumes of many performers preceding and following him, up-and-comer Jay Electronica might have felt a bit overwhelmed. But Jay's heartfelt thanks to his peers was the most touching moment of the night, and his outrageous performance - with help from Mos Def, Hi Tek, and Kweli (all of whom recently cancelled performances at Highline Ballroom) - resonated with the youthful segments of the crowd and proved his position as the brightest star on the hip hop horizon.
Jay might have been the showstopper if he wasn't followed by hip hop ambassador (and its greatest living performer) KRS-One. Accompanied by hype man BusyBee (of the original Zulu Nation crew), KRS got metaphysical with beyond-cerebral freestyles. But still being the most humble braggadocio around, he bumped out covers of Biggie and Tribe to continue the showing of utmost respect and brotherhood that categorized the night.
There were some awkward and antagonizing moments throughout: posse upon posse swelling to the width of the stage and getting shooed away numerous times by Heavy Sound (the presenter) organizers, strange interactions between host Michael Rapaport and house turntablist DJ D-Lyfe, not to mention an off-performance by a sheepish Mr. Cheeks (of The Lost Boyz).
But it wouldn't really be a memorable hip hop conglomeration if it wasn't just the slightest bit disorganized or sporadically contentious. Even without a single piece of original vinyl brandished throughout the laptop-swapping spree behind the DJ table, the event still felt like a storied Bronx block party or an impromptu Brooklyn corner concert or a Queens Native Tongue poetry slam.
As Consequence dragged Phife on stage, followed by Ali Shaheed Muhameed and then Q-Tip to perform the final set of the night as a united Quest, on display was a vivid demonstration of the greatest hope for the future of hip hop: its ability to nurture its own existence through such reciprocal love. It might take a village to raise a child, but on this night, it only took one Tribe to raise up hip hop.
Ghostface was on the bill, but didn't show. More pictures from the night below...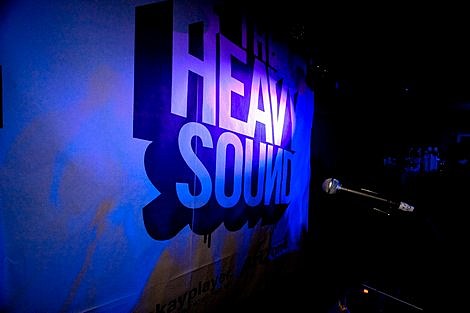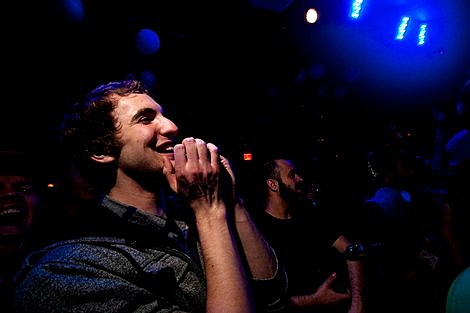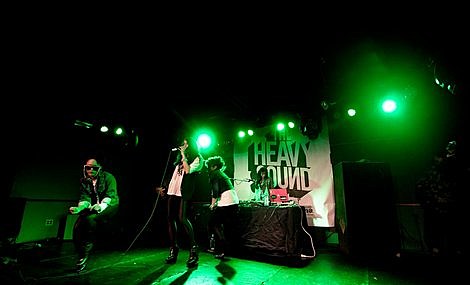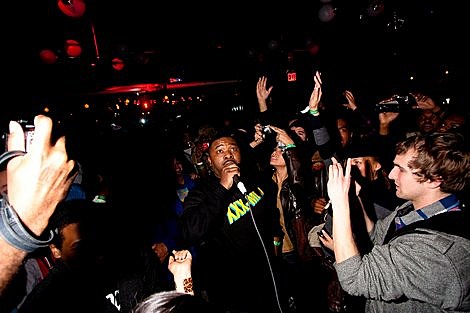 Jay Electronica with Mos Def and Talib Kweli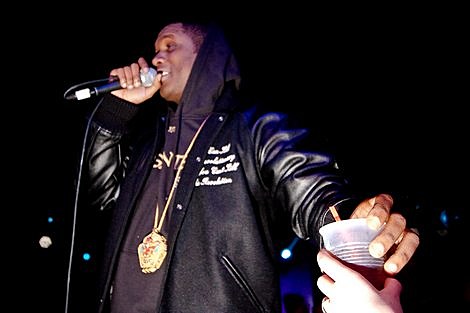 Consequence and members of A Tribe Called Quest