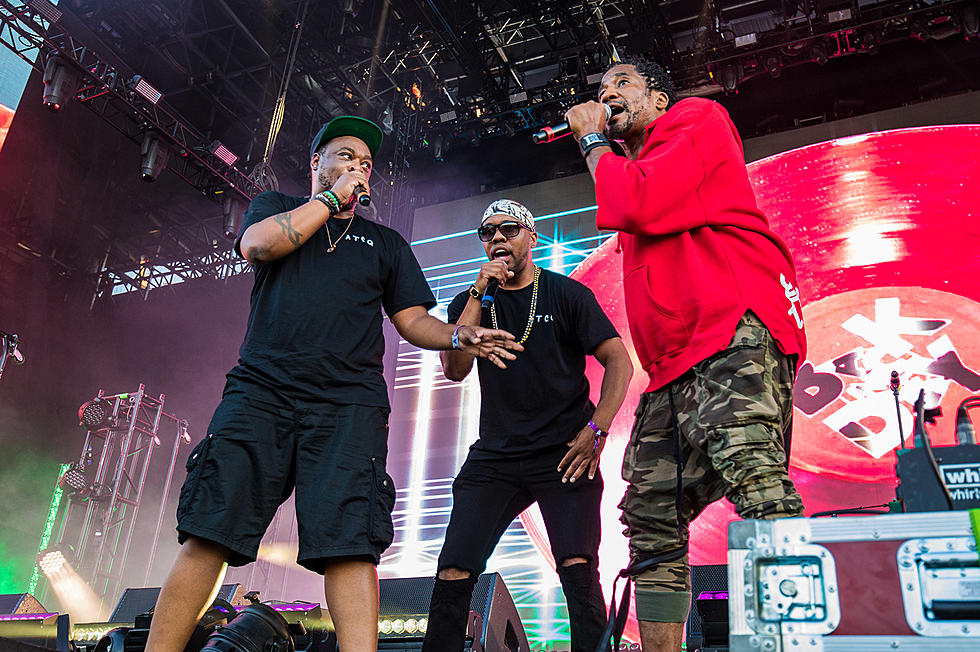 A Tribe Called Quest played Panorama which they said is their last NYC show ever (pics, video, setlist)
photo by aLIVE Coverage courtesy of Panorama Music Festival
A Tribe Called Quest co-headlined Sunday of Panorama, their first NYC performance since releasing last year's triumphant We Got It From Here... Thank You 4 Your Service. Q-Tip also said it would be their last NYC show, as the shows this year were to honor Phife Dawg who died in March 2016. (He said a similar thing at FYF Fest, "This is our final performance here in LA as Tribe, obviously because Phife Dawg, our anchor, has been called to another mission.") Q-Tip dedicated the show to Phife and his family (his parents were at the show), and then played the first verse of "Butter" a cappella, saying it was one of his "favorite joints from Phife." Video of that is below.
Tribe's Panorama set hit a lot of highs from their career, including "Excursions," "Check the Rhime," "Buggin Out," and a little bit of "Bonita Applebum" before the set-closing "We the People." ATCQ's setlist and a few videos from Panorama are below, and pictures are in the gallery above.
Panorama closed out with a set from Nine Inch Nails (who play Webster Hall tonight). You can check out NIN pics HERE, plus pics from Saturday HERE and Friday HERE (plus pics/review of Frank Ocean and Solange's headlining Friday sets).
SETLIST: A Tribe Called Quest @ Panorama 7/30/2017 (via)
The Space Program
Oh My God
Common Ground (Get It Goin' on)
Busta's Lament
Let's Ride
Dis Generation
Mobius
Excursions
Find a Way
Woo Hah!! Got You All in Check (snippet)
Whateva Will Be
Luck of Lucien (snippet)
Butter
Movin Backwards
Sucka Nigga
Phony Rappers
Black Spasmodic
Steve Biko (Stir It Up)
Buggin' Out
Bonita Applebum
Electric Relaxation
Check the Rhime
We the People....