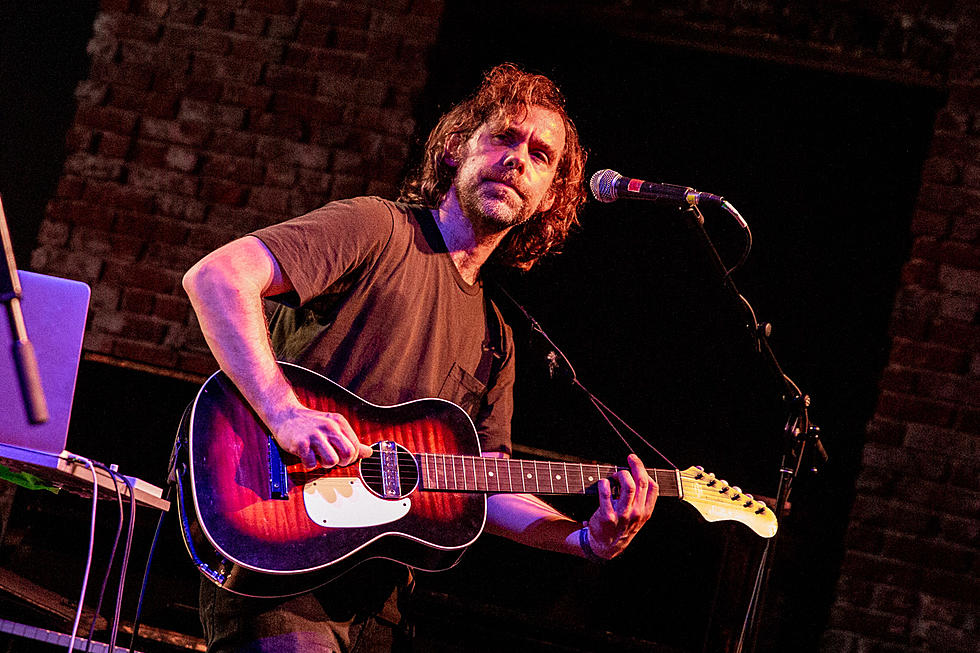 Aaron Dessner confirms new Big Red Machine LP ft. Sharon Van Etten & Anais Mitchell, debuts new songs
Aaron with Big Red Machine at Pioneer Works in 2019 (more by Ellen Qbertplaya)
As promised, The National's Aaron Dessner did a livestreamed performance on the Levi's Instagram yesterday (4/23), which was also Aaron's (and Bryce's) birthday. Happy birthday, guys! During the stream, he confirmed that he's making a second Big Red Machine album (Aaron's project with Bon Iver's Justin Vernon) to follow their 2018 self-titled debut. He confirmed that "No Time For Love Like Now," which Michael Stipe recently performed on Colbert, is indeed intended for the new BRM album, and he also confirmed that the band has 20 new songs recorded and that Sharon Van Etten and Anais Mitchell are among the new album's guests. Aaron performed six new songs on the livestream, sometimes playing along with some of the music that's already been recorded. As pointed out on the r/Indieheads Reddit, the whole 30+ minute performance has been archived and you can watch and check out the setlist below.
New songs:

00:00 Intro
03:47 Brycie (Bryce Dessner's nickname)
09:18 The Gaîté Lyrique (supposed to play solo on Bon Iver tour)
15:44 Hoping Then (Justin Vernon in background)
21:28 Latter Days (Anaïs Mitchell in background)
26:26 Stella (named after his daughter)
31:35 Jenny Kissed Me (based on a poem by Lee Hunt)

He refered to the first 4 songs as Big Red Machine, the last two he wasn't sure himself.

Aaron confirmed that 20 Big Red Machine songs have been recorded including collaborations with Anaïs Mitchell and Sharon Van Etten.