about the recent NYC debuts of Washed Out and Them Crooked Vultures (who just debuted a new track)
Them Crooked Vultures @ ACL 2009 (by Dave Mead)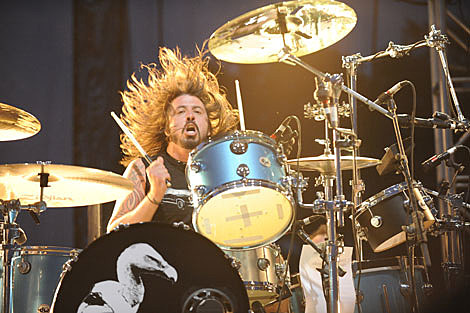 Washed Out @ Santos Party House - Oct 19, 2009 (rezflicks)

Two very different acts - Washed Out and Them Crooked Vultures - both made their NYC debuts earlier this month (all the way back before CMJ). The first, Them Crooked Vultures are industry veterans and masters at playing live music. Washed Out on the other hand was playing live for the second time ever, and without much of a band backing him. Both came into town with lots of hype, and both left leaving people with mixed reactions...

Them Crooked Vultures HD- Scumbag Blues -10/15/09 - Roseland, NYC

Them Crooked Vultures is unswervingly faithful to its pedigree: along with Mr. Homme, best known as the frontman of Queens of the Stone Age, it features Dave Grohl, the former drummer in Nirvana, and John Paul Jones, the former bassist in Led Zeppelin. That their output delivers a punch to the gut can only be seen as the fulfillment of a promise. The band doesn't feel like naked derivation, but its parentage is hammered home with every fat and bruising riff...

...What was missing on the whole was a semblance of vital messiness: the band had been too efficient, too terse, maybe even too tight. But a shuffle called "Warsaw" ended the show on the right sprawling note. Unraveling in the middle and racing to a feverish end, it caught the volatility that a band like Them Crooked Vultures tempers at its own peril. How it will sound on the band's self-titled studio debut, due out soon, is anyone's guess. [NY Times]
In short order Mr. Greene has alighted on a mature idea, but its translation to stage wasn't so certain. His songs rely on pristine, precise textures, and at times the Mike Tyson-strength speaker system at Santos undid him, especially during the first four songs, which were new. Played by Mr. Greene with a keyboardist, Joel Stevens, they were longer and more plaintive and more pessimistic than his EPs. At times they recalled the moody electronic duo Matmos. At times they didn't.

Once Mr. Stevens left the stage, though, Mr. Greene visibly loosened, giving shape and force to his songs, which can feel abstract on record...
Washed Out - 1 - NYC 10/20/2009

Washed Out - "Feel It All Around" - NYC 10/19/2009

Them Crooked Vulture's self-titled debut is scheduled to come out November 17th on DGC/Interscope. The tracklist is below. Their first single, "New Fang," debuted yesterday (10/26) on Twitter.
Them Crooked Vultures @ Roseland Ballroom

Them Crooked Vultures tracklist
01. No One Loves Me And Neither Do I
02. Mind Eraser, No Chaser
03. New Fang
04. Dead End Friends
05. Elephants
06. Scumbag Blues
07. Bandoliers
08. Reptiles
09. Interlude With Ludes
10. Warsaw Or The First Breath You Take After You Give Up
11. Caligulove
12. Gunman
13. Spinning In Daffodils
Them Crooked Vultures - 2009/10 Tour Dates
Nov 17 The Wiltern Los Angeles, California
Nov 19 Fox Theater Oakland, California
Nov 21 Paramount Seattle, Washington
Nov 22 Roseland Theater Portland, Oregon
Dec 06 Zenith Munich
Dec 07 Columbiahalle Berlin
Dec 08 Palladium Cologne
Dec 10 Pavilions Plymouth
Dec 11 Guildhall Portsmouth
Dec 13 Empress Ballroom Blackpool
Dec 14 O2 Academy Birmingham
Dec 15 O2 Academy Edinburgh
Dec 17 HMV Hammersmith Apollo London
Dec 18 HMV Hammersmith Apollo London
Jan 19 Challenge Stadium Perth
Jan 22 Festival Hall Melbourne
Jan 25 Riverstage Brisbane
Jan 26 Hodern Pavilion Sydney
Jan 29 TSB Bank Arena Wellington
Jan 30 Vector Arena Auckland