Absu to release tour-only split flexi with Infernal Stronghold, kick off East Coast dates tonight
by BBG
Exclusive look at Absu/Infernal Stronghold flexi cover by Dilek

Absu is commemorating their string of dates with Infernal Stronghold in physical form.

For the upcoming tour, the bands have self-released a split flexi that will only be available at these few shows. It will not be available for sale through other mediums whatsoever. one new song from each band on clear vinyl and 4 different colored silk-screened covers. Limited to 250 copies.
Get your copy of the tour-only flexi at one of their six east coast dates which kick off TONIGHT at Strange Matter in Richmond, VA, including on Friday 11/11/11 at Europa with Villains. The NYC show is a BrooklynVegan/Order Of The Serpent production.
In January Absu heads to Australia for a string of dates with Portal. Check out our just-posted interview with Portal's Horror Illogium (and the accompanying remix he did for Bloody Panda).
All Absu tour dates, the show flyer, and some streams from Absu's latest LP Abzu (as well as other material) is below...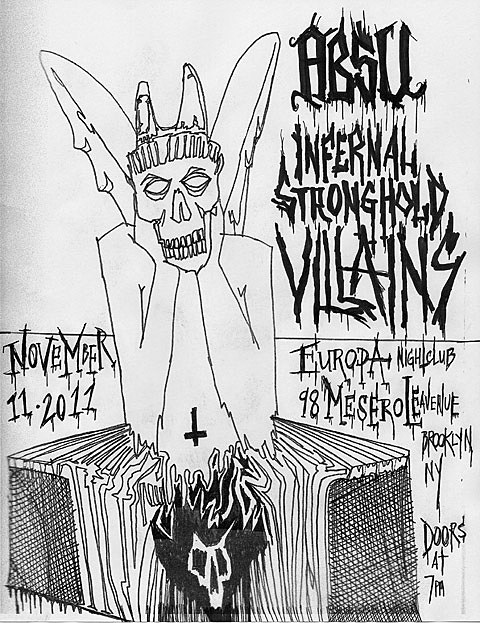 ABSU- 2011 TOUR DATES
11/10/2011 Strange Matter - Richmond, VA w/ Infernal Stronghold
11/11/2011 Club Europa - Brooklyn, NY w/ Infernal Stronghold
11/12/2011 Reverb - Reading, PA w/ Infernal Stronghold, In Ruins, Horde of the Eclipse, Cadaveric Spasm, Mortus, Polterchrist
11/13/2011 Wonderland Ballroom - Revere, MA w/ Infernal Stronghold
11/26/2011 Messe des Morts Festival - Montreal, QC
Australian Connexus Conjuration Tour: ABSU w/ Portal, Ruins
1/12/2012 The Globe - Brisbane
1/13/2012 Sandringham Hotel - Sydney @ Conjuration Fest
1/14/2012 The East Brunswick Club - Melbourne @ Conjuration Fest
1/15/2012 The Brisbane Hotel - Hobart