Afro-Punk Fest 2013 day 2 in pics: Death, Chuck D, Danny Brown, Questlove, Big Freedia, Trash Talk, K-Os & more
photos by Amanda Hatfield
Chuck D / Death / Danny Brown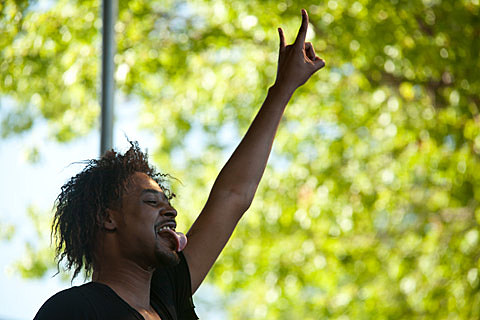 Emboldened by a raise in profile from the recent documentary, A Band Called Death, they were more of a classic rock beast. Extended rum solos, odd time changes. They were strong, and the mix was overwhelmingly crunchy. There were even times, like when performing their 1975 song "You're a Prisoner" , when it struck me that you could shift the emphasis slightly, swap out the guitar tones for something more expensive and add some gross 30-piece drum set, and they might be playing a Metallica song! Or at least what Metallica songs I remember from being 12 were like. "You can't run! You can't hide! YOU'RE! LOCKED! INSIDE! (riff riff riff riff riff). I mean, right? [L Mag]
While the VMAs were happening in a different park of Brooklyn, the two-day, free annual Afro-Punk Festival wrapped up in Fort Greene's Commodore Barry Park on Sunday (8/25). The second day gave us sets from legendary punks Death, Chuck D & DJ Lord (performing Public Enemy's Fear of a Black Planet), Danny Brown, Questlove, Trash Talk, Big Freedia, K-Os, Living Colour, The Coup, and more.
Pictures of the second day are in this post, and there's even more at Facebook and Google+. Plus, there's more of Trash Talk HERE and Big Freedia HERE. If you haven't checked out our day 1 pictures yet, those are up too.
Danny Brown, whose new album OLD comes out on 9/30, can be seen for free in NYC again at Williamsburg Park on Labor Day (9/2) for Fool's Gold Day Off, which also includes Run the Jewels, Migos, A$AP Ferg, World's Fair, and more (RSVP).
More Afro-Punk day 2 pictures below...

---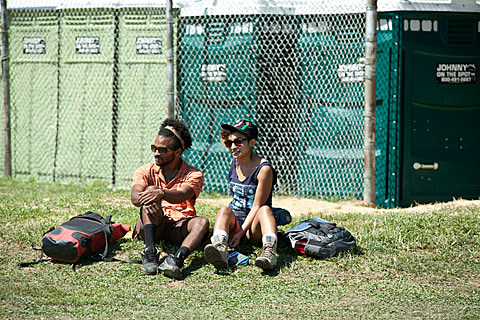 Sunny Gang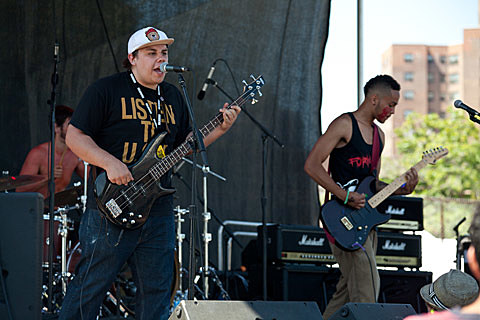 Pyyramids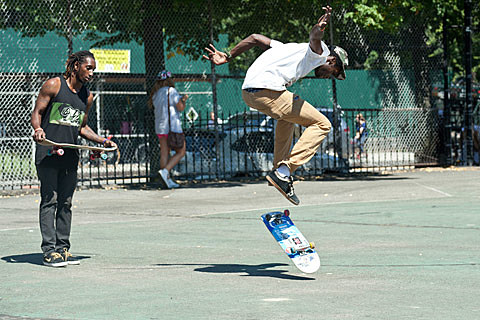 Meatloaf Muzik
The Coup
The White Mandingos
K-Os
Big Freedia
Check out more Big Freedia pictures HERE.
Death
Danny Brown
Vintage Trouble
Trash Talk
Check out more Trash Talk pictures HERE.
Living Colour
Chuck D
Questlove