Afropunk Festival 2014 in pics & videos (D'Angelo, Bad Brains w/ guests, Body Count, Fishbone, Shabazz Palaces, more)
photos by Amanda Hatfield
Body Count / Bad Brains / hula hoopers

After weeks of will-he-or-won't-he speculation, enigmatic R&B recluse D'Angelo made good on his promise to headline the 2014 Afropunk festival in Brooklyn on Sunday night. But not without keeping people guessing until the moment he stepped on stage.
It was announced with much fanfare in June that he would headline the two-day music event devoted to black rock, punk, soul, art and skate culture, but in the weeks leading up to the event - which draws thousands each year - D'Angelo's name had disappeared from promotional material. Instead, the audience was promised only a "special guest" headliner. Until he appeared on stage an hour late, backed by members of the Roots, there were concerns in the crowd that D'Angelo would not show at all.
...Sunday's songs were mostly unfamiliar to the crowd who, if they came expecting hits, may have been disappointed. Even the covers he performed were relative deep cuts: one highlight was his take on Sly and the Family Stone's 1973 Thankful n' Thoughtful, in which D'Angelo played a funky clavinet over Roots bassist Mark Kelley's deep-in-the-pocket thump.
"Sunday morning, I forgot my prayer/ I should have been happy, to still be there," Sly sang then, lyrics all the more poignant coming from a man prone to silence and sabbaticals. The crowd was thankful to have him, too. [The Guardian]
The free 2014 Afropunk Festival went down over the weekend in Brooklyn's Commodore Barry Park on Saturday (8/23) and Sunday (8/24). The festival included a large variety of music from D'Angelo to Body Count to Fishbone to Shabazz Palaces to Sharon Jones to King Britt to Trash Talk and still plenty more. There was also a set from Bad Brains (sans HR), and as we spectulated, Cro-Mags singer John Joseph joined them (Cro-Mags played their own set as well), as did Living Colour's Corey Glover, rapper Murs (who's in White Mandingos with Darryl of Bad Brains), and Jesse Royal. Plus, mayor Bill de Blasio's metal-loving daughter Chiara introduced the Bad Brains' set (Bill was there too). Cold Specks was supposed to play too but unfortunately couldn't make it due to visa issues. Hopefully things will turn out better for her fall tour.
More pictures and videos from Afropunk (though unfortunately we weren't able to get pics of D'Angelo or Bad Brains' guests) below...

---
DAY 1
Loaf Muzik
Denitia and Sene
clipping.
Sunny Gang
Valerie June
King Britt
Shabazz Palaces
The Bots
Fame School
Trash Talk
Bad Brains
Body Count
Sharon Jones & The Dap-Kings
DAY 2
Gordon Voidwell
The Tontons
Lola Wolf
Tamar-Kali
Cakes Da Killa
Straight Line Stitch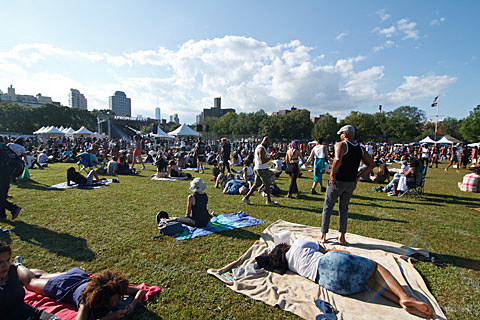 SZA
Fishbone
The Internet
Meshell Ndegeocello