Agnostic Front, Antidote, Ultraviolence & Urban Waste @ The Bell House in Brooklyn – pics & video
World War 3 I tell ya. Agnostic Front played all of their seminal Victim in Pain with moments of United Blood and even "Gotta Go" for the new-ish schoolers at Bell House on Friday (2/26). Snowstorm be damned, it was a packed house, with a decent crowd for Ultraviolence by the time I arrived at the venue (missed Sexual Suicide), although for my money I wish I had gotten there after the following band, Urban Waste whose live show I couldn't get into despite liking their recorded output.
One of the risks you run by being an older band in a younger-skewing genre (punk, hardcore, hip hop, etc) is coming off like a nostalgia act. I have seen this happen with countless bands who don't have the energy to keep up with either the songs or the crowd (see previously mentioned bands). But for every rule there is an exception. Cro-Mags. The Jesus Lizard. De La Soul. Add Antidote and Agnostic Front to that list.
Antidote hit the stage a shade after 11PM and ripped it, playing songs from their great Thou Shalt Not Kill, as well as covers by Minor Threat ("I Don't Wanna Hear It", Filler") and Black Flag ("Rise Above"). Stage energy was met with equal crowd energy. The original matieral was furious, and covers breathed new life into those hardcore classics. Any other night, I would have been content with Antidote as a headliner.
I wish I had enough fingers and toes to count the number of times that guitarist Vinnie Stigma yelled "This is Hardcore!" during Agnostic Front's set. The vets blasted through a short, but sweet set of material that covered their early years, joined by a chorus of AF fans and Sab Grey of the legendary Iron Cross, who helped with AF's cover of "Crucified". As advertised, Stigma and vocalist Roger Miret were joined on stage by drummer Dave Jones (also Mental Abuse) and Rob Kabula for their set of Victim In Pain material, with bassist Adam Moochie and Dave Jones sitting in for the departed Raybeez for the United Blood material. Killer show, though I wish I wasnt showered in beer as much as I was that night, and I am sure Miret and some stage divers agree; too many people to count slipped and fell on that slippery stage.
Some video of Antidote and Agnostic Front, as well as a ton of pics are below...

--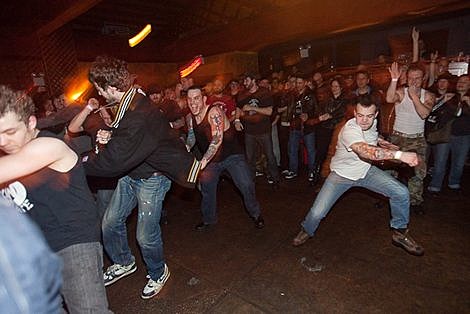 Antidote @ Bell House, 26 Feb 2010

Agnostic Front @ Bell House, 26 Feb 2010