Agnostic Front played Santos (pics & more dates), H2O releasing tribute album, playing shows too (dates)
Agnostic Front @ Santos Party House

Agnostic Front are currently out on tour with Mongoloids in support of a somewhat new record...
"My Life My Way was released on March 22, 2011. The album features 13 new powerful and anthemic songs laid down by Erik Rutan (MADBALL, GOATWHORE, CANNIBAL CORPSE, etc.) at his Mana Recording Studio in Tampa, FL under the watchful guide of producer Freddy Cricien of MADBALL. The record was mastered by Alan Douches (NILE, MASTODON, etc.)."
The tour hit Santos Party House in NYC on 11/4. Some pictures are in this post. More them with all remaining dates below.
Fellow DMS crew band H2O also has a new record coming out, but not of their own songs. As their own press release reads...
"H2O has been a mainstay in hardcore and punk since their inception back in 1995 and have had many influences along the way. The band is thrilled to pay homage to those influential artists by covering their songs on the forthcoming album, Don't Forget Your Roots, which will be available November 15th from Bridge Nine Records.

Additionally, H2O will be playing the Gramercy Theater on November 19th [with Killing Time], with a special set consisting of cover songs and originals- both new and old. This show will be a celebration of H2O's covers album available just three days prior, as well as a re-release of their self-titled album, available on LP also on November 15th. Vocalist Toby Morse had this to say: "NYC is H2O's roots - where we started - and couldn't think of a more perfect place to release our covers album and the re-issue of our first record. We'll be playing old songs, new songs and cover songs for our fans there! They'll also be able to pick up copies of our self-titled album on vinyl - Bridge Nine is re-pressing that and we couldn't be more excited. It was originally released back in 1996 and has been out of print for a long, long time. Also Don't Forget Your Roots will be available as well!" He continued, "Our covers album is a big personal accomplishment for us - being able to pay homage to the bands that have influenced us so much since we got into punk rock and helped get us where we are today is an amazing thing. We think we've done them justice!"
No Agnostic Front on the tribute album, but there is Madball, Descendents, Bad Brains and many more. The full tracklist, all tour dates, and more Agnostic Front show pictures, below...

--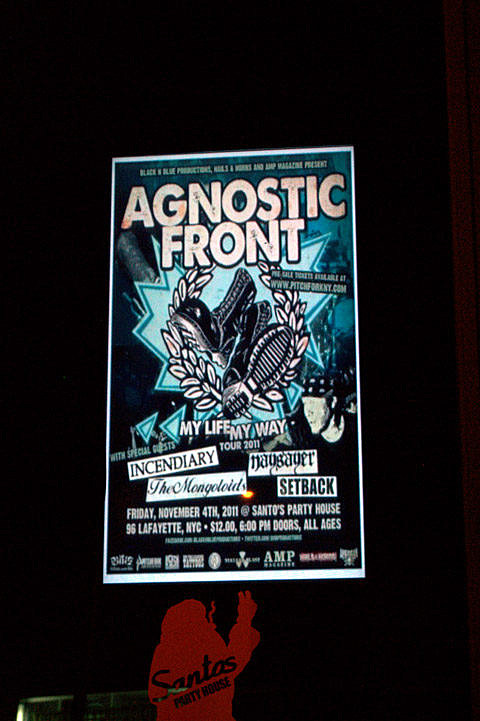 H2O Don't Forget Your Roots CD/LP/Digital available Nov 15th
1) Bad Brains - Attitude
2) 7 Seconds - Satyagraha
3) Madball - Pride
4) Descendents - Get The Time
5) Embrace - Said Gun
6) Ramones - I Wanna Live
7) Gorilla Biscuits - Cats and Dogs
8) Mighty Mighty Bosstones - Someday I Suppose
9) Rancid - Journey to the End
10) Dag Nasty - Safe
11) Social Distortion - Sick Boy
12) Sick Of It All - Friends Like You
13) The Clash - Train in Vain
14) Verbal Assault - Scarred
15) Warzone - Don't Forget The Struggle, Don't Forget The Streets
--
H2O -- 2011 Tour Dates
Nov 19 H2o New York, NY @ The Gramercy Theatre
Nov 20 H2o (w/ Praise) Philadelphia, PA @ The Barbary
Dec 08 H2o, Cruel Hand Pittsburgh, PA @ Smiling Moose (Upstairs)
Dec 09 H2o, Cruel Hand Chicago, IL @ Reggie's Rock Club
Dec 10 H2o, Cruel Hand Detroit, MI @ Small's
Dec 11 H2o Buffalo, NY @ Mohawk Place
Dec 28 H2o (w/ Mighty Mighty Bosstones) Boston, MA @ House of Blues
--
Agnostic Front & Mongoloids -- 2011 Tour Dates
11/09/11 Reggie's Rock Club - Chicago, IL
11/10/11 Triple Rock Social Club - Minneapolis, MN
11/11/11 Vaudeville Mews - Des Moines, IA
11/12/11 Fubar - St. Louis, MO
11/13/11 Archive Gallery - Atlanta, GA
11/14/11 Orpheum - Tampa, FL
11/15/11 Churchill's - Miami, FL
11/16/11 Back Booth - Orlando, FL
11/17/11 The Pit - Jacksonville, FL
11/18/11 Soapbox Laundro-Lounge - Wilmington, NC
11/19/11 Kingdom - Richmond, VA