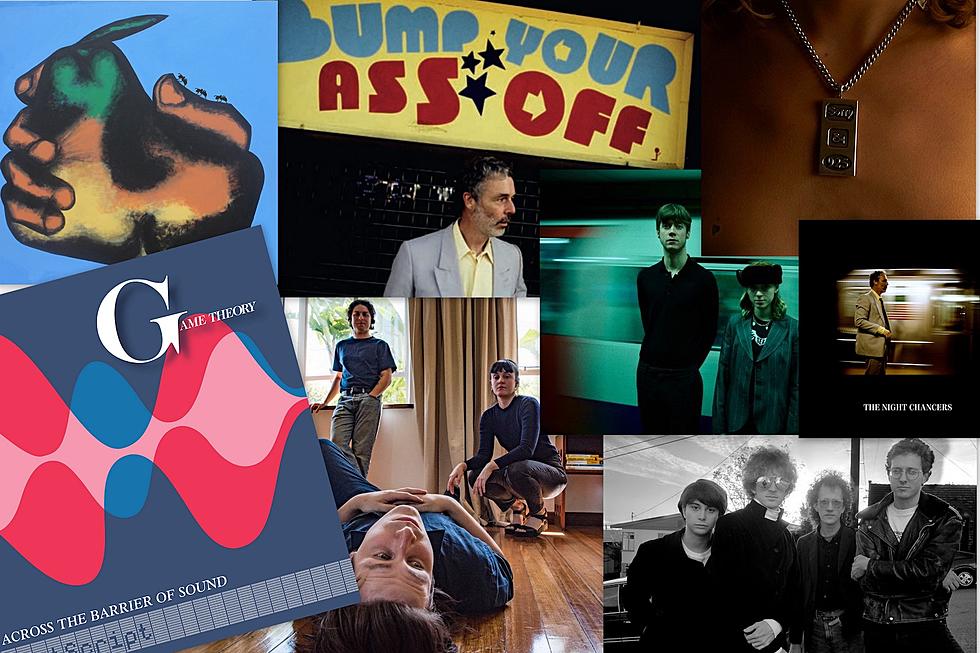 Bill's Indie Basement (3/20): the week in classic indie, college rock, and more
The world continues to get weirder and scarier but music is still with us, and Indie Basement is one thing that is, so far, virus-proof. So let's just get into it. This week: The new album from Baxter Dury who follows up my favorite album of 2017; a collection of unheard Game Theory recordings from the very end of their '80s run; the debut album from UK duo Sorry; and a new EP from Australia's The Stroppies.
Also if you have have a little money to spare, you might consider buying some music on Bandcamp today as the site is giving its normal percentage of the profits to the artists who are definitely hurting not being able to play shows. Some of the labels are doing it too. We've got some suggestions for great records from this year to get. I would also say the lion's share of my Best Albums of 2019 are on Bandcamp too (Purple Mountains, Robert Forster, Weyes Blood, Vanishing Twin, Cate Le Bon, Jeanines, and so on) I've also used Bandcamp streaming embeds wherever possible below (as is the norm on Indie Basement).
Baxter Dury - Night Chancers
Baxter leans further into the "British Serge Gainsbourg" tag some have given on his groovy, sordid, string-soaked sixth album.
"I'm not your fuckin' friend." Baxter Dury kicks off his sixth album, The Night Chancers, on an especially surly note and sets the tone for the whole record. It's a 3 AM kind of album, a time where nothing good happens and the only thing up is trouble. Following his great 2017 breakup album Prince of Tears (my favorite of that year), The Night Chancers takes its cue from that record's "Miami," offering up lurid character sketches of drunks, losers, miscreants and other pathetic specimens, all set to groovy basslines, throbbing synthesizers, and funky guitars, all swathed in disco strings for an air of seedy romance.
Unlike previous records, Baxter doesn't really sing on The Night Chancers, instead talking his way through the songs, sometimes in a sing-song sort of way but leaving the hooks and choruses to his regular cadre of counterpoint contributors Madeline Hart, Rose Elinor Dougall and Delilah Holliday (who he collaborated with on the B.E.D. record). The Night Chancers is like a book of first person POV short stories, some of which seems interconnected. There's definitely someone here who hasn't quite gotten over his ex, like on "Carla's Got a Boyfriend" where he does a bit of cyber-stalking: "He's got horrible trousers and a small car / I spotted him on instagram and followed him about a bit." Then there's the title track where he seems to have bottomed out, crying "You left me the crumbs and my spare thoughts, you left me with the noise of the night chancers" in an almost Mick Jagger "Miss You" style, while the female chorus coo "You can't have me back."
The lyrical imagery is especially vivid this time out, thanks to Baxter's even more in-character performance style, like on "Hello, I'm Sorry" which eavesdrops on a phone call to a guy who is clearly in the doghouse. "Hi," he says sheepishly. You can't hear the other end of the conversation but you can tell he's being dressed down by his response: "I know." Meanwhile, the arrangement on "Hello, I'm Sorry" is particularly nice, with conga percussion and a sultry horn section giving things a Jamaican feel. The whole album sounds fantastic -- again, those basslines, those sweeping strings -- and it's probably his most cohesive record to date, even if there isn't a single here that quite matches "Miami" or "Isabel." "Slumlord" comes close though, with Baxter's boastful ne'er-do-well preaching lines like "Charm dripping like fresh honey / I'm the milky bar kid / soiled  trousers, shiny cheekbones / like graveyards in the sun!" in his thick London accent over a Chic-esque backing. I'm not sure what he's talking about, exactly, but like on the rest of The Night Chancers, he makes it sound fascinating and endlessly cool.
Game Theory - Across The Barrier Of Sound: PostScript
A document of the last, late-'80s lineup of Scott Miller's cult band Game Theory -- which included The Three O'Clock's Michael Quercio -- is a tantalizing glimpse at what might have been.
Game Theory, the Bay Area band led by Scott Miller (who passed away in 2013), splintered after their fifth album, existed for most of the '80s, steeped in The Beatles, Love, Alex Chilton, and Brian Eno but created their own distinctive version of classic psych pop. They made one total classic (1987's sprawling Lolita Nation), while their other four albums weren't too far behind, and splintered/burned out not too long after their final album, 1988's Two Steps from the Middle Ages. Before he decided to retire the group, Miller gathered a new version of Game Theory that featured Michael Quercio of Paisley Underground group The Three O'Clock (who had just broken up), and they demoed some songs and toured the West Coast. Unfortunately the band was split between L.A. and San Francisco -- quite a distance, especially in the pre-internet days -- and Miller closed the book on Game Theory in 1990.
The idea of a band that had the paisley pop talents of both Miller and Quercio sounds like a dream and a new compilation, Across The Barrier Of Sound: PostScript, manages to materialize that a bit with lost studio recordings, live recordings from that West Coast tour and a bunch of Miller's home demos. A lot of the songs here would wind up on the debut album from Miller's next group, The Loud Family, though in some cases they're in radically different form.
The real gems here are the full band recordings. "My Free Ride," which Miller and Quercio wrote together, is a crunchy, riffy, ultra-melodic confection that actually sounds about four years ahead of its time, like something you could imagine on Veruca Salt's debut album. There's also "Treat it Like My Own," which features many of Miller's signature flourishes -- like The Rolling Stones or The Ramones, his songs all came from a specific well of chord patterns and riffs -- with chiming 12-string guitars and high harmonies. There's also "Water," another Quercio-sung song with a cyclical, very psychedelic chord progression.
Elsewhere on the record, there are some neat covers, including Miller's solo versions of The Beatles' "All My Loving" (which opens this album) and Brian Eno's "Needles in the Camel's Eye," and a live versions of The Monkees' "The Door into Summer" (which Quercio jokingly intros "This is a song made famous by Naked Eyes"), plus a terrific home demo cover of The Nazz's "Forget All About It." The latter, sung by Quercio, sounded like it could've been the blueprint for what Game Theory might have become. I really wish this lineup had done more but like so much with Miller, a truly underappreciated pop genius, we're left with a sense of what could've been.
Sorry - 925
North London duo deliver a tuneful, slinky, sometimes surprising debut album
Best mates before they started a band, Asha Lorenz and Louis O'Bryen have also proven to be quite the pair, musically, as Sorry. The Domino-signed duo ostensibly make indie rock but, like everybody under 30, they pull inspiration from all over the sonic spectrum. The cite both Aphex Twin and Tony Bennett as influences and you can hear both of those -- and Tricky and Lionel Bart and Burt Bacharach -- on Sorry's confident, playful debut album, 925, which rolls out like a smoky cabaret pop-up at a techno club. Attitude and swagger drips from songs like the skronky "Right Round the Clock" (which cribs lyrics from Tears for Fears), the slinky "Snakes" and the poppy "Perfect," while "Heather" and "As the Sun Sets" sound innocent and sweet. Like Baxter Dury, Asha and Louis use their North London accents to their advantage, and their voices sound great together on this grower of a first record.
The Stroppies - Look Alive!
Australian group follow-up last year's excellent debut album with eight more warm, inviting, charmingly strummy songs
Melbourne, Australia's The Stroppies released their terrific debut album, Whoosh!, last year which is full of jangly, wobbly guitar pop in the great tradition of The Go-Betweens, Yo La Tengo or Small Factory. Almost exactly a year later, they're back with Look Alive!, an EP that packs in eight very catchy songs in about 20 minutes with little room for anything besides hooks -- while still luxuriating in gentle, laid-back charm. This is an afternoon tea indie rock record, full of warm vintage organ, fuzzy guitar lines and the complimentary voices of Gus Lord (ex-Twerps) and Claudia Serfaty. In these stressful days, the lightly drony, sunshiny vibes of songs like "Roller Cloud" are very welcome indeed.