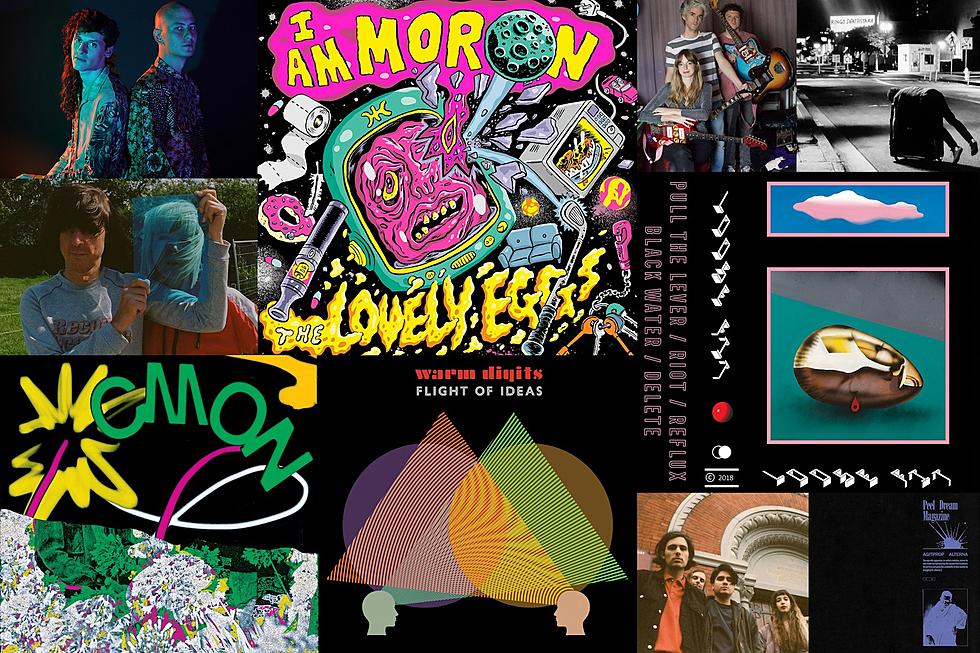 Bill's Indie Basement (4/3): the week in classic indie, college rock, and more
Our Weirdest Year rolls on and what can I tell you? Stay inside and listen to: UK DIY duo The Lovely Eggs head into a big studio with a famous producer (Dave Fridmann) for the first time on their great sixth LP; Peel Dream Magazine split the difference between shoegaze and krautrock on their second album; UK danerock duo Warm Digits round up a bunch of cool guest vocalists for their new album; Austin shoegaze trio Ringo Deathstarr are back with their first album in five years, CMON have an '80s acid flashback; and Australian post-punks Loose Fit reissue their debut EP.
The Lovely Eggs - I Am Moron
UK punky duo deliver a fiery mix of rage and top tunes on their excellent Dave Fridmann-produced sixth album.
UK duo The Lovely Eggs have done it themselves for most of their existence, having self-produced their first four albums. But with 2018's This is Eggland, they teamed with Flaming Lips/MGMT collaborator Dave Fridmann, which came about after the group's Holly Ross left a drunken message on his studio voicemail saying they should work together. That's a very DIY approach to a decidedly more widescreen album than The Lovely Eggs have ever made before. Most drunken voicemails end in regret but turned out to be an inspired match which continues with I Am Moron. "This Decision," "Bear Pit," "Digital Hair," "24 Eyes" and the rather randy "I Wanna" are all killer garage punk rippers that sound a mile wide and are embellished with trippy Fridmann touches, not to mention a great mix. There are also forays into Primal Scream-style madchester dance ("You've Got the Ball"), melodic indie rock (album closer "New Dawn"), and stompers that run red with vitriol ("You Can Go Now," "Insect Repellant"). I Am Moron doesn't tame The Lovely Eggs' fire one bit -- it stokes it.
Warm Digits - Flight of Ideas
UK dancerock duo Warm Digits have a flight of ideas and a studio-full of cool indie guests (The Delgados' Emma Pollock, The Orielles, The Lovely Eggs, more) on their fourth LP.
Speaking of The Lovely Eggs, they're one of a bunch of very cool guests to provide vocals on Flight of Ideas, the fourth album from UK duo Warm Digits. Most of these features lean sonically to whoever is singing: The Lovely Eggs' "Feel the Panic" has a manic punk energy; Emma Pollock, of the much-missed Delgados, brings an extra warmth to the blissed out "The View From Nowhere"; and The Orielles, who released their own great album earlier this year, basically turn "Shake The Wheels Off" into one of their own spunky tracks. (Other guests include Maximo Park's Paul Smith and Rozi Plain.) It's all vaguely rave rock, like Giorgio Moroder but with lots of squelchy acid house 303s arpeggiating through most of the songs. The instrumental tracks work equally well, falling somewhere between Vangelis, Derrick May and Ratatat. Which under certain conditions sounds like a pretty great Friday night.
Peel Dream Magazine - Agitprop Alterna
Brooklyn band continue to put krautrock in their shoegaze...or is it the other way around? Regardless, their second album is very good.
Brooklyn's Peel Dream Magazine are like a distillation of their label Slumberland Records' '90s golden age -- part shoegaze, part indiepop, part motorik krautrock. Which is to say they crib liberally from both My Bloody Valentine and Stereolab, mixing droney organ, tremolo-heavy "glide guitar"and a fondness for "bah bah bah" vocalizing. Bandleader Joe Stevens has a clear vision for PDM and on this, their second album, those sounds are concentrated, amplified and sweetened. It's also got that thick, fuzzy sound that you can feel in your chest, which is just what you want with stuff like this. The group also don't forget to write actual songs, and melodies shine bright on Agitprop Alterna, in particular "Escalator Ism," "Too Dumb" and, especially "Emotional Devotion Creator" and "Pill" which both could be dropped proudly onto either a MBV or 'Lab album. There is no shame in stealing when you do it with this much panache.
Ringo Deathstarr - Ringo Deathstarr
Austin psych-shoegazers return with first album in five years. Absence may have made the heart grow fonder but this is very good.
I had kinda forgotten about Ringo Deathstarr, who were pretty early on the whole nu-gaze thing and have always been one of the best at it, too, coating guitar pop with several blankets worth of hazy, beautiful guitar noise. They hadn't made an album since 2015's Pure Mood and, though they've toured here and there, I'd thought it was another case of life taking precedence over rock n' roll dreams. Maybe it had, but Ringo Deathstarr still sound in command of their powers on their just-released fifth album. Eponymously titled records are often thought of as the ultimate statement on what you are as an artist -- unless you're Chicago or House of Love -- and that could actually be the case here. There's actually a song here called "Gazin'"! Powered by a driving bassline and big drums, "Gazin'" kisses you with breathy harmonies while backhanding you with guitars. It's one of a bunch of real winners here that mix trad shoegaze with digital production and pop savviness. "God Help The Ones You Love" and "Heaven Obscured" go full '80s 4AD goth, while "Once Upon a Freak" and the bit-crushed "Be Loved" dabble in breakbeats. Ringo Deathstarr finds them reinvigorated and still finding new sounds and great songs within a 30-year-old genre.
CMON - Confusing Mix of Nations
Ex Regal Degal members Josh Da Costa and Jamen Whitelock continue to proudly fly the freak flag with new group that melts all of the '80s into one album.
Josh Da Costa is a genuine weirdo -- I mean that as a compliment -- having always danced to the beat of different drum that feels entirely outside of time. His old band Regal Degal were defiantly strange but in a pop way; they wrote hits, but for a very alternate reality. Regal Degal moved as a band to L.A. a few years ago when Brooklyn stopped being as weird-friendly, and they fit right in with the West Coast scene that includes Ariel Pink, Drugdealer (a group Josh has played in) and Jorge Elbrecht. Regal Degal fizzled out, but Josh and bandmate Jamen Whitelock then formed CMON, which stands for Confusing Mix of Nations and is also the name of their debut album. It's a record that is both more normal than their old group, while still being very left of center. If you dig Ariel Pink, Part Time and Connan Mockasin, and the '80s as viewed via an old VHS tape, there are a lot of dayglo jams here: "Mindboggling" is part Eno, part Johnny Marr and a lot of VHS culture; "Coo" shuffles along groovily like a forgotten UK baggy group (hello Campag Velocet); "Peter Pan" is cod reggae in the "Down Under"/"Break My Stride" vein; and "Good to Know" possesses an irresistible chorus amid some rinkydink-sounding keyboards. It's all a little cheesy, knowingly so, but not in an ironic way. CMON are weirdo pop for weirdo people.
Loose Fit - Loose Fit EP
Australian post-punks reissue their 2018 cassette-only EP via FatCat; look for new music this year
Hailing from Sydney, Australian quartet Loose Fit make danceable post-punk of the 1979 variety: flinty bass is the real driver here, interlocking with hyper disco drumming, spiky guitars, occasional skronky sax and excited shouting via singer Anna Langdon. The band self-released a five-song cassette back in 2018 which has now been reissued by FatCat Records who will release Loose Fit's debut album later this year (hopefully?). These five cuts are all very good -- especially the "Black Water" and "Delete" which close out the record with a extra helping of attitude and groove.