Alejandro Escovedo & special guests played Bowery Electric, Stone Pony (w/ the Boss) & Letterman (pics & video)
Alejandro Escovedo & Tony Visconti @ Bowery Electric

At the Wednesday night (7/21) Bowery Electric show, the guests were appropriate considering the venue: the East Village bar attracted a host of neighborhood regulars - some better prepared than others (crib sheets littered the stage). The on-stage friends included Ivan Julian (of Richard Hell & the Voidoids), Garland Jeffreys, "Handsome" Dick Manitoba, Bowery Electric owner Jesse Malin, Amy Cook, Kristeen Young, Tony Visconti (who also turned up at Alejandro's City Winery shows), James Mastro, Nicholas Tremulis and Fiona McBain. Alejandro Escovedo's new record, Street Songs of Love, stood up through the diverse interpretations: from Kristeen Young's octave-jumping belting to Ivan Julian's snarling drawl. Though the show's tightest moment caught Alejandro locked in with his band, the Sensitive Boys, like on the show-opening "Always A Friend," from his previous album, Real Animal. For the encore, a swamped stage worked through the Rolling Stones' "Beast of Burden" and Mott the Hopple's "All the Young Dudes."
After the set, the band and friends hung around upstairs to catch themselves on Letterman. Our photographer Lori Baily hung around too, and her pictures from the entire show are below.
Two nights later (7/23), Alejandro invited a different guest up on stage for his show at New Jersey's Stone Pony. Bruce Springsteen joined for their Street Songs duet ("Faith"), an Alejandro song covered by the Boss in the past ("Always A Friend") and (like at Bowery Electric) "Beast of Burden."
Check out "Silver Cloud" from the new album, posted above. Videos from NJ & Letterman, and more pictures from NYC, below...


"Handsome" Dick Manitoba & Tony Visconti...

Ivan Julian & Alejandro...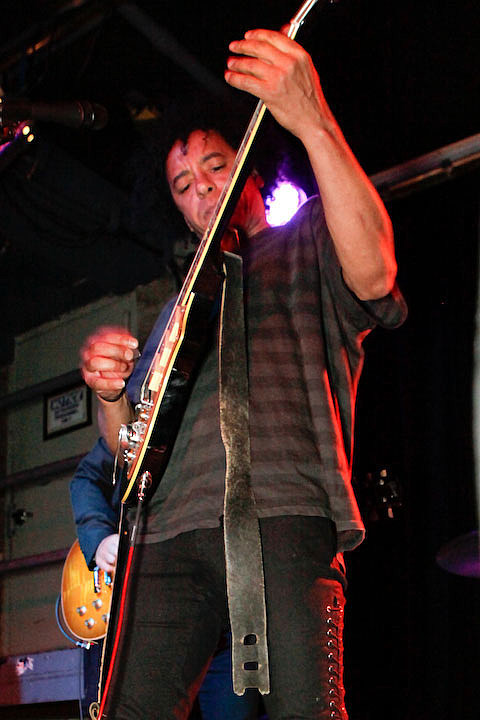 Jesse Malin...

Kristeen Young...

Nicholas Tremulis...

Fiona McBain...

guest guitarist (didn't catch her name)...

Amy Cook...

Garland Jeffreys...

James Mastro...

Alejandro Escovedo - "Anchor" 7/21 Letterman

Beast of Burden ~ Bruce Springsteen & Alejandro Escovedo @ The Stone Pony ~ July 23, 2010

Alejandro Escovedo and Bruce Stone Pony July 23, 2010