Alejandro Escovedo playing record release show at Bowery Ballroom before European tour (dates)
Alejandro Escovedo at Clearwater 2009 (more by Chris La Putt)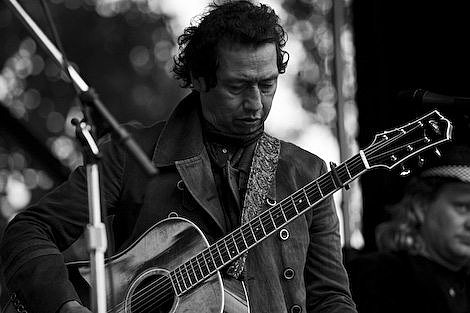 Alejandro Escovedo, who just guested with Bruce Springsteen at SXSW along with Arcade Fire and others for a performance of "This Land Is Your Land," is sticking around in his home state of Texas this month and next for a few more shows in the area. But before he heads out on a European tour in June, he'll stop by NYC for a show at Bowery Ballroom on June 5. Tickets for that show are on sale now.
June 5th is also the day Alejandro will be releasing a new record, His own PR says:
Alejandro Escovedo will release his 11th solo album 'Big Station,' June 5th, 2012 on Fantasy Records/Concord Music Group. Produced by Tony Visconti, 'Big Station' finds the ever-evolving Texas rocker highly-charged with spirit and purpose. The album's hard snap and sharp arrangements recall much of the great music Escvovedo absorbed as it blasted out of AM and FM radios throughout the 60's and 70's. Largely co-written with frequent collaborator Chuck Prophet, the album's 12 songs bristle with tension and hope as Escovedo fights to keep faith in a changing world and hold onto love.
The full tracklist and all dates and video of the "This Land is Your Land" performance below...

--
Bruce Springsteen ft. Alejandro Escovedo, Arcade Fire, etc - "This Land Is Your Land"

'Big Station' Tracklisting:
1. Man Of The World
2. Big Station
3. Sally Was A Cop
4. Bottom Of The World
5. Can't Make Me Run
6. San Antonio Rain
7. Headstrong Crazy Fools
8. Common Mistake
9. Never Stood A Chance
10. Party People
11. Too Many Tears
12. Sabor A Mi
--
Alejandro Escovedo -- 2012 Tour Dates
04/03/12 Austin, TX Continental Club US
04/10/12 Austin, TX The Continental Club US
04/12/12 Dallas The Kessler US
04/14/12 Austin, TX Lone Star Round Up Rod and Kustom US
05/12/12 Austin, TX Pachanga Fest 2012 US
05/23/12 Chicago, IL Lincoln Hall
06/05/12 New York, NY Bowery Ballrom US
06/20/12 San Sebastian, Spain Teatro Vitoria Eugenia ES
06/21/12 Barcelona La Apolo 2 ES
06/23/12 Madrid TBC ES
06/24/12 Paris Divan Du Monde FR
06/27/12 Dublin Whelan's IE
06/28/12 Kilkenny Set Theater IE
06/29/12 Galway Kelly's Bar IE
06/30/12 Suffolk Maverick Festival 2012 UK
07/01/12 Winchester The Railway UK
07/03/12 Kendal Bootleggers Bar UK
07/05/12 Glasgow, Scotland Stereo UK
07/06/12 Newcastle-Upon Tyne NE1 Live Theatre UK
07/07/12 Leicester The Musician US
07/08/12 York Fibbers UK
07/11/12 Bristol Saint Bonaventure's Parish Social Club UK
07/12/12 Nottingham The Maze UK
07/13/12 London, England The Borderline UK
07/14/12 Oxford The Bullingdon Arms, Oxford UK