Alice in Chains touring w/ Mastodon & Deftones (dates), playing MSG, played Terminal 5 (belated pics & setlist)
Jerry Cantrell of Alice in Chains at Terminal 5

They're calling it Blackdiamondskye. Alice in Chains (new album Black Gives Way To Blue), Deftones (forthcoming album Diamond Eyes), and Mastodon (last album Crack The Skye) will team up for a string of dates this fall including MSG in NYC on Friday, September 24th. Tickets for all dates go on sale May 22nd.
Mastodon is currently on the road with Baroness, Between The Buried and Me and Valient Thorr, and played Starland Ballroom last week. Their setlist from that show is below.
Deftones are welcoming Diamond Eyes, their new album due on May 4th. Check out a pair of videos from this forthcoming LP below, both of which feature new bassist Sergio Vega, best known for his stint with Quicksand. Preorder the record from the band directly to get three remixes including an M83 remix of "Rocket Skates".
Billboard: DO YOU HAVE AN UPDATE ON CHENG'S CONDITION?

Chino Moreno: He's doing a little better and looks healthier. He has a brain injury, and with that you don't really know until he fully wakes up. Right now he's in a semiconscious state. So he wakes up and he sleeps, but he hasn't communicated yet. His eyes are open and he's looking at you. For me, looking into his eyes and standing there talking to him, I feel like he's in there and recovering. He's got to get his motor skills back and be able to communicate. He's got really good doctors working with him right now, trying some experimental therapy to get him to react. It seems to be working, so we're very hopeful that's the case.
Alice in Chains sounded amazing; every song was delivered with absolute perfection. They came on stage hidden behind a white curtain projecting the pumping heart that appears on the cover of their new album, Black Turns Into Blue. Jerry Cantrell's silhouette soon flashed onto the screen to a great uproar from the crowd and the other members followed. Flashing, shifting and pulsing the shadowplay created an excellent build up and when the curtain suddenly fell to the floor a minute later, revealing the band and the spectacular lighting, the crowd went wild. New singer, William DuVall, held sway over the crowd and there was never any doubt that he belonged and that he wasn't living in the shadow of the late, great Layne Staley. The band was clearly having a fantastic time and it seems they've finally found the stability that was long needed in their group and they looked very comfortable in their new skin. The crowd was one of the best NY crowds I've seen in a long time and they were seriously up for the show prompting Jerry to emphatically tell them they were the best audience they'd seen in days.
Pictures from that show adorn this post. The rest of them, with AIC's set list, the above-mentioned videos and all tour dates, below...

--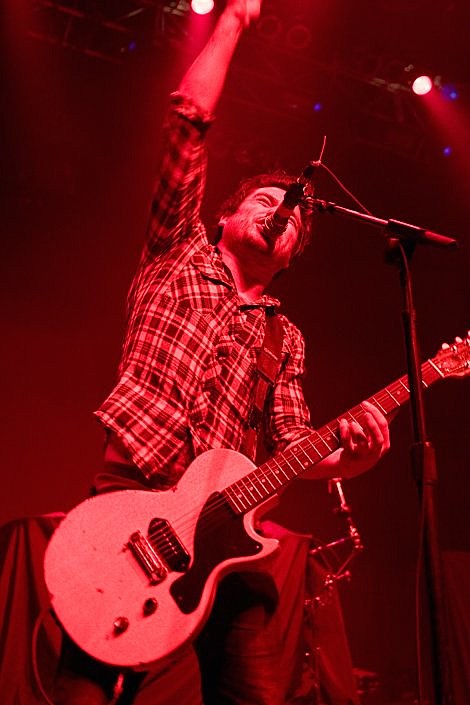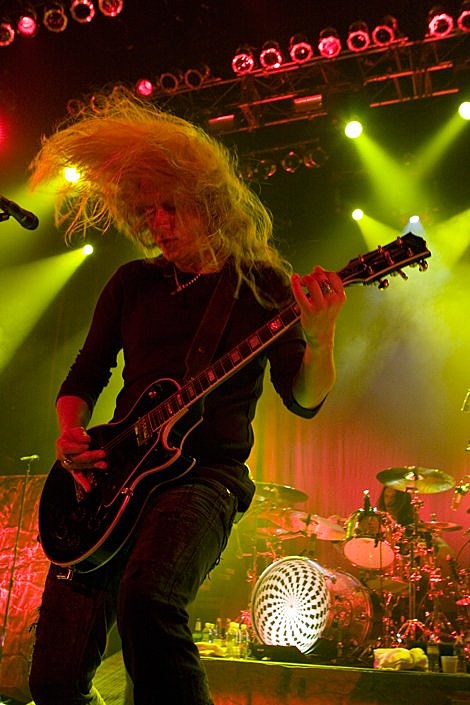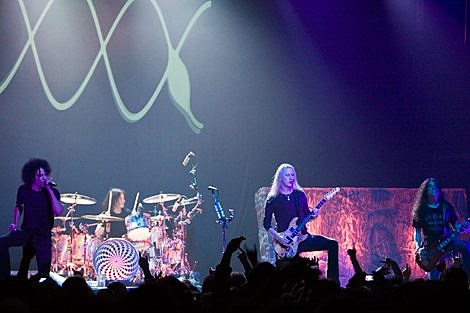 Deftones - "Diamond Eyes"

Deftones - "Rocket Skates"

Alice In Chains Terminal 5 Set List:
All Secrets Known (Black Gives Way To Blue)
It Ain't Like That (Facelift)
Again (Alice In Chains)
Check My Brain (Black Gives Way To Blue)
Them Bones (Dirt)
Dam That River (Dirt)
Rain When I Die (Dirt)
Your Decision (Black Gives Way To Blue)
Got Me Wrong (Sap)
We Die Young (Facelift)
Last Of My Kind (Black Gives Way To Blue)
Sickman (Dirt)
Nutshell (Jar Of Flies)
Acid Bubble (Black Gives Way To Blue)
Lesson Learned (Black Gives Way To Blue)
Love, Hate, Love (Facelift)
Would? (Dirt)
Encore:
No Excuses (Jar Of Flies)
Man in the Box (Facelift)
Rooster (Dirt)
--
Mastodon Starland Ballroom setlist
Oblivion
Divinations
Quintessence
Czar
Ghost
Crack the Skye
Last Baron
Crusher Destroyer
Crystal Skull
I Am Ahab
Capillarian Crest
Ol'e Nessie
Circle of Sysquatch
Aqua Dementia
Iron Tusk
March of the Ants
Blood and Thunder
--
DEFTONES - 2010 TOUR DATES
APR 29 2010 CONCRETE STREET CORPUS CHRISTI, TEXAS
APR 30 2010 LAS PALMAS RACE PARK MISSION, TEXAS
MAY 1 2010 KDGE EDGEFEST @ PIZZA HUT PARK FRISCO, TEXAS
MAY 2 2010 KTBZ BUZZFEST HOUSTON, TEXAS
MAY 21 2010 THE ORBIT ROOM GRAND RAPIDS, MICHIGAN
MAY 22 2010 ROCK ON THE RANGE COLUMBUS, OHIO
MAY 24 2010 FIRST AVENUE MINNEAPOLIS, MINNESOTA
MAY 25 2010 MAJESTIC THEATRE MADISON, WISCONSIN
MAY 26 2010 THE RAVE MILWAUKEE, WISCONSIN
JUN 6 2010 LIVE105ÕS BFD MOUNTAIN VIEW, CALIFORNIA
JUN 9 2010 B1 CLUB MOSCOW
JUN 11 2010 COPENHELL COPENHAGEN
JUN 12 2010 DOWNLOAD FESTIVAL DONINGTON PARK
JUN 13 2010 NOVA ROCK BURGENLAND
JUN 15 2010 ANCIENNE BELGIQUE BRUSSELS
JUN 16 2010 MELKWEG MAX AMSTERDAM
JUN 18 2010 HELLFEST NANTES
JUN 19 2010 HURRICANE FESTIVAL SCHEESSEL
JUN 20 2010 SOUTHSIDE FESTIVAL NEWHAUSEN OB ECK
JUN 22 2010 COLONIA SONORA FESTIVAL TORINO
JUN 23 2010 VOLKSHAUS ZURICH
JUN 24 2010 ROXY PRAGUE
JUN 27 2010 ROCK A FIELD LUXEMBOURG
JUL 9 2010 OPTIMUS ALIVE LISBON
--
MASTODON - 2010 TOUR DATES
Apr 29 2010 The Orbit Room Grand Rapids, Michigan*
Apr 30 2010 The Vogue Indianapolis, Indiana*
May 1 2010 The Blue Note Columbia, Missouri*
May 3 2010 Sunshine Theater Albuquerque, New Mexico*
May 4 2010 Rialto Theater Tucson, Arizona*
May 5 2010 House Of Blues San Diego, California*
May 7 2010 Fox Theater Pomona, California*
May 8 2010 THE MISSING LINK Oakland, California*
May 9 2010 Knitting Factory Reno, Nevada*
May 10 2010 McDonald Theatre Eugene, Oregon*
May 11 2010 Knitting Factory Spokane, Washington*
May 13 2010 Shrine Auditorium BIllings, Montana*
May 14 2010 The Venue Fargo, North Dakota*
May 15 2010 Sokol Auditorium Omaha, Nebraska*
May 16 2010 Liberty Hall Lawrence, Kansas*
May 18 2010 Orpheum Theater Madison, Wisconsin*
May 19 2010 Canopy Club Urbana, Illinois*
May 20 2010 Minglewood Hall Memphis, Tennessee*
May 21 2010 Valarium Knoxville, Tennessee*
May 22 2010 BusterÕs Lexington, Kentucky*
May 23 2010 Rock On The Range Columbus, Ohio
Jun 7 2010 Tivoli Utrecht
Jun 8 2010 Boerderij Zoetermeer
Jun 10 2010 Norwegian Wood Festival Oslo
Jun 11 2010 Sweden Rock Festival Solvesborg
Jun 12 2010 Copenhell Festival Copenhagen
Jun 16 2010 Bemowo Airport Warsaw
Jun 18 2010 Jonschwill Degenaupark Zurich
Jun 19 2010 Airport Milovice Prague
Jun 23 2010 Levski Stadium Sofia
Jun 24 2010 Terra Vibe Park Athens
Jun 25 2010 Inonu Stadium Istanbul
Jun 25 2010 Graspop Festival Dessel
Jun 27 2010 Romexpo Bucharest
Jun 28 2010 B1 Maximum Moscow
Jul 1 2010 Peace & Love Festival Borlange
Jul 3 2010 Tuska Festival Helsinki
* all dates w/ Between The Buried And Me, Baroness and Valient Thorr
--
ALICE IN CHAINS, DEFTONES, MASTODON - 2010 TOUR DATES
16-Sep Chicago, IL Charter One Pavilion, on-sale May 22
17-Sep Detroit, MI DTE Energy Center, on-sale May 22
18-Sep Toronto, ON Molson Amphitheatre, on-sale May 20
20-Sep Uncasville, CT Mohegan Sun, on-sale May 22
22-Sep Boston, MA Agannis Arena, on-sale May 22
24-Sep New York, NY Madison Square Garden, on-sale May 22
28-Sep Atlanta, GA Lakewood Amphitheatre, on-sale May 22
1-Oct St. Louis, MO Scottrade Arena, on-sale May 22
4-Oct Denver, CO Red Rocks, on-sale May 22
7-Oct Vancouver, BC GM Place, on-sale May 15
8-Oct Seattle, WA Key Arena, on-sale May 22
9-Oct Portland, OR Memorial Coliseum, on-sale May 22
16-Oct Las Vegas, NV The Joint, on-sale May 22
Alice in Chains - all 2010 Tour Dates
Apr 30 - Crawfish Fest Birmingham, Alabama
May 1 - Beale Street Fest Memphis, Tennessee
May 19 - Glens Falls Civic Center Glens Falls, New York
May 20 - MAC Center - Monmouth University West Long Branch, New Jersey
May 22 - RFK Stadium Washington DC, Washington DC
May 23 - MMRBQ @ Susquehanna Bank Center Camden, NJ, New Jersey
Jun 5 - Nurburgring Rock Am Ring Alternastage Nurburg
Jun 6 - Rock Im Park Alternastage Nurnburg
Jun 9 - Colonia Sonora Turin
Jun 10 - Atlantico Rome
Jun 11 - Gran Teatro Padova
Jun 13 - Novarock Festival Nickelsdorf
Jun 15 - Koengen Bergen
Jun 16 - Sentrum Scene Oslo
Jun 18 - Degenaupark Sonisphere Festival Wil
Jun 19 - Airport Milovice Sonisphere Festival Milovice
Jun 23 - Levski Stadium Sonisphere Festival Sofia
Jun 25 - Inonu Stadium Sonisphere Festival Istanbul
Jun 27 - Romexpo Sonisphere Festival Bucharest
Jul 1 - Peace and Love Festival Borlange
Jul 2 - Roskilde Festival Roskilde
Jul 4 - Werchter Rock Festival Werchter
Jul 8 - Optimus Alive Festival Lisbon
Jul 9 - BBK Live Bilbao
Jul 10 - Getafe Open Air Sonisphere Madrid
Jul 18 - Chippewa Valley Music Festival Cadott, Wisconsin
Sep 16 - Charter One Pavilion Chicago, Illinois
Sep 17 - DTE Energy Center Detroit, Michigan
Sep 18 - Molson Amphitheatre Toronto, Ontario
Sep 20 - Mohegan Sun Uncasville, Connecticut
Sep 22 - Agannis Arena Boston, Massachusetts
Sep 24 - Madison Square Garden New York, New York
Sep 28 - Lakewood Amphitheater Atlanta, Georgia
Oct 1 - Scottrade Arena St. Louis, Missouri
Oct 4 - Red Rocks Denver, Colorado
Oct 7 - GM Place Vancouver, British Columbia
Oct 8 - Key Arena Seattle, Washington
Oct 9 - Memorial Coliseum Portland, Oregon
Oct 16 - The Joint Las Vegas, Nevada