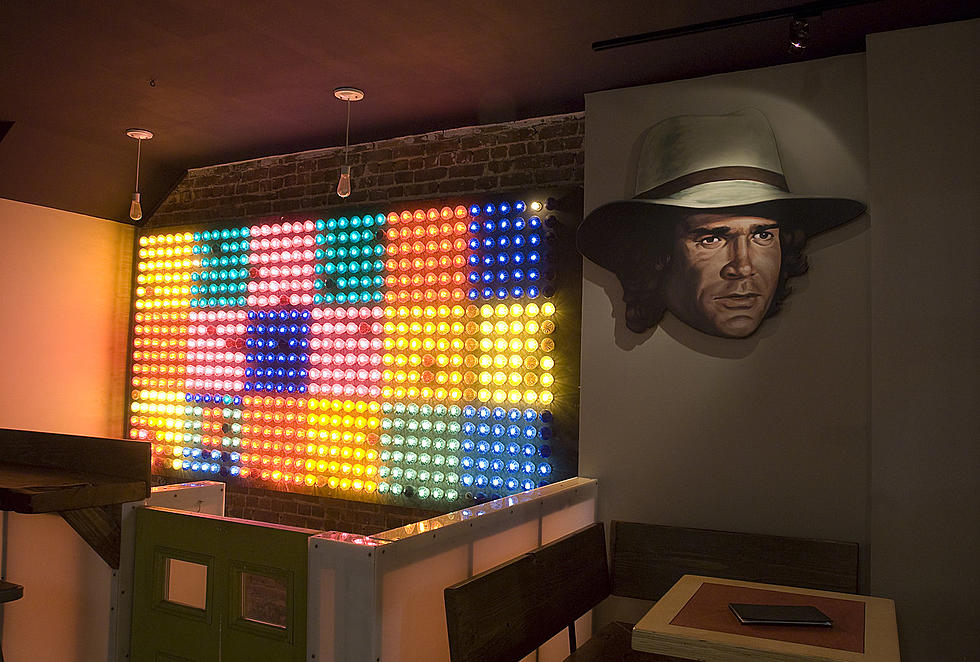 all these Williamsburg & Greenpoint places closed for good during COVID-19
The Diamond (photo: Michael Short / The Diamond)
The continued pandemic lockdown has been devastating to businesses everywhere. In North Brooklyn, many long-running establishing that have shut their doors for good, including much-loved restaurant/bar Snacky (which opened in 2002) and long-running cafe/bar/events space Kinfolk. They are far from the only ones, though, and a list was recently circulated with all the known closings in Williamsburg and Greenpoint that included 60 establishments, including bars, restaurants, shops and services. Though maybe not surprising, it was still a shock to see them all listed out:
That list included the cute, unique Greenpoint karaoke bar Baby Grand which occupied the sliver of real estate between Engert and Newton at McGuinness. They wrote: "We've closed our doors and will be taking a much needed vacation. Thanks to everyone for your support over the last couple years. We hope to see you in a brand new setting once this whole pandemic thing blows over. Until then, stay safe and healthy!" They still plan to reopen the Manhattan Baby Grand when they can and there's a GoFundMe for the bartenders.
--
UPDATE 9/13/2021: Zablozki's at 107 N. 7th St has closed.
UPDATE 12/21: Greenpoint's The Diamond, with its huge painting of Michael Landon, ski-ball and bathrooms decorated with cassette tapes, is closing: "It's been a wild ride, Greenpoint, but I'm afraid we are at the end of it...The Diamond will be closing our yellow door at the beginning of January after thirteen and a half years in business. PLEASE bundle on up and come over for last goodbyes. We are open Thurs-Sun in the parklet and the backyard. We'd love to see you and are thankful to have gotten to know so many friends here...Neighbors, friends, lovers, and our DEDICATED bartenders slinging beers made this a hugely fulfilling adventure. We couldn't have done it without you, and this very special space at 43 Franklin Street. We all built our community in Greenpoint, here together." The Diamond's last day open is Sunday, January 3. The schedule is in the Instagram below:
UPDATE 12/7: El Almacén, the Argentinian restaurant which opened in 2008 at 557 Driggs, has also closed. "This are difficult times an after 12 years we have to take the hard decision of say good bye 💔," wrote the owners on December 4. "We have nothing more than be grateful to this beautiful city and especially to our beloved neighborhood Williamsburg, with the one we grow together, the one where we learned a lot, the one where we meet amazing people, the one we never going to forget for his magic and many of unforgettable memories!!! Was a pleasure to be part of this Family. Thanks so much to all of you!"
UPDATE (12/2): Donna, the cocktail bar on Broadway near Kent, has closed after eight years. "We overcame the famine of our first months of operation, a fire in year two, but after 8 ½ years of service, we cannot overcome this plague," writes owner Leif Young Hackman on Donna's website. "Ending our service during the week of Thanksgiving feels appropriate. I'm not an ardent supporter of a colonial, white-washed holiday, but I am thankful. I'm thankful to my team (current and former), our loyal customers, my supportive business partners, and my family - especially my wife, who has been the strongest believer in Donna even when my confidence has been shaken. Donna is and will always be, the most beautiful bar in Brooklyn, even after we lose the chance to transport you somewhere special. Donna is a place where two actual weddings occurred, many engagements, countless birthday parties, first dates, reunions and celebrations. Donna is a place that made you feel warm, and included, and beautiful; a place that made you feel good."
UPDATE (9/21): Egg Restaurant, which originally began in 2005 as a breakfast-only spot that shared its N. 5th space with Sparky's Hot Dogs but then moved to its own location on N. 3rd, has announced they're closing after 15 years. September 27 will be its last day serving, but the owners are planning a next step. "We'll spend the next few months brooding, so to speak, trying to bring a new version of ourselves into the world. We don't know yet exactly what the future will look like for us, only that it will be different—perhaps more focused on retail, perhaps more focused on take-out. Whatever it is, it will be driven by our values, and our belief that restaurants and food business must always strive to be more just, more equitable, more sustainable, more delicious."
UPDATE (9/12): Magazine Bar, which was at 130 Franklin St, closed it doors, writing in an Instagram post, "It is with a very heavy heart we have to announce that Magazine will be closing at its current location at the end of the month. 7 months of covid and an uncooperative landlord has made it impossible for us to continue. It has been a pleasure to serve such a vibrant community and to be the scene of so many good times. Please come in for a last drink. We would love to see you! Wishing you all the best in these tough times. Thank you for your business and your support." Some good news: the owners have opened new bar Nicky's Unisex on Berry and S. 4th St in Williamsburg.
The Williamsburg location of Crif Dogs on Driggs and N. 7th closed permanently in September.
Bedford Ave's Khao Sarn, one of the many Williamsburg Thai restaurants to open in the mid'00s and was a mainstay in the neighborhood, closed its doors at the end of August.
--
Williamsburg also lost Bedford Cheese Shop in June, which first opened in 2003 in the Mini-Mall before moving into the Downers Pharmacy storefront at Bedford/N. 4th, where it stayed for a decade before moving to Bedford and N. 1st St. in 2016. The Manhattan location of BCS, at 67 Irving Place, is still open.
Lorimer Ave's Gimme Coffee!, which had also been open since 2003, closed in April, as did their Manhattan location in NoLita:
We just learned, via Union Pool, that Jerry's Italian Market, on the corner of Skillman & Lorimer, will be closing at the end of the week after 40 years in business making insane sandwiches and other Italian specialties:
Evil Olive pizza restaurant and Geraldine's, the speakeasy within it, closed in September. "I know this is sad news to many but instead id like to focus on a more positive side to this story," wrote owner Jason Tennant. "A story of Grit, Determination, entrepreneurial spirit none of which could be possible without the help of many...I opened 198 union ave 3 months before the September 11th attacks. As many of you remember it was called Jarrod's lounge named after my first son. Jarrods was a jump'n hiphop spot for many years before it grew into what many knew as Notice Lounge. Notice was a bit more grown and sexy with a splash of latin and hiphop flavor. Eventually it then became Evil Olive Pizza Bar with a hidden speakeasy called Geraldines. So many great memories and friendships were forged through these years and none of it could have been possible without the help of so many passionate people and most of all the unwavering community support from all 5 Boroughs!"
UPDATE 8/23: South Williamsburg's Trophy Bar, which has been slinging drinks and burgers since 2007, has announced they'll be closing for good after August 30:
We are one of thousands of Brooklyn-NYC small businesses who will forever shut their doors due to the detrimental effects of Covid 19 on our ability to operate profitably. Before March 15 we were a 13 year old, successful business with 19 employees. Now we are operating with capacity reduced by 80% and it's actually costing us a tremendous amount of money weekly to keep the doors open.

Please vote in November, we all deserve a leader who protects and serves the nation rather than one who is watching The American Dream be ripped from millions of hardworking, good, honest people.

Thank you for falling in love here, dancing here, eating here and just being here so we could be here with you. We won't ever forget you and we will always be grateful for the time we got to have with you.
Williamsburg oyster bar Maison Premiere appears to have permanently closed, Eater reports. Their sister restaurant in Greenpoint, Sauvage, may have shuttered as well. UPDATE: While Sauvage did indeed close, Maison Premiere reopened in Summer 2021.
Burnside, located at Grand and Union, has closed.
The Counting Room at 44 Berry has closed.
Pearl's Bake & Shark Caribbean restaurant on N. 8th St just off Bedford has also closed.
Viva Toro, the big Mexican restaurant and bar on Berry St that was best known for having a mechanical bull, has closed.